Taj Mahal's One-of-a-Kind Take on the Great American Songbook
---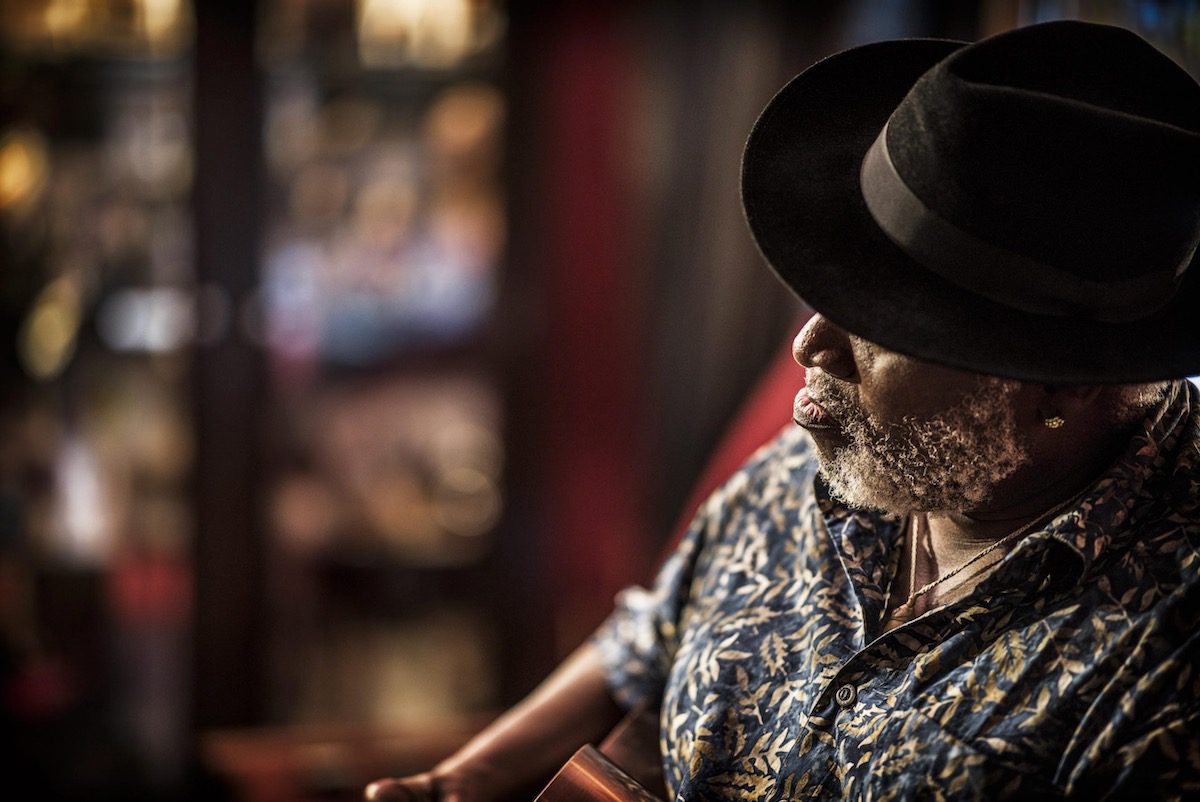 Taj Mahal (photo by Jay Blakesburg)
Taj Mahal is a hard man to disguise. Throw a cloak over him, sit him in a corner, hide him in a back room. But as soon as he gets near a mic, his cover is blown. His substantial presence looms large over everything he touches, and all genres he pulls from, his distinctive voice instantly branding the material with his own unique trademark.
When the opening chords of his latest release, Savoy, start up, you may wonder what's going on here. His name is on the cover of the album, which comes out April 28 on Stony Plain Records, but not his image. The silhouettes at the bottom of the front cover, under the iconic Savoy Ballroom's neon marquee, look like they're doing dances that have been out of fashion for nearly a century. Flip to the back cover and wonder what this blues icon is doing in a time capsule surrounded by big band music, jazz, and pop standards from the 1920s, '30s, and '40s, music made famous or originated by legends including Duke Ellington, George Gershwin, Louis Jordan, Ella Fitzgerald, Louis Armstrong, and Bessie Smith. But as soon as the vocals kick in on the opening cut, over a slick female background chorus trilling "Savoy, Savoy," Taj applies his usual rough spread, like chunky marmalade on toast, so you know it's Taj territory. He owns it. No matter who has come before, it's his as soon as he lays his tonsils on it.
As Taj declares on a spoken-word intro on opening salvo "Stompin' at the Savoy," his rendering of the Great American Songbook pays homage to the effect the music coming from Harlem's Savoy Ballroom had on his existence. "The home of happy feet — the Savoy Ballroom … my daddy met my momma listening to Ella Fitzgerald, the Chick Webb Band … and that's part of the reason I'm here today, babies," Taj says, adding that he grew up listening to all this music and wanted to pass it on: "I'm so glad to be able to throw a thunderbolt down your way … pick it up!"
On Savoy, Taj puts his own spin on a fistful of standards with the help of co-producer and longtime collaborator John Simon. The structures stay close to the originals, but Taj's wheelbarrow-full-of-rocks-in-a-washing-machine vocals make them unique. Take Louis Jordan's "Caldonia," a tune Taj says he used to do a cappella with his brothers growing up. The framework may be big band swing, but Taj's harmonica injects some country blues into it, and when his tonsils touch it, he walks away with "that woman" Caldonia slung over his shoulder, strutting to some ferocious boogie-woogie piano from Simon and raucous tenor sax from Charles McNeal.
The core of the band recording Savoy was only four pieces backing Taj on harp and vocals: Simon on piano, Danny Caron on guitar, Ruth Davies on bass, and drummer Leon Joyce Jr. There are some additional horn players drifting in and out and a chorus of background singers, but the whole effect of that relatively small group is that of an orchestra.
Simon first came to Taj's attention in the late 1960s, when Simon produced and did some arranging on Blood Sweat & Tears' 1968 release Child Is Father to the Man. Taj hired Simon to play piano on his 1971 live album, The Real Thing, and Simon toured with Taj over the years.
"He was working on Blood Sweat & Tears and I liked what he was doing," Taj recalls. "And I was looking for a piano player, so I asked him. He was happy to be here and I was happy to have him. We've always kept in touch over the years, and periodically, when I'd be on his side of the country, or he knew I was playing somewhere, he'd give me a call and say, 'Hey man, I'm around. Can you stand some piano sittin' in?' So he'd come up and play on a couple of tunes. He hung in there real nice. We'd enjoy it — we talked music back and forth all the time."
As Taj got to work on Savoy, Simon admits he was worried that because of Taj's notoriety as a bluesman, the project might be a bit risky for him.
"I hope his fans will go for it," Simon says. "I think back to Bob Dylan going electric back at Newport and how he got booed. I hope the same thing doesn't happen with Taj's blues fans when they go, 'Is this a betrayal?' Because it isn't a betrayal: He'll always sing the blues, it's just an expansion a little bit."
Taj has a stronger take on the subject of fan approval. "Sometimes you just have to grow up," he says. "You can only feed 'em pablum for so long, and I never did. I don't believe that people can grow if you pander to them. They'll sit there and wait for you to put the spoon in their mouth."
He feels that the majority of so-called blues and blues rock players have done an injustice by playing what he labels the low-hanging fruit. "And the record companies have been complicit in this. They've only skimmed the top of it, never given back that which they didn't want to use, music they didn't put out [that] could have meant something to somebody else."
Song Selection
Along those lines, there was some give-and-take between Taj and Simon over song selection for Savoy. Simon felt that the old chestnut "Summertime" should be included, because he wanted some songs that Taj's fans would be familiar with. "Nah," Taj chortles. "I just like the song."
Simon says the inclusion of "Sweet Georgia Brown" was solidified by the discovery of fiddler Evan Price, who Bob Wills-ifies the tune with his funky swing until Taj takes over with a zippy be-bop scat solo. Taj's reasoning for including the song is a bit more succinct: "I like that tune, always liked that tune. Always reminded me of the Harlem Globetrotters."
But Taj is genuinely fond of Simon as a musician and producer. "John was the producer and he's coming at it from other angles. What makes it really happen is the combination of two guys putting their heads together and creating some of the best of what each other has to put there — [it] gives the listener a double whammy.
"I like the way John plays the piano," Taj adds. "He's a wonderful person to play music with and he's very calm in the center of the storm."
Simon's arrangement skills are evident in "One for My Baby (And One More for the Road)." He   conjures up a jazzy tempo with a real slow groove on keys while Taj lays a laconic Ray Charles country vocal over the top.
"He's just trying to open people's ears a little bit," Simon says of the motive behind Savoy. "He's very passionate about people not getting stuck in what they're listening to, or what their peers are listening to, and trying to open their minds a little bit."
With a career spanning six decades with an output encompassing nearly every musical genre on the planet, Taj believes some critics still don't understand what he's up to, how important culturally the music is, and how deeply it affects him.
"They don't get it — they really have no idea what I do," the four-time Grammy winner (his latest, for 2022's Get on Board, reunited him with former collaborator Ry Cooder) says about a career that also boasts close to 50 albums since 1968. "They'll say, 'He's into this exotic jazz.' It has nothing to do with any of that. It has to do with the amazing contributions African-based people have made to music."
Taj wants listeners to understand that these songs, in their day, were messages, a means of direct communication from the musicians to their audiences. "When we were singing those songs, all those people were alive, singing them to us. Records were more than just a commercial business. People were speaking to one another, talking about their miseries."
He adds: "I like to think that these songs are, one, not dead, and two, it's a celebration of the greatness of the music that we do."
---