SPOTLIGHT: Mighty Poplar Rises Up From Bluegrass Bedrock
---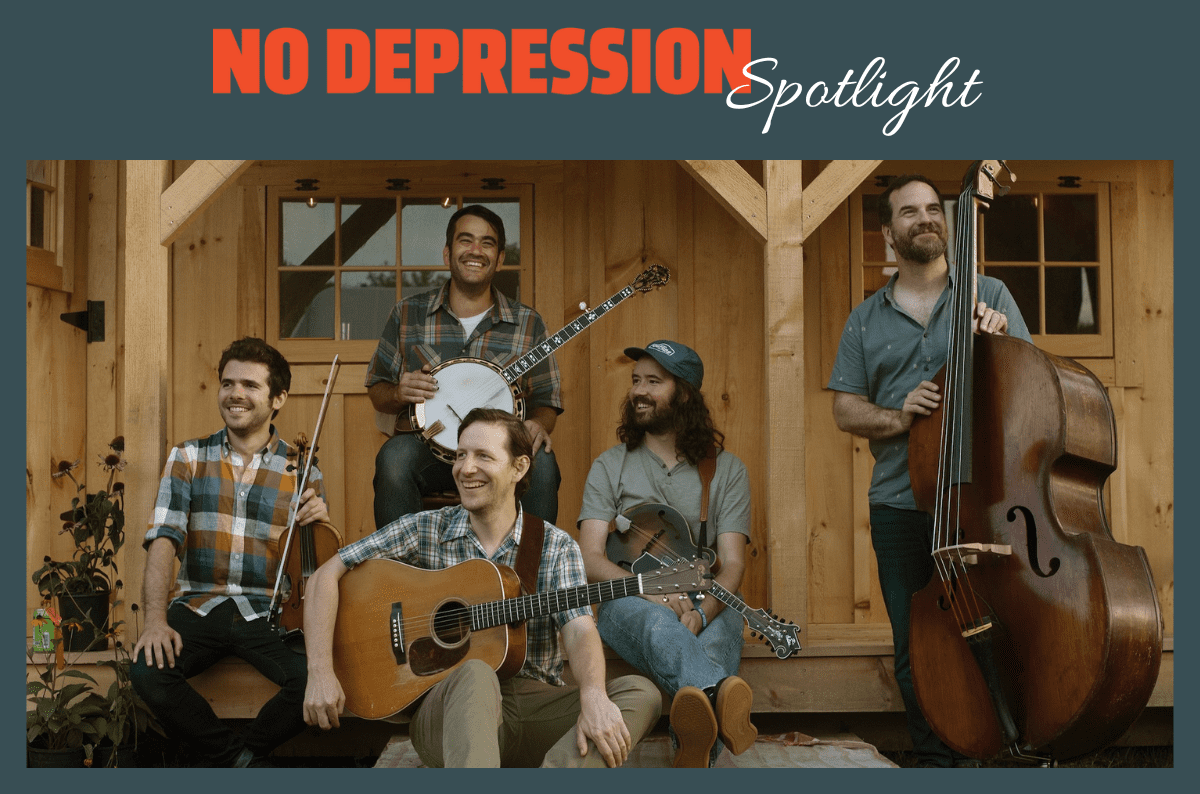 From left, Alex Hargreaves, Noam Pikelny, Chris Eldridge, Andrew Marlin, and Greg Garrison of Mighty Poplar (photo by Brian Carroll)
EDITOR'S NOTE: Mighty Poplar is No Depression's Spotlight band for March 2023. Learn more about the group and their self-titled album, out March 31 on Free Dirt Records, all month long.
While several members of Mighty Poplar, bluegrass's latest supergroup, have stood together in a line on stage, the real shape of their story is a circle.
It's the kind of circle formed when musicians huddle up backstage to jam on an old Bill Monroe tune. It's the way an older musician will sit knee to knee with a younger one as a song gets transmitted to a new generation. It's how one musical moment will often come around again, sometimes years later, and spark an idea that widens the circle a little more.
Under the Mighty Poplar canopy are Punch Brothers banjo player Noam Pikelny and guitarist Chris Eldridge, bassist (and early Punch Brothers alum) Greg Garrison of Leftover Salmon, mandolinist Andrew Marlin of Watchhouse, and Alex Hargreaves, who plays fiddle with Billy Strings. They'd long admired each other's music, and in smaller configurations they'd met and jammed at camps, workshops, and festivals over the years. But it took the pandemic's standstill to make time in their schedules for all five players, a new generation of masters on their instruments, to record the music they'd been making together simply as friends. Their self-titled album, out March 31 on Free Dirt Records, captures the spirit of those late-night jams and the way that friendship can fuel this most collaborative kind of music.
Scratching an Itch
Much like a late-night jam, the making of Mighty Poplar was freewheeling, unfettered by rigid plans or overthinking. While brainstorming ideas for the record during the lockdown of 2020, the friends threw out song ideas in a text message group chat.
"Everyone was so excited about it that I'd send one text out, or Noam would send a text or Critter [Eldridge] or whoever, and all five people would respond with a lot of ideas," Marlin says. "And it just became this kind of snowball effect."
That enthusiasm continued right into the studio, he adds. "We didn't really know what we were going to do, but we were all so excited to do it that we didn't really care. We were like, 'Let's just count this off and see how it goes.' And that's one of my favorite things about playing with these guys. And also just how the record sounds. I think you can feel that energy of the excitement to play, that it's not overthought or over-talked-about. [It was] lots of practicing on our own and then coming together. It felt like we'd all been playing together for a long time."
It was also a treasured chance to get together with each other — with anyone, for that matter — after months of lockdown.
"We'd all been cocooned in our little pods at home, which was cool in a way," Eldridge says, "but to get to be with your friends and to get to make music with your friends, that was just scratching an itch that had never itched so badly."
Pikelny affirms the excitement of getting out of the house after months of quarantine — "I think it was probably the first time I left the house for more than an hour in eight months' time," he says.
Even so, "it didn't feel like a quarantine record to me," he continues. "It felt like a reunion record. … The five of us, collectively, we had never played music in the same room together. It's not like we reassembled one of these Telluride late-night jams. … It was this brand new thing, but it felt really familiar, I think just because we shared this collective intent of what this project should be."
What it represented for each member of Mighty Poplar was a chance to play traditional bluegrass, the music of their heroes. That might seem an odd statement, considering that each of these musicians is part of a band leading the vanguard of modern bluegrass. But while they grew up steeped in bluegrass and other traditional roots music forms, their bands fold in sounds and techniques from other genres, creating something new and exciting and needed. But not strictly bluegrass.
Once they finally all got into the studio — The Tractor Shed, which is just what it sounds like outside of Nashville — in fall 2020, the band aimed to tap into the magic of the late-night jams where bluegrass truly gets made. They threw aside structure in favor of spontaneity, and that translates into an energy that leaps out of the speakers.
The bluegrass here is straight-ahead, until it's not. Harmonies flow like water, and the groove pulls listeners right in. But every now and then, a banjo lick will bend, the fiddle will slide into unexpected territory, and the band leads the way into a realm where tradition meets today, unearthing something truly timeless.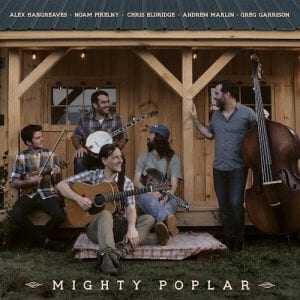 Mighty Poplar contains several traditional tunes and songs by some big names in bluegrass and folk, including several selections attributed to A.P. Carter (though one, "A Distant Land to Roam," he learned from a version on a Hazel & Alice record) and one each by John Hartford ("Let Him Go On Mama") and Bob Dylan ("North Country Blues"). But the first single, "Up on the Divide," comes from folk singer-songwriter Martha Scanlan and describes the pull of a place that remains steady even amid modern changes. And even Leonard Cohen finds a home here, with Mighty Poplar ending the album with the somber "Story of Isaac," a demonstration of bluegrass's power to wring beauty out of bleakness. Elsewhere, the traditional instrumental "Grey Eagle" flies at a breakneck pace that favors finesse over flash, and "Blackjack Davy" tells the story of one of traditional music's favorite charmers with a swagger and swing he's never quite had before.
Even as they breathed new life into some old songs, Mighty Poplar was tapping into a time-honored bluegrass tradition, too, just by existing. As bluegrass began to explore new territory in the 1970s and '80s, bands like the Bluegrass Album Band, founded by Tony Rice and J.D. Crowe, formed primarily to allow some of that generation's brightest bluegrass minds to let loose on some traditional material. The Bluegrass Album Band, with its interpretations of tunes from bluegrass forefathers like Bill Monroe and Flatt & Scruggs, was an inspiration for the Mighty Poplar project, but only as a starting point.
"I think our criteria is just, like, let's approach this like the Bluegrass Album Band in spirit, but there's no rigid constraint that it has to be a Flatt & Scruggs or Monroe tune," Pikelny says. "We could look far and wide and we should make it our guiding force of finding some really special bluegrass tunes that haven't been recorded and overdone."
Marlin also sees a kinship between Mighty Poplar and Old and In the Way, a Jerry Garcia side project that also featured David Grisman, Peter Rowan, and John Hartford. While the Bluegrass Album Band, whose members also at various times included Doyle Lawson, Vassar Clements, and Jerry Douglas, played some strain of grass together or in their own ensembles, Old and In the Way, separately, played in vastly different styles and genres. Bluegrass, however, became their common language.
"I feel like when you listen to Jerry Garcia's music outside of Old and In the Way you would never expect to hear him play bluegrass banjo the way he does, and to know that music as well as he does," Marlin says. "That's one of the things that excites me the most about this project, is that you can hear all of the different influences when we all play together."
'Tiny Little Ripples'
As much as they love their own bands, the members of Mighty Poplar were grateful for new territory to roam with each other. Such collaborations are fertile creative ground for any musician, a way to tend to talents and ideas that may have gone dormant.
"I think it's really important to do that, to keep reminding yourself all the different ways that music can be exciting and fun and joyful," Eldridge says. "And also you kind of strengthen those muscles when you go somewhere else and you get to bring some of that sensibility, some of that confidence and assurance, back to other contexts that you might be in."
Recording Mighty Poplar put these five stellar musicians into a musical conversation, not only across time with the songs they selected, but also with each other. Marlin recalls putting on his headphones, closing his eyes, and feeling how present his bandmates were in the music.
"You could just feel that the engagement kept building. And I think what that led to was these tiny little ripples in the band," he recalls. "Somebody would have a little idea and you would feel that kind of echo throughout the band. I think that only happens when you have musicians like Critter and Noam and Greg and Alex, where they can react so fast to what they're hearing."
Fans will get to watch the reactions in real time when Mighty Poplar takes these songs, and likely many others, on tour in May and beyond (although John Mailander will be filling in for Hargreaves on fiddle for some of the dates). And while they'll soon go back to their main bands, the members of Mighty Poplar are already feeling called to come back to the circle they've formed.
"I can't wait to start throwing some tunes at you guys and make another record," Marlin says to Eldridge and Pikelny during a Zoom interview. Practicing these songs and dreaming of new ones is "all I think about now," he adds.
"I think that excitement is going to lead to a lot more stuff. and I think that we all feel this way. It seems like this is the kind of music we could play for many years to come," Marlin says, and he pauses for a beat as he gazes into a future when he and his bandmates have become bluegrass elders. "We'll just make it slower and slower if we have to."
---