SPOTLIGHT: Mighty Poplar Rides Off Together on 'Blackjack Davy' [VIDEO]
---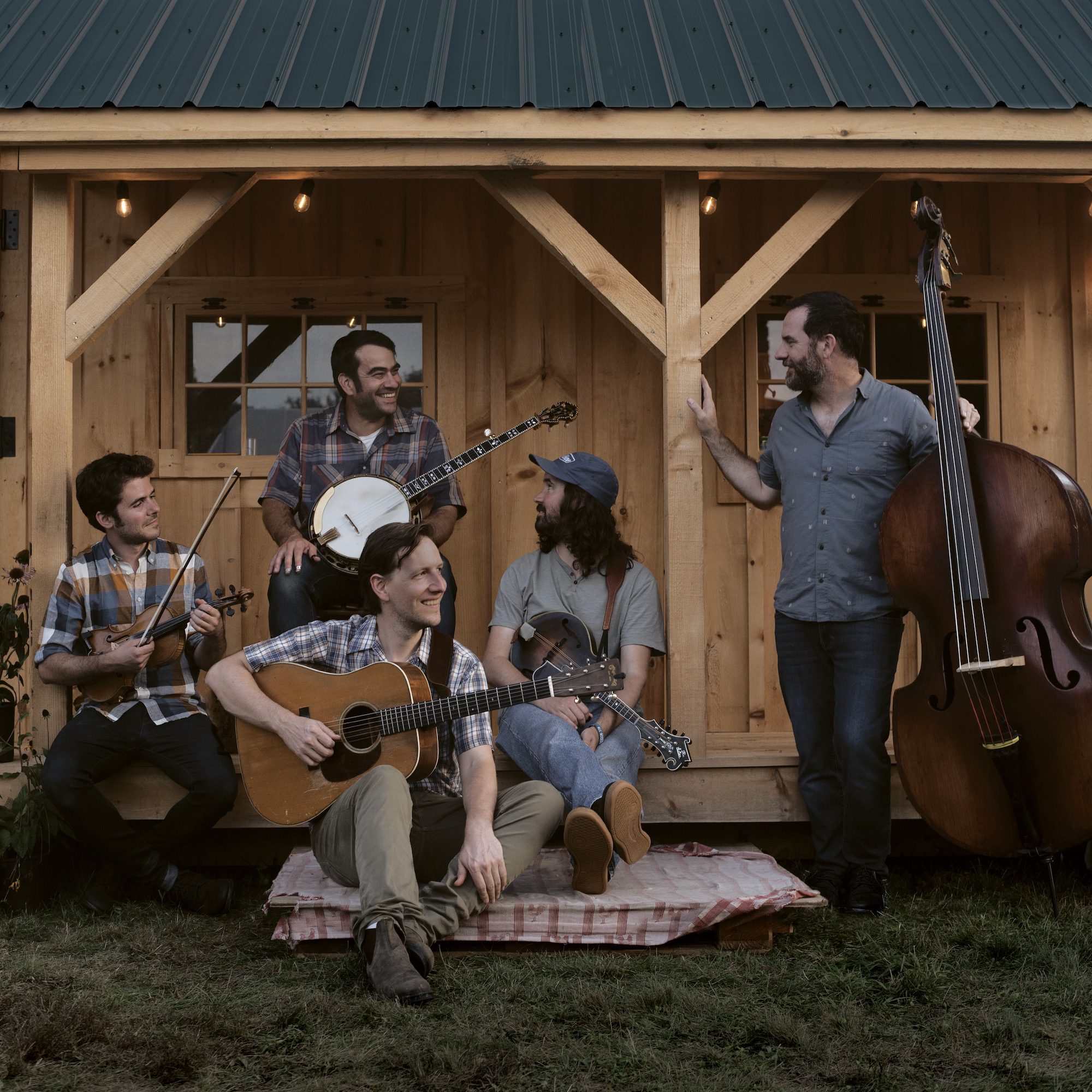 Mighty Poplar (photo by Brian Caroll)
EDITOR'S NOTE: Mighty Poplar is No Depression's Spotlight band for March 2023. Learn more about the band and their self-titled album, coming March 31 on Free Dirt Records, in our interview here. And look for more throughout March.
When Mighty Poplar neared the time they'd booked to record their self-titled album in 2020, after several months of lockdown, they had some whittling down to do.
Ideas for songs to cover had been flying back and forth in a group text between the band's five members: Andrew Marlin (Watchhouse), Noam Pikelny (Punch Brothers), Chris Eldridge (Punch Brothers), Greg Garrison (Leftover Salmon), and Alex Hargreaves (Billy Strings). And around 30 had landed in a Google doc as the strongest possibilities.
Once the band was in Nashville's Tractor Shed studio, though, the decisions, as well as the arrangements, came naturally. And just as naturally came some last-minute ideas befitting the spirit of the whole project, which had sprung from years of backstage festival jams and friendship.
"'Blackjack Davy' was a late-inning suggestion from Andrew in the last hours of the last day in the studio," Eldridge recalls. "From the time he taught it to us to the time the track was done was probably no more than 90 minutes. 'Blackjack Davy' was like a microcosm of the whole record — we were feeling good and having fun."
"Blackjack Davy" is a Scottish ballad that's been passed down over several centuries and covered in some form by Taj Mahal, Bob Dylan, The Carter Family, Jean Ritchie, and even The White Stripes. It's a song that every bluegrass player knows and can play in a jam. And that's a big reason the musicians of Mighty Poplar wanted to join together to tap back into their bluegrass roots.
"One of the beautiful things about the bluegrass community is that it really is actually a community," Eldridge says. "The musicians are all accessible to each other. There's something about the music that brings everybody together. It's one of the cool things about it. The songs are simple; whether you're an expert or a beginner, you can kind of come together around the music."
Watch Mighty Poplar perform "Blackjack Davy" in the video below exclusively for ND readers:
---