Something New in the Water
---
Editor's note: This article originally appeared in the Spring 2016/Roots & Branches issue of No Depression in print. When we're not running a summer subscription drive (now through June 15), the stories in the ND journal are exclusive to print. Subscribe today and never miss another issue.
* *
It's mid-afternoon and Pokey LaFarge hasn't eaten yet. He's on his couch in St. Louis, surrounded by notebooks. The singer-songwriter has been drinking coffee all day, trying to make sense of his notes. One of the books contains completed songs; the others are home to diary entries, song ideas, potential lyrics, to-do lists, and notes about "the sonic nature of a specific song."
"I guess you could say the hope is that they lead to a finished product," LaFarge says over the phone, explaining that he wishes he had a way to make the system more organized. "Every artist I've ever known has piles of notes."
Something Missing
Born Andrew Heissler in Bloomington, Illinois, in 1983, LaFarge was an early convert to American roots music. He discovered it as a youngster – while other kids around him were listening to Snoop Dogg and Ice Cube, he was listening to Skip James and Sleepy John Estes. In these areas of roots music, he found something deeper. In a previous interview, he told me that the older music had qualities he felt were missing from what was on the radio.
His exploration of early American styles led him to guitar and banjo, and he has made a career of it. With his focus on under-appreciated roots styles, he's a standout among contemporary artists, and has introduced early 20th-century roots music to countless fans who, like LaFarge, may seek something more timeless than the latest pop hit.
Since 2006, when he released his debut, Marmalade, LaFarge has been one of the few artists outside of underground roots circles to showcase that midcentury musical sweet spot where early jazz, country, swing, and the blues all swirled around to create something exciting and absolutely American.
In 2010, Jack White heard him on WSM 650 AM, home of the Grand Ole Opry, and invited him to record for Third Man Records. The resulting 7" single, Chittlin' Cookin' Time in Cheatham County, which was released in 2011, and a self-titled EP in 2013 – as well as 16 tour dates opening for White – catapulted LaFarge into the international spotlight.
LaFarge says his time with Third Man was "certainly good for business," as he grew his audience to include the indie rock crowd. Indeed, from the broader platform of Third Man, he turned countless young people on to the music that formed the pre-rock and roll foundation for much of what is popular today.
Citing Milton Brown & His Musical Brownies, Roy Newman & His Boys, the Mississippi Sheiks, and the Skillet Lickers as a few of his key influences, LaFarge's catalog is full of punchy lyrics about pretty girls, appreciating where you're from, enjoying life, being treated badly, and celebrating Midwestern culture. His sound has a rhythmic emphasis on the backbeat, tight cymbal snaps, horns and banjos playing together nicely, call and response with his backup singers, and an era-specific vibrato that one just doesn't hear much of these days. And, like some of the music he's inspired by, he leans in the direction of novelty without ever falling in or losing the integrity of a song.
The tune "Underground," from Something in the Water (out April 2015 on Rounder Records), for example, starts with drums and chanting that sounds right out of a tiki bar, but the lyrics paint a different story:
If there's a god, he's of the land
And he does not favor any man
Father time has the final say, but it doesn't matter anyway
Mother Nature has made a deal and now it's done
"When Did You Leave Heaven," from the same album, is a swoon-inducing throwback to early crooners like Bing Crosby, but there's just enough of a Hank Williams edge to appeal to roots appreciators.
Now that he's perfected that sound – after years of touring and writing and growing a fanbase – he's finding it's time to develop a way to keep track of all his ideas. LaFarge is in what he describes as a very prolific time, writing more than ever. And what he's working on is not what anyone who's would expect.
"From what I can see of the plethora of material I have currently," he says, "my writing and its evolution is really just kind of exploding. The rhythm is changing, the grooves are changing, I'm seeing the grooves and sounds to be heavier, the drums and the bass to be heavier, and the horns to be more slammin', as opposed to swinging.
"You hear guys like Jason Isbell and other singer-songwriters, and the rhythm and the groove doesn't seem to matter to them all that much," he adds. "They're able to convey everything just with the words. I'm more interested in composers where the groove and the rhythms and the instrumental hooks are just as important as the lyrics."
LaFarge wants to move away from being limited to a certain genre or style of singing and songwriting. Among the artists he's currently gleaning inspiration from are Paul Simon, Warren Zevon, Roy Orbison, Neil Diamond, and Randy Newman. "For me," he says, "it's about making a beautiful composition, beautiful music, and really getting it into hearts."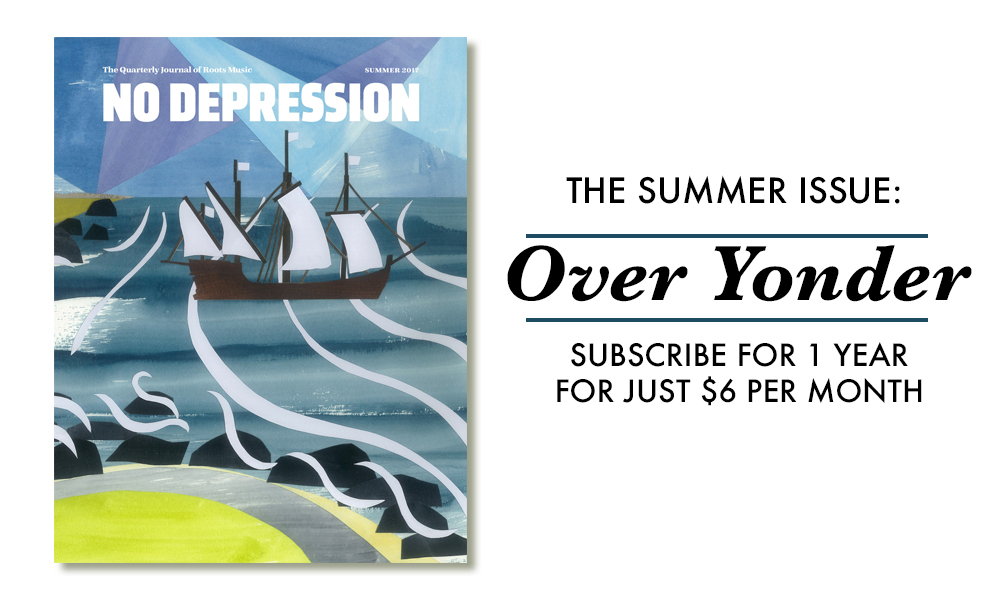 Room to Grow
LaFarge has become more open-minded over the last couple of years, and his songwriting has flourished. But while he's given a lot of freedom to the musicians in his band, he doesn't feel like he's given himself enough freedom to let his songwriting shine – to be the person and the composer he wants to be. "I think maybe at times I was scared to write a certain song, or convey a certain feeling that I had, because I thought that it was too different from myself," he says. "I realized that, no matter what I'm feeling, [it's] right, and that needs to be communicated. No matter how I express it, if it's a good song, it's a good song. And if it's my song, then it's me."
With that epiphany, he's finding he needs to challenge himself to grow, and to challenge his audience to grow along with him – something with which he struggles. He questions whether he got too comfortable with what his sound was at one certain time. When asked if he's concerned about losing fans who know and love him as a traditional roots artist, LaFarge says that he's less traditional than some people think. The sentiment is puzzling because, from the outside, his commitment to early-20th century American styles has seemed all-consuming. With his slick, styled hair, newsboy features, wide ties, cuffed jeans, retro shirts and pants, and hat tipped to the side, LaFarge looks like he just rolled onto the stage from 75 years ago. Then he opens his mouth and seals the deal with his Midwestern accent and charm, and lyrics that point to a time when cities like Chicago and St. Louis were epicenters of music and culture.
LaFarge admits that, as his traditional sensibilities become less obvious, some people may say he's abandoning them. But his desire to be free and open to possibilities is stronger than the pressure he feels to stay put stylistically. "The good people want to see me evolve," he says, "and they want me to grow."
So how does his appreciation of early American roots music inform this shift into more rhythm- and groove-focused songwriting? "The hope is that by being open to a wide array of ideas and grooves and themes and stories that I'm hearing in my head, that the foundation will never be lost," he says. "The hope is that it will be built upon and it will be stronger. I'm confident that that's already happening with some of the material I have."
Pulling Back
A veteran of the road, LaFarge has toured the world, acting as an informal ambassador of American roots music. But there are challenges to being on the road all the time, and he was looking forward to performing less this year, to focus on writing and recording. He estimated he'll play 50 shows, as compared to the 150 or 200 a year he's been playing for the better part of a decade. And he planned to start recording a new album this spring.
"I've been in such a grind for seven years," he says, "just pumping out records and touring. I just don't think that I've been able to do justice to the emotions that come from the experiences I've had."
How the new record will sound remains to be seen, but, as when LaFarge first discovered country and blues, he is looking to the music to help him find his place in the world. "When I was younger, I was really unsure of myself," he says. "I had no sure idea about anything, but I had lots of ideas. I was just giving it all a shot. I wanted something that was raw and unfiltered, and straight from the source, so the early blues and the early country really touched me for that reason."
Now, he says, he finds himself at a similar crossroads. "I just need something that helps me explain more about today and where I am at," he says. "To explain some of these feelings that this world is going through right now, and trying to figure them out."
As LaFarge works to discover more of his authentic voice, he's quick to note that his journey of self-discovery is one with no known destination. "I don't know if I'll ever get to that point where I'll feel satisfied or say, 'This is my authentic self,' or even if I'll ever be happy," he says. "I don't think that's the point. I don't know if I can say I know anything else other than just writing, and finishing a record, and touring on it, at this point."
When pressed, he adds that he's not sure what the point of it all is – that sometimes he feels very small and insignificant, but that all he knows is to keep doing what he does in the best way possible.
"The feelings that I'm going through now," he says, "the ideas I'm having, I have to let them run their course and get the most out of this period."
---