Robert Plant Test-Drives New Band, Saving Grace
Posted On February 16, 2019
---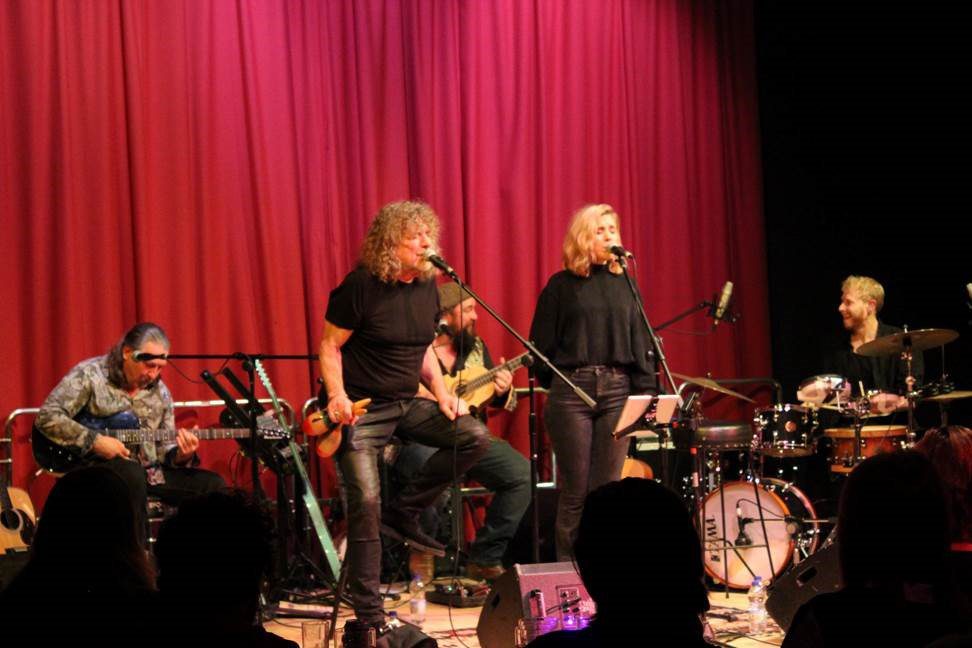 Robert Plant and Saving Grace perform at The Anvil in Basingstoke, England, on Feb. 14. (Photo via @AnvilArts on Twitter)
What do you do when you are a 70-year-old rock legend with time on your hands? Well, go on the road again with a new band, of course. It's the music, stupid.
Robert Plant (ex of Led Zeppelin, as if it needed to be said) is ever so gently testing the waters in Britain with a nascent ensemble called Saving Grace. He has been popping up at a few gigs as a surprise support act for veteran folk-rockers Fairport Convention on their winter tour.
Judging by the performance and the reaction of a delighted audience at The Anvil in Basingstoke, England, on Feb. 14, we will be hearing a lot more of the band. The music was tight yet relaxed — a contradictory combination that testifies to years of experience. The 40-minute set could easily have gone on to a full concert as far as the surprised audience was concerned.
On offer was an eclectic mix of folky-bluesy-jazzy tunes that never once disappointed.
There was, for example, a wonderfully harmonious rendering of Doc Watson's "Your Long Journey," a melodious delivery of Nat King Cole's "Nature Boy," and a haunting version of a Plant favorite, the spiritual "Satan, Your Kingdom Must Come Down."
The latter — theme tune to the TV series Boss — put chills down the spine.
Also outstanding was "Season of the Witch," an interpretation of the Donovan classic that somehow (and delightfully) morphed temporarily into Buffalo Springfield's "For What It's Worth."
It was a test run, so not everything was clicking. There were times, for example, when the guitar work seemed misplaced. But Plant's famous voice has held up really well over the years (as have the long curly locks, though now they are now gray).
It was beautifully augmented by co-singer Suzy Dian, who looked to be more than 40 year's Plant's junior but whose voice sounded as if she were born to sing with him.
The harmonies were spot on. So much so, in fact, that Plant melded with Dian better that he did with Alison Krauss on Raising Sand, which is no mean accomplishment. Backing them was Tony Kelsey on guitar and mandolin, Matt Worley on banjo and guitar, and Oli Jefferson on drums.
Saving Grace actually appears to be a synthesis of two of Plant's more successful post-Zeppelin ventures: 2007's Grammy-winning Raising Sand and 2010's Grammy-nominated Band of Joy. The former was a melodic dip into country; the latter a more hard-hitting strain of folk-rock.
Both were excellent, so Saving Grace is brimming with promise.
---