ROADSIDE ATTRACTIONS: The True Power of Pubs in Ireland
---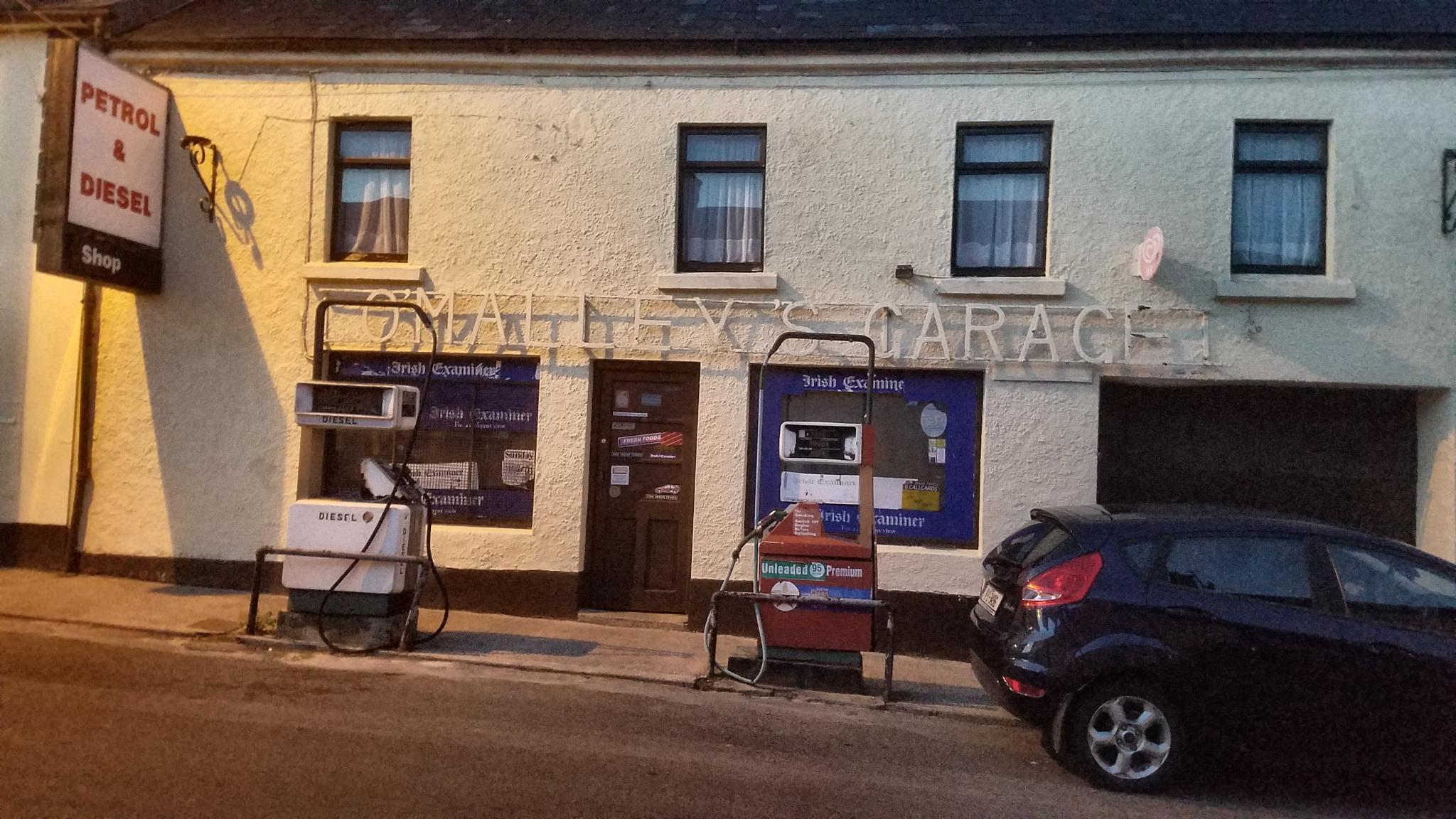 A petrol station along the way in Clashmore, Ireland (photo by Tristan Scroggins)
During our time traveling across the Atlantic, my dad and I grew to love Ireland. So much so that we once decided to tack on a week of duo shows to the beginning of a tour of the UK and France. The short time frame wouldn't give us much time to play many places, but we would end our run at a bluegrass festival in Donegal on Dad's birthday. The trip was great "craic," but I was particularly struck by how charming our return to Clashmore was.
At this point in time we were spending more time on the road than we ever had. I was single, not really tied to any particular location, and, frankly, depressed. I was "dealing" with my depression by never staying in one place long enough to have time to think about how sad I was and by practicing high-functioning alcoholism and disassociation. My pride in my ability to sit completely still in a car for 8-12 hours at a time while quietly sipping road wine was, in retrospect, not very healthy.
Dad and I rarely ever performed together without a band, but we figured we could come up with enough tunes to be entertaining for 45 minutes a night. We never really played much together when I was growing up. But I learned a lot of the tunes he knew so that we'd have something to play together when we went to jams. So we mostly played those.
Knowing we wouldn't make much money, we booked a very creative route from the US into London Heathrow Airport, went through customs, and then took an Uber across town to Gatwick, where we caught a cheap flight to Cork, Ireland. Upon arriving we were greeted by Geoff and Kieran, our friends and caretakers from Clashmore.
Clashmore is a bit of a drive from Cork and, anticipating our hunger, Geoff and Kieran decided to stop for fish and chips, knowing that we were both fans of the fried fare. The fact that Kieran's wife didn't much care for him eating fried food might have also had something to do with the decision-making process. And, of course, after finishing a basket of chips, we needed something to wash it down. Fortunately, down the road and over a town or two was a pub where they knew many of their friends could be found.
This particular pub was under new management, and our friends wanted to see how business was going. Geoff told me candidly that he didn't think much of the place due in no small part to its tall ceilings. He told me you could always judge the quality a pub by the height of its ceilings.
Drinks were had, stories were told, and Dad and I learned that people used to serve stout (like Guinness or, in this case, Beamish — a County Cork favorite referred to as either Vitamin B or the Brown Milk by our tour manager) warm by sticking a hot fire poker into the freshly poured beverage.
In the course of conversation, Geoff and Kieran were reminded by their friends of the death of a prominent local figure. The man was not well liked, but the many years of their Catholic upbringing instilled a sense of duty when it came to events like this. It was decided that they would need to stop by the funeral, which was happening presently, to at least be seen at the viewing. Dad and I stayed in the car, silently, while they slipped into the service, having timed it perfectly to be in and out in five minutes.
With the sun setting, we decided to stop by our favorite Clashmore haunt, The Old Still, for a few drinks. Ireland is a special place. The people have a different sense of leisure and community than I was used to. When I played there for the first time I was happy to drink beyond my heart's content, but as I spent more time with folks there, I saw how going to pubs and buying drinks for each other was how people kept up with their friends and loved ones. Despite the hectic traveling we did to get there and the tiring tour we had ahead, this wild ride from the airport was rejuvenating in many ways, teaching me to appreciate things and people I met along the way a little more. So with no sleep, still in our travel clothes, Dad and I sat once again, but not for the last time, in the bar behind the almost-200-year-old whisky still, sharing stories with the locals before continuing on to our gigs — which is another story altogether.
---