No Depression Sessions at Rootsy Winter Fest: Dimpker Brothers
---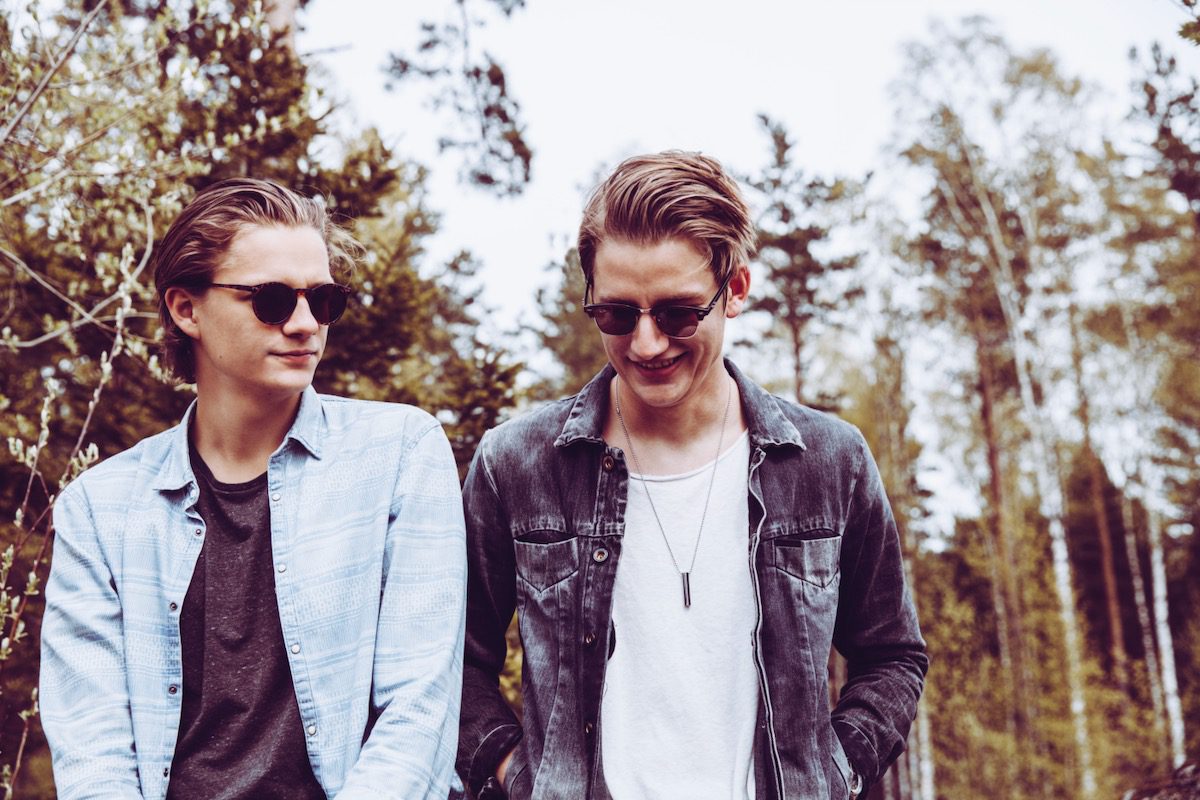 Dimpker Brothers (photo by Nathalie Chavez)
The Swedish duo Dimpker Brothers welcomed us warmly into the Rootsy Winter Fest scene in Falkenberg. We shared music, food, beverages, and all sorts of festival experiences together during the weekend prior to this Sunday session. Brothers Adam and Martin are in possession of the best kind of vocal and instrumental blend that we always hope to find in sibling bands, one plus one equaling three.
The kinfolk bond is obvious right out of the gate on "You're Never Gonna Die," with Martin taking lead vocal duties and Adam providing high vocal harmonies and playing lead guitar lines through his use-worn Telecaster. The brothers have the innate sense of when to push their voice or instrument to the forefront, and when to fade into the shrubbery to let the other shine through. Adam plays just enough notes on his Tele to let us know it's there during the verses, then erupts into a lead line evocative of Mike Campbell's work with Tom Petty and the Heartbreakers, shifting tone midway into a Mark Knopfler-eque phrase to close out the song. Note the fancy footwork from both of the brothers, featuring Martin on kick drum and tambourine, and Adam on bass pedalboard.
The conversation between the first and second song focuses on the feeling of "det stora vemodet," which translates literally to "the great melancholy" but encompasses a broader meaning than the translation captures. Adam describes it as bittersweet, Martin adds, "the bittersweetness of winter," to express the simultaneous sadness and beauty of the season that blankets every aspect of life in Sweden.
All three of this session's songs, including their second and third offerings, "Faster Gun" and "Deathless," are from their debut record, Deathless, out now on Rootsy Music. They all feature the unmistakable brother blend of voices and instruments played with thoughtful changes in tone throughout.
The record was written and recorded across Europe and the US, including Sweden, Northern Ireland, Colorado, and Texas, and includes bits of musical wisdom picked up along the way from friends like American blues pastor Reverend Sekou and country artist Jimmie Dale Gilmore. Adam and Martin are currently recording their second album.
The No Depression Sessions at Rootsy Winter Fest are made possible by Bitchin' Sauce. Find past sessions from the festival, which took place Feb. 3-4 in Falkenberg, Sweden, here, with more to come over the next several weeks.
---