'My Bag of Magic Tricks': Valerie June Looks Skyward and Inward to Empower Dreamers
---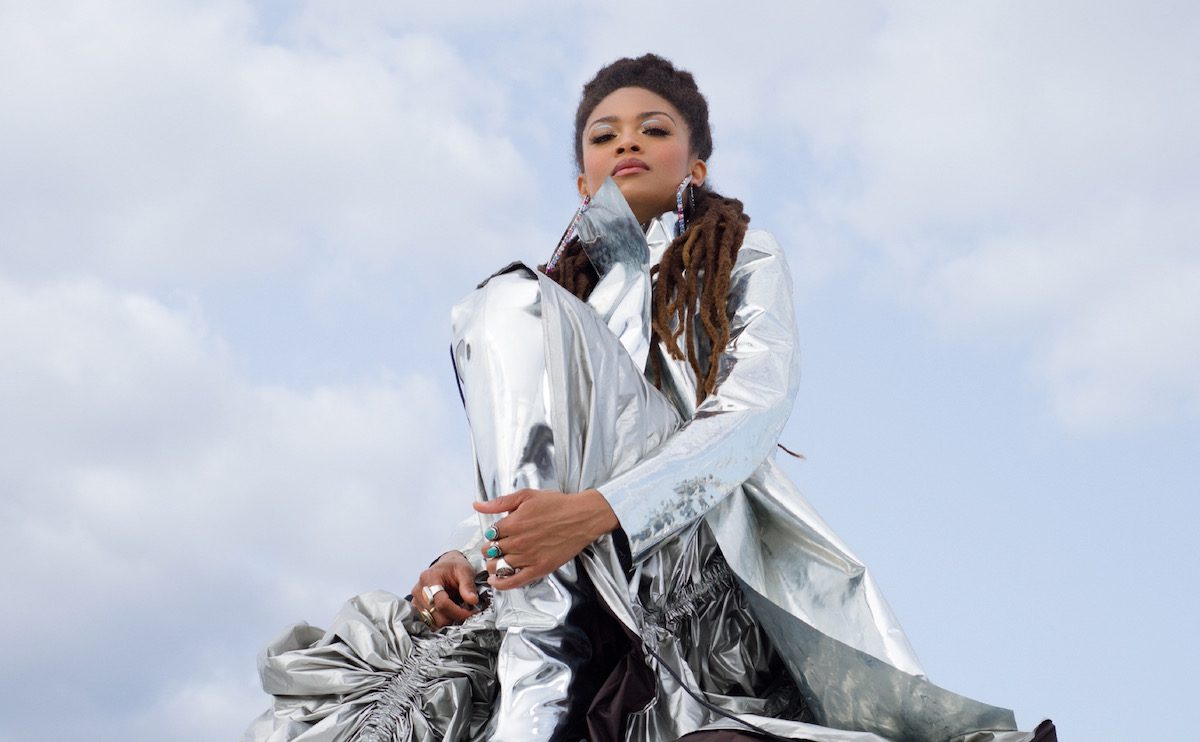 Photo by Renata Raksha
Valerie June says she's always been a dreamer. On her new album, The Moon and the Stars: Prescriptions for Dreamers, out this Friday on Fantasy Records, she fully embraces her own dream of making music and dispenses songs that help listeners light their own paths and discover their own dreams, whatever they might be.
The album "grew out of the path of dreaming that I've been on for pretty much all my whole life, but a path I've been on intentionally for the last couple of decades making a living from playing music," June says.
The ethereal and soulful songs on the album swing mesmerizingly between the beauties of nature — the final song on the album "Starlight Ethereal Silence" opens with the notes of mockingbirds singing — and the illuminations of the spiritual world. Meditations and proverbs between each song that June refers to as "reflective meditative moments" calm the listener, preparing them to move into the next song. From the opening piano notes of "Stay," a gospel-inflected, rhapsodic beauty, and the haunting jazz echoes of "Stardust Scatterings" to the gritty soul of "Call Me a Fool," which features the queen of soul Carla Thomas, and the sonically spacious "Two Roads," The Moon and the Stars beckons listeners to join June on an astral journey and to allow themselves to dream freely.
June now lives in New York City, but she grew up in rural Tennessee, and she returns often to her family home to be connected to the stars and the moon and to dream like she did when she was a child. For this album she wanted to fold some of the sounds she grew up with into the songs.
"Part of the reason for being there is being able to go outside and look up at the stars without light of the city or any distractions," she says. "When I was a child I'd get down on my hands and knees on the ground and look at the moon, and I would do prayers and be with the moon and in its glow and ask it to illuminate me."
On her most recent trip to Tennessee, which came during the pandemic, June also realized why music has been so central to her own dream. "It's not for earthly reasons of wanting to be awarded or to win anybody's love," she says. "It's because dreaming keeps me inquisitive and keeps me on that path of learning what I have to share with the world. I think when we allow ourselves to dream like we did when we were kids, it ignites the light that we all have within us, and helps us to have a sort of magic about the way we live."
When she talks about dreams on the album, she means "aspirational dreams," she says.
"I think about the dreamer's journey and the purpose of our lives and that we all have a purpose," she explains. She's also motivated by "humanity dreams" like those espoused by Martin Luther King Jr. or John Lennon, she says. As a child, June was often frustrated that King's and Lennon's dreams hadn't been realized as they had laid them out for us: "Why can't we just wake up and be as one, as John Lennon and Dr. King said?" Her frustrations drove her to ask herself, in her mind and in her songs: "What is the anatomy of a dream?"
Dreams comprise several elements, according to June. There's a dark side, she observes: "self-doubt and failure. I learned early on through books like [Paulo Coelho's] The Alchemist that I have to take loss and failure and transform them into something gold. As much as I am pushing for my dream, my dream is pushing for me." There's also community, June points out. "When you have dreams that aren't being realized," she says, "your spirit will get low sometimes. Surround yourself with people who believe in your dream even when you don't; have people that will uplift you. An active community was huge to manifesting a dream like Dr. King's." Visualization is also a key component in dreaming: "You need to see constantly the long-term vision for your dream. What will it look like 10, 20, 30 years out? What will it look like when you're 80?"
While the songs on The Moon and the Stars invite us to dream deeply and embrace the ways our dreams can shape our lives, June says she has never had music induce a dream state for her, though she has received songs in dreams.
"I had a dream about my brother playing a song called 'Why the Bright Stars Glow,' and when I woke up I was singing the song's refrain. I called him up and asked him, 'Did you write a song last night called 'Why the Bright Stars Glow'? and he said no," June laughs. Once he heard the song, she says, he couldn't stop singing it. The song from her dream appears on The Moon and the Stars.
"Songs come to me over the course of my life," June says. "As I record them, I'm guided, but I don't really know what I am doing in terms of ordering the songs or putting them on an album. I just put them in my bag of magic tricks, and sometimes I discover later, 'Oh, this is what you want me to do.'"
Along with the prescriptions of the album's subtitle, June is working on a collection of recipes for elixirs and contemplative practices and meditations that will be available through what she's calling her portal, planned for launch later this year. Also available through the online portal will be a list of books that are guides to the dreamer's journey: Coelho's The Alchemist, the poems of Rumi and Hafiz, Sun Ra's Immeasurable Equation. "We had copies of these books lying around the studio when we were recording the album," June says, "so we could read them during breaks."
June's own book, Maps for the Modern World, will be published by Andrews McMeel on April 6; it is a collection of poems and original illustrations about cultivating community, awareness, and harmony with the world around us as we embrace our dreams.
According to June, the songs on the album themselves are the prescriptions for dreamers. "You write the prescription by the way you choose to listen to it. Some people might hear the song 'Call Me a Fool' as a love song, but others might hear it as encouragement to follow their hearts even if the world calls them a fool. I hope people will get the energy to keep on their paths from the songs."
June hopes The Moon and the Stars: Prescriptions for Dreamers will inspire people to nurture one another and to create community, connecting to one another in a "kinder and gentler and more loving way."
---