Musical Mission: A Trip to Havana With Trombone Shorty
---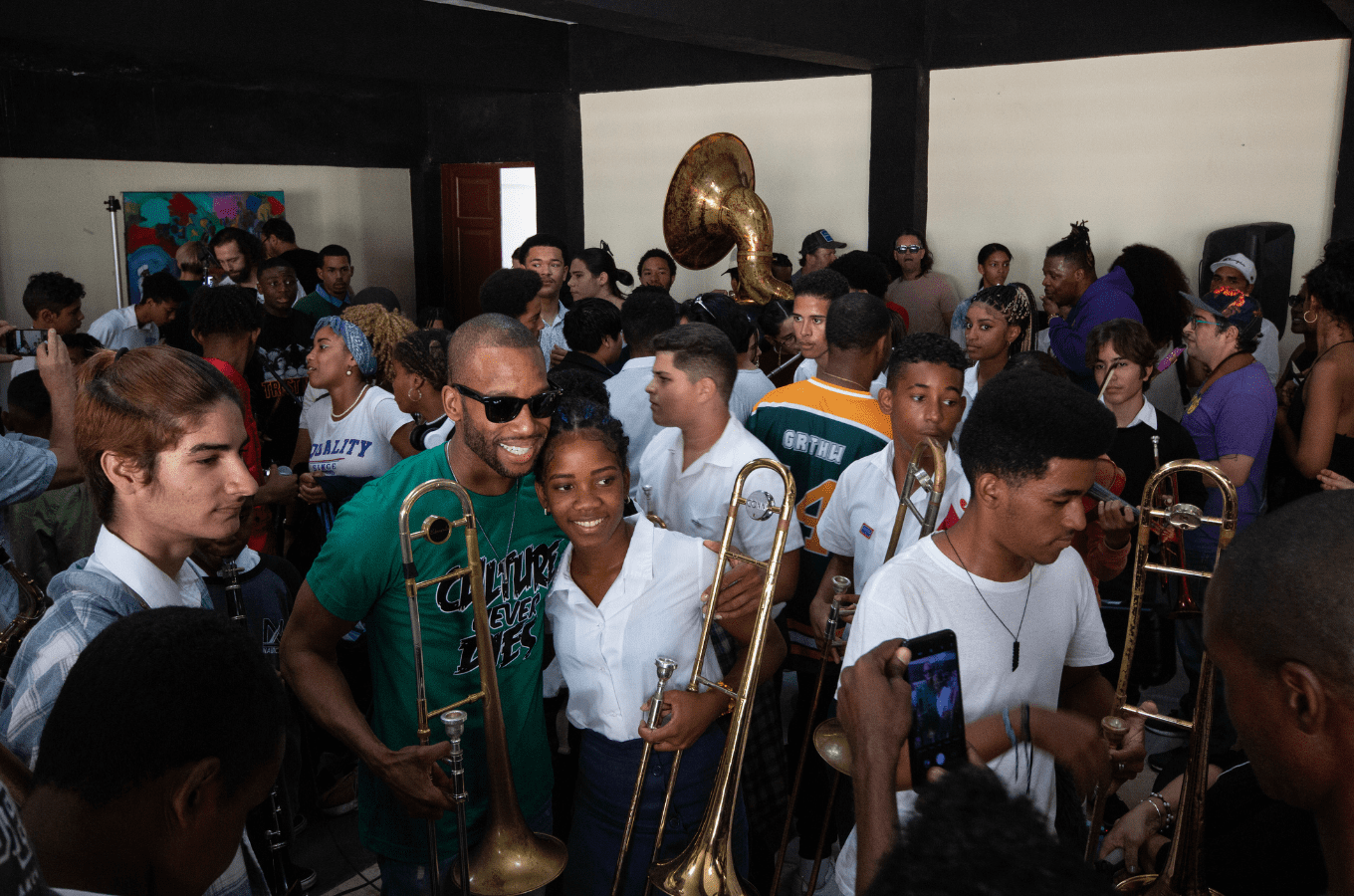 Trombone Shorty poses with student musicians at the Guillermo Tomas Music Conservatory of Havana, part of the Havana Funk Expedition cross-cultural musical exchange. (photo by Hilary Saunders)
EDITOR'S NOTE: This story is an extended version of a photo essay that appears in the Spring 2023 issue of No Depression. Get that issue of the journal here, and subscribe today to support independent music journalism.
Troy Andrews, the man behind New Orleans funk outfit Trombone Shorty & Orleans Avenue, wears sunglasses inside. The wooden slats of the Guillermo Tomas Music Conservatory of Havana are open, so the island sun casts parallel streams of light into the concrete room. It's not really so bright as to warrant the shades, but Shorty seems like he wants to be incognito, in a way. He's the rock star in the room waiting to witness dozens of Cuban music students perform for him, and he wants them to be the center of attention.
First, a group of elementary school children sings a traditional Cuban folk song. Up next, a teenage trio comprised of a bassoonist, trombonist, and clarinetist performs a chamber music instrumental, and Shorty is the first person in the overfilled room to rise from his plastic chair and offer a standing ovation. Finally, the largest ensemble of students offers a few Cuban jazz songs before surprising everyone with a rendition of the New Orleans classic "St. James Infirmary Blues" for the international guests. The concert also includes a performance by eight musical exchange students from New Orleans who are participating in the trip as part of the Trombone Shorty Foundation. To cap off the morning's events, everyone with an instrument is invited to get up and join in a massive, free-for-all jam session.
The Cuban students move through the room with confidence in their playing, but also in awe of Shorty's presence. They come up to him, ask to take photos and selfies, and exchange hugs. It may not have mattered to them, but Shorty has released eight studio albums (as well as four live albums), including last year's Lifted (ND review). He's won a Grammy and worked extensively in community development through his foundation. What these kids do know is that he is someone special on and off the stage, in and out of that concrete classroom.
Part of the Trombone Shorty Foundation's work is to co-organize events like this, the second annual Havana Funk Expedition. The cross-cultural musical exchange, aided by organizational and financial partners like Cuba Educational Travel, the Gia Maione Prima Foundation, and Horns to Havana, took place Jan. 12-16. In some ways an all-inclusive touristic getaway, and in other ways a powerful and meaningful international exchange for students and adults, the musical connection between New Orleans and Havana remained at the forefront for all participants.
More than 100 American guests who joined the Havana Funk Expedition were treated to shows from professional musicians, including all of Trombone Shorty's band Orleans Avenue, New Orleans artists like jamband Galactic, members of The Soul Rebels, Preservation Hall Jazz Band, and Rebirth Brass Band, producer/rapper Mannie Fresh, Los Angeles-based jazz trumpeter Keyon Harrold, and New York-based jazz pianist James Francies. Cuban breakout star Cimafunk (who will perform at the FreshGrass Festival | Bentonville in May, produced by No Depression's nonprofit publisher, the FreshGrass Foundation) hosted a range of local talent on the ground in Havana, including the feminist hip-hop-meets-soul group La Reyna y La Real, musical collective Interactivo, and folksinger and protest singer Carlos Varela (often referred to as "the Cuban Bob Dylan").
But according to Bill Taylor, founding executive director of the Trombone Shorty Foundation, the kids are "the glue that holds it all together." And as part of the foundation's mission to "inspire the next generation of talented youth through music education, instruction, mentorship, and performance," the eight young New Orleans-based students had to chance to come to Cuba to learn, collaborate, and perform with their counterparts at the Guillermo Tomas Music Conservatory.
Despite not speaking the same language and growing up under drastically different political conditions, the student musicians from New Orleans and Havana communicated fluidly through music. The trip not only fostered social and musical connections between the young players, but also illustrated the musical commonalities between New Orleans funk and Havana jazz. Their roots come from similar places — geographically, musically, and spiritually.
A Cultural Revolution
Fidel Castro watches over everything at the Guillermo Tomas Music Conservatory. His name is on almost every wall that holds up every piece of the school's crumbling concrete and marble. A giant portrait of the former Cuban politician/revolutionary/dictator — taller than some of the youngest students — hangs outside in the colonnade, where the overflow from the upstairs jam has congregated and begun playing. The walls alongside the one with Castro's photo are lined with additional photos of the school and its students. Each one, however, contains the leading text, "Escuelas de Arte, Escuelas de Fidel" (Schools of Art, Schools of Fidel), as well as a quote from the infamous leader.
As one reads, "La cultura se está revolucionado, hay una explosión cultural en el país, y la idea, que podía paracer un sueño, de ser el país más culto del mundo, con el sentido amplio de la palabra … será por amplio margen, en breve tiempo — y en algunas cosas lo somos ya …"
"Culture is being revolutionized, there is a cultural explosion in the country, and the idea, which could seem like a dream, of being the most cultured country in the world, in the broadest sense of the word … will be by a wide margin, in short time — and in some things we already are …"
And in this case, Castro was right: Cuba is now widely considered a fertile ground for music. Buena Vista Social Club, the Cuban musical collective that won a Grammy for its eponymous album in 1998 and inspired an Academy Award-nominated film the following year remains one of Cuba's most internationally renowned groups, blending son (which uses elements of Spanish and African traditions like the tres and clave, respectively), bolero (noted for its romantic lyrics), and danzón (the national dance and musical genre of the island). But even before them, the island was home to countless famed classical, jazz, rock, and traditional musicians.
Many of the Cuban musicians who left retained much of the island's musical roots and committed to sharing those sounds with international audiences. Celia Cruz became known as the "queen of salsa" for her contributions in music, film, and dance starting in the 1950s. In the 1970s, jazz trumpeter Arturo Sandoval became friends with Dizzy Gillespie, who helped him get American citizenship. Gloria Estefan and Miami Sound Machine pioneered Latin pop in the 1980s. Since the 2000s, new generations of first-generation Cuban-Americans like Pitbull have been integrating Cuban roots with hip-hop and reggaeton.
Musically, it's easy to believe that the kids at the Guillermo Tomas Music Conservatory are the future of Cuba, learning about improvisation and experimentation while upholding the island's iconic traditions and rhythms. With Cimafunk's saxophonist Katerin Llerena, an alumna of the conservatory, present for the exchange, the young students had the chance to see a real-life example of success.
Between performances, Llerena spoke emotionally about her experiences at the conservatory and as a professional musician. As Collin Laverty, Cimafunk's manager and founder of Cuba Educational Travel, summarized, "I think some … got lost in translation, but essentially, she said, 'I was so poor that I didn't have my own instrument when I was at this school, but I was able to use the instrument at the school. And every time life got difficult, I just studied and studied and studied. And now I have a saxophone that I never dreamt of having. And I'm playing venues across the world that I only dreamt of ever playing at.' "
Political Realities
Llerena's experience, however, illustrates the disconnect between the prevailing ideology and realties in Cuba. The ruling political system —a totalitarian, one-party government that controls almost all services — enables state-mandated support for the arts through schools like Guillermo Tomas Music Conservatory, but that support doesn't necessarily apply to maintaining the infrastructure of the building. (Visitors were advised not to use the toilets, and in case of emergency, to bring their own toilet paper.) And like Llerena, most of the students can't afford their own instruments. Guests on the Havana Funk Expedition were asked to bring a range of musical and medical supplies as donations; Horns to Havana, one of the founding partners of the excursion, provided eight brand new instruments for conservatory students.
According to statistical database Trading Economics, citing information obtained from the Cuban National Office of Statistics (which only shares its information in person and in Spanish), wages for state employees in Cuba was 3,830 Cuban pesos ($160) per month in 2021. And according to the Central Intelligence Agency's World Factbook, approximately 72% of the labor force was employed by the state in 2021. A student trombone can cost as little as $300, but a boutique, professional one can cost up to $9,000, suggesting that most Cubans would struggle to afford to provide the next Trombone Shorty with a quality instrument.
Economic factors like these are inseparable from the feel-good story of the Havana Funk Expedition. And political factors, including just how challenging it still is for Americans to come to the island, contribute to the depth and power of such a musical exchange (as well as to the improbability of making it happen at all). Even a cursory understanding of the island's history underscores the significance of such a trip and of the power of the music being made together.
Castro first came to power through the Cuban Revolution, overthrowing former president Gen. Fulgencio Batista through a violent, guerilla war in 1959. He assumed control of the country as the prime minister later that year, transitioning to president in 1976. Castro adapted Marxist-Leninist politics (a form of communism that emphasizes a one-party state) and applied them to his own insular, nationalist views. During his highly controversial rule, he nationalized services like health care and education — effectively eliminating illiteracy on the island — as well as agriculture, technology, and media. Castro died in 2008, but the Communist Party of Cuba is still the ruling, and sole, political party. These sectors and others are still government controlled, which has resulted in strict controls of the internet and flow of information. Cubans only gained access to data on their cell phones in 2018.
During the 1960s, the US tried to overthrow Castro and the communist Cuban government through assassination attempts, the infamous failed Bay of Pigs Invasion in 1961, and an economic embargo that remains to this day. Although President Barack Obama began the process of restoring diplomatic relations with Cuba in 2015, which also made travel between the countries easier for both Cubans and Americans, those efforts stalled with the subsequent administration. President Joe Biden reinstated some of the Obama-era travel rules, although Spanish newspaper El País reported last week that progress has been minimal due to migration tensions (220,000 Cubans attempted to cross the US-Mexico border in fiscal year 2022, according to Reuters) and the US keeping Cuba on its list of countries that sponsor terrorism (along with North Korea, Iran, and Syria).
Still, tourism remains a vital part of the Cuban economy. International tourism accounted for 10% of Cuba's gross domestic product in 2022, according to Reuters. It's not impossible for Americans to get to the island, though, and Laverty wants to make the process even easier. Ten years ago, he founded Cuba Educational Travel in an effort to facilitate those efforts. The company works with large American companies, as well as smaller, themed groups, but it's clear in his mannerisms, colloquialisms, and bright fashion choices (often from local partners-turned-friends at fashion designer Dador) that Laverty thrives in these cultural exchanges. Although he does not have any Latin or Hispanic heritage, he studied political science and international relations in college and graduate school and worked in Washington on US-Cuba relations before starting the company.
In describing the political realities of organizing the Havana Funk Expedition, Laverty says, "We really tried to be positive, obviously, [because] there's a lot of things in Cuba that are challenging. And it's been a challenging few years. But I think [the trip's programming] was fair." He continues, emphasizing the musical components of the Havana Funk Expedition: "Interactivo have been critical of the government. Carlos Varela is somebody has been very critical of the government. … And so I think it was like, let's bring energy, love, and happiness to Cuba this weekend. But let's also not portray this as like a perfect place without struggles and challenges that need to be addressed."
Those challenges were hard to ignore, even while the Havana Funk Expedition took place in nicest neighborhoods and private-sector restaurants and venues. The economic disparity on the island — which led to record-breaking protests in 2022 against rolling power and internet blackouts as well as nationwide shortages in food and medical supplies — was never far away. While program participants drank cocktails on rooftops overlooking the capital, corrugated sheet metal served as tenuous roofing on the neighboring buildings. While program participants walked to dinner, locals lined up outside a state-run bodega hoping to pay for a weekly ration of bread.
But like Laverty says, there is remarkable joy among people on the island. And that energy is most apparent through music — blasting out of taxis, making people dance, floating up from rooftops, and filling the island's rainbow-colored sunset sky.
Sister Cities
Trombone Shorty was born and raised in New Orleans, where, as he recently told CBS Mornings, "brass is king." But his connection to Havana goes back to 1998, when he and his brother James Andrews visited Cuba through a cultural exchange program. In a way, Shorty is trying to replicate elements of that experience through his foundation and the Havana Funk Expedition.
"Music has been my passport," he says just after returning to the US in January. "Every trip to Cuba is memorable. The place just invites you in and you can't help but fall in love with it, especially if you love New Orleans like I do. They are so similar."
Those similarities encompass more than just the humid air that hangs heavily in both places. They're deeply rooted in the cities' histories, impacting their demographics and therefore cultures. As major port cities, both New Orleans and Havana participated in the trans-Atlantic slave trade: Before the Civil War, more than 135,000 lives were bought and sold in New Orleans, and reports of the illegal trade between New Orleans and Havana emerged in the 1840s.
Today, New Orleans remains a "majority-minority city," with more than 58% of 2020 census respondents identifying as "Black of African American alone." The racial demographics of Cuba are harder to confirm "due to scant records and a paucity of systematic studies both pre- and post-revolution," according to Refworld, a database organized by the United Nations Refugee Agency. However, Refworld estimates that as many as 70% of people currently living in Cuba identify as Afro-Cuban.
The shared geographic origins manifest in a number of cultural parallels — including similarities in cuisine (New Orleans' famed jambalaya and Cuba's omnipresent combination of rice and beans), spirituality (voodoo and Santería), and, of course, music (jazz and an emphasis on clave and second-line rhythms). Within these two cities, Trombone Shorty argues that his own neighborhood, Tremé, often referred to as the birthplace of jazz, and Guanabacoa, the predominantly Afro-Caribbean neighborhood in Havana where the conservatory is based, seem specially linked.
"Both neighborhoods reflect the depth of each city's culture," Shorty says. "It's where the culture comes from, and that has to start with the youth. They have clearly learned their heritage and are updating it in new ways. That's what we do in New Orleans, which keeps it alive and fresh. Guanabacoa and Tremé are definitely sister neighborhoods."
Cimafunk, born Erik Alejandro Iglesias Rodríguez, met Shorty for the first time in New Orleans in 2018. Since then, he's been to the United States "countless" times (most recently for the 2023 Grammy Awards, where he was nominated for Best Latin Rock or Alternative Album for El Alimento), having been granted the coveted O-1 visa for "Individuals with Extraordinary Ability or Achievement."
Sitting in a cement room at his friend Daniel Arevalo's film production studio in a corner of Havana not swarmed by tourists or guests from the Havana Funk Expedition, Cimafunk smokes a Cuban cigar with a circumference the size of a quarter. His stage name honors the cimarrónes — the enslaved Africans who were brought to Cuba but remained on the island after escaping or being freed — and the funky music he plays.
A bottle of Jameson sits mostly empty as the burgeoning musical star, the filmmaker host, and a number of other musicians, models, friends, and Nashville-based music photographer Michael Weintrob alternate pouring Cuba libres for themselves and each other in mismatched glasses. The swirling smoke and dream-like ambiance is almost too real of a metaphor for the pace and purpose of Cimafunk's rising celebrity across the island and internationally.
"Cuban music is everywhere [in the United States]," Cimafunk says thoughtfully, responding in English to questions asked in Spanish. "We are family because with the slave traffic, everything changes. We both have the same roots at the end. And those roots changed everything. We had a lot of slave traffic between Havana and New Orleans and you feel that in the music."
Those shared genetics, he believes, influence the music made in Havana and New Orleans. And that music shows how connected people really are.
People to People
The first trip to Cuba that the Trombone Shorty Foundation arranged took place during the annual Havana Jazz Festival in January 2020 and featured Cimafunk as well as New Orleans artists Tank and The Bangas, Chief Monk Boudreaux, and Anders Osborne. It was such as success that that everyone wanted to repeat it. But the pandemic halted such a revival until this year.
Taylor from the foundation programmed both trips to Havana, choosing musicians to come from the US, students to visit as part of the foundation, and more. This year, the Havana Funk Expedition also included a visit to the prestigious Lizt Alfonso Dance Cuba school, a tour of the Factoría Habana, and a number of different venues and performance spaces.
"To curate it," Taylor says, "it's about bringing the right people. This is all done on a people-to-people visa. And so when we come here, we've invited people we know [are] fans. … No one's getting paid here. So everyone's doing it for the love of it. If you're leading with your heart or you're leading with the music, then chances are some kind of experience is going to come from that that's going to be amazing."
Taylor continues, "And then a little deeper than that, I think when coming from a city like New Orleans that has such a rich heritage, when you connect it to another culture — that in some ways is similar in some ways is different — that's where magic can happen. I think it's important to note that sometimes when these connections happen, a lot of it is rooted in the past, like it's a heritage thing. This is very much like a forward-looking thing. When you have Cimafunk and Trombone Shorty together, you're not looking in behind you. You're looking in front of you what the future could look like."
That people-to-people connection is one of the most magical parts of this year's Havana Funk Expedition — something that makes every moment feel miraculous and spontaneous, despite the strict schedule to appease the Cuban government's visa requirements. Guests befriend each other easily; no velvet ropes or fancy hotels separate them from each other or the famous musicians. And players — both student and professional — learn directly from each other through conversation and especially through song.
John Rhodes, 16, is a drummer from New Orleans attending Warren Easton Charter High School. He's been playing for eight years, but his first time leaving the city was just last year through a different program organized by the Trombone Shorty Foundation. For him, the Havana Funk Expedition was particularly meaningful because of his time with the Cuban students.
"This musical exchange was special to me because it allowed me to obtain knowledge, and also share knowledge with people from another country over something we share a common interest in," Rhodes says. "I learned different Cuban grooves such as the cha-cha and the 2-3 clave. I feel as if I taught them the big four with brass bands."
Keyon Harrold, a trumpeter, songwriter, and bandleader based in Los Angeles, was invited to join the Havana Funk Expedition and brought his 16-year-old son, Keyon Jr. In some ways, the highly sought-after musician and collaborator was like the rest of the guests on the trip: He brought an instrument, mouthpieces, and valve oil to donate to the conservatory students. He ate meals with his son and bought art and souvenirs like the rest of the guests.
But Harrold — whose new album is due later this year via Concord Records, and whose previous collaborators have included Beyoncé, Snoop Dogg, Mary J. Blige, and Gary Clark Jr. — often jumped in during performances with La Reyna y La Real and Trombone Shorty & Orleans Avenue, as well as during the big jam at the Guillermo Tomas Music Conservatory. His highlights included "the rhythms, the super [precision] of the melodies and the harmonies, and to see how … Cuban people work together with certain minimal access to certain things we have on a daily basis," he says. "It was special."
But watching his son, a burgeoning percussionist and beat-maker, connect with the Cuban musicians his age was special experience in its own way. Harrold reminisces, "My son had an amazing time. I had my own track [on the trip], but he had his track of collaborating with young Cuban musicians. He did his own recording sessions … he was like a sponge to see! He got a chance to really sit with some incredible producers and just listen to them and learn and jam with them."
Plus, Harrold continues, the Cuban ambiance allowed him to step back from music-industry stress that can be overwhelming, especially in the US. With the limited financial, technological, and material resources available in Havana, it was easier to focus completely on making music together and living in the moment. "When you see that there's such a beautiful, beautiful existence outside of yourself, you start to be more open and the spirit of gratitude is all over," Harrold says. "And then you get a chance to appreciate some things and get back to the ground, to the basics of what brought you to this music, what brought you to the art — the simple things before it started getting complicated with record deals and complicated with shows. You start to see the beauty of the simple things.
"Humility is one of the words that really stuck out to me. Just because something is humble doesn't mean it doesn't have complexity or doesn't mean it has depth. It just means it's a little bit more focused."
Keeping It Going
Back in Havana, the second-to-last night of the Havana Funk Expedition serves as a culmination of sorts for the whole trip. Trombone Shorty is headlining a free show at Los Jardines de la Tropical (part of the Havana Metropolitan Parks system) that features Harrold, pianist James Francies, Cimafunk and Llerena, and more.
With exotic plants and banyan trees surrounding the covered, concrete outdoor performance space and encroaching on every other human-made edifice, Shorty and the band deliver a raucous and celebratory 90-minute set. As Laverty describes with a laugh, "I've seen Troy play a couple times … I can't find the words to describe his talent." That particular performance, however, is "like watching Michael Jordan score 100 points."
But before Shorty, the band, and special guests went on, the students of the Guillermo Tomas Music Conservatory line up in front of the stage to perform a few songs as the opening act. Some of the kids, particularly those with larger instruments, drop them off side-stage before the headliners, but others keep their smaller horns and drumsticks in hand for the rest of the night. With horns facing horns between the front row and the stage, the students and the professionals perform at each other — with each other — in a rare moment of unbounded communion.
After the show, the night buzzes with tropical insects and collaborative energy. Juan Licor, a 14-year-old trumpet player at the Guillermo Tomas Music Conservatory, reflects on his experience in the cross-cultural exchange. "This experience made me stronger," he says.* "This experience helped me develop my senses and develop my stage presence … since I was able to relax, improvise with eyes closed, it was like a rainbow."
Despite having only played trumpet for four years, Juan was one of the eight students to receive a new instrument from Horns to Havana. He looks forward to continuing to play and to learn, and he hopes to be able to have an impact on the world like Trombone Shorty or Wynton Marsalis. "Music — like all genres, whether it's popular music, whether it's classical music — has the power to [reach] people," he says. "And Cuban music, especially jazz, has this power to change things."
Members of the Trombone Shorty Foundation and partner organizations are looking ahead too. In particular, they want to bring students like Juan to New Orleans in order to complete the full circle of this musical exchange.
"Monday morning [after the trip] when I was getting out of bed, I started to think about what had happened over the weekend, and also started to get a lot of messages from people in Cuba, like really, really deep, thoughtful thank-you notes from people in Cuba … I got really, really emotional," Laverty says.
He returned to the Guillermo Tomas Music Conservatory and began working on how to bring some of those students to the United States. Details are still unconfirmed — how many students, for how long, which age range, and when — but he and other organizers hope that a visit will coincide with the New Orleans Jazz and Heritage Festival, which takes place April 28-May 7. That timing is intentional: Both Trombone Shorty and Cimafunk are slated to perform at this year's festival. (Shorty has performed at almost every Jazz Fest since 1990, when he was just 4 years old; And Cimafunk recently announced his own headlining show, the inaugural CimaFest, on April 29.)
"My hope and goal is that the momentum continues," says Anthony Sylvester, lawyer and trustee of the Gia Maione Prima Foundation, one of the partner organizations of the Havana Funk Expedition. He notes the struggle Cubans live through every day, and sees an exchange that would bring the students to New Orleans as a way to open doors.
"If at some point it has a broader social impact, that we're exposing these young, talented musicians to opportunities — and they can see it! They see Cimafunk, it's not impossible! — well then, we've done a lot."
* Special thanks to Isabel Albee with Cuba Educational Travel for assistance with translation and transcription.
---