THROUGH THE LENS: Australia's Byron Bay Bluesfest Charges Back Full Strength for 2023
---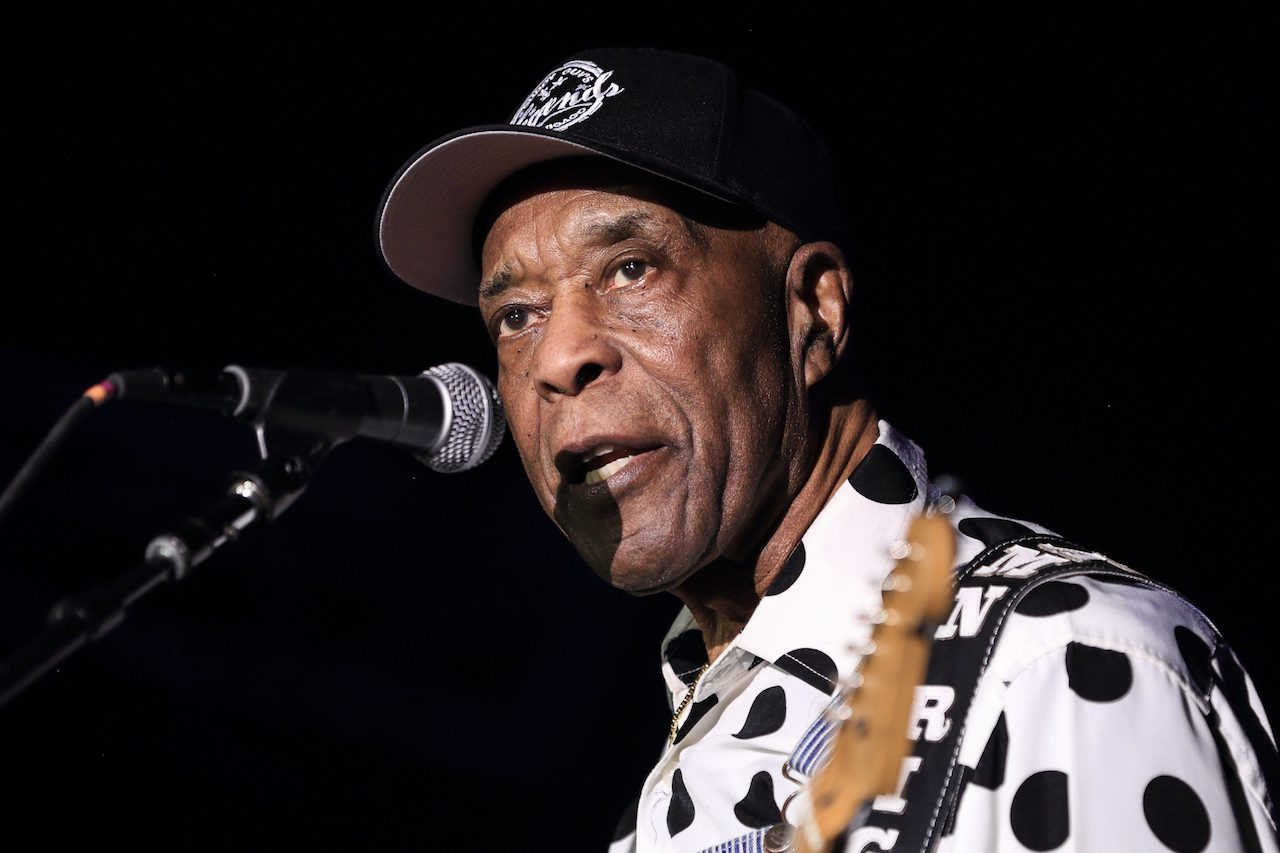 Buddy Guy - Byron Bay Bluesfest 2023 - Photo by Steve Ford
Byron Bay Bluesfest is Australia's premier roots music festival, regularly named by both artists and the music industry as one of the world's best. This was the first Bluesfest with a full roster of international artists since 2019, as the 2020 and 2021 editions were abruptly canceled due to COVID. Rains made the 2022 festival a muddy one, and there were just a handful of overseas artists. This Easter the weather gods were kind, with cloudless blue skies through most of the five days that began on April 6. Our Australian correspondent Steve Ford was there once again there for us.
Byron Bay Bluesfest 2023 by Steve Ford
Like many large music festivals, Bluesfest long ago outgrew its founding name. The original moniker, East Coast International Blues Festival, was quickly changed to Blues and Roots before switching to the snappier Bluesfest. While there is always been a solid core of blues artists on the roster, 2023 had the strongest blues guitar lineup in my 22 years at the festival.  
This was the great Buddy Guy's sixth and almost certainly last Bluesfest, as he turns 87 in November and has already embarked on what he's calling his Damn Right Farewell Tour. It's sobering to realize that none of the other big name American guitarists at this year's Bluesfest — Joe Bonamassa, Eric Gales, Christone "Kingfish" Ingram, Marcus King, and the Lovell sisters of Larkin Poe — were even born when Guy first toured Australia (with Junior Wells) in 1971. 
Old Friends
There was much on offer for Americana fans, including veterans Jackson Browne, Bonnie Raitt, Steve Earle, Lucinda Williams, and Mavis Staples, who remains the queen. Williams, unable to play guitar while recovering from a stroke 18 months ago, sounded as good as ever, as did the timeless Bonnie Raitt. Staples' only concession to her 83 years was to rest her legs occasionally. With the help of regular guitarist Rick Holmstrom, one of the tastiest Telecaster players on tour, she still delivers a rousing, feel-good set every time. 
Jason Isbell and Nathaniel Rateliff have both played previous Bluesfests, as have fellow high-energy crowd pleasers St. Paul & the Broken Bones, Vintage Trouble, Trombone Shorty, Cat Empire, and Michael Franti. 
First Timers
My only criticism of the 2023 roster, and this is from the perspective of a rusted-on regular, is that there were too few new acts, but the ones who were there certainly delivered the goods. Allison Russell was a drawcard for me and she delivered beyond expectations. I was mesmerized by her music and stage presence (and so thankful for the photographer-friendly lighting!) Greensky Bluegrass finally made it after being first scheduled to play in 2020, and they were everything I'd hoped. Southern Avenue were a surprise packet for me, all fresh energy with Memphis at their core. Lead vocalist Tierinii Jackson has star quality. 
I didn't get to see much of LP (Laura Pergolizzi), but it didn't take long to realize why she has such a zealous fan base. She is a truly charismatic performer who grabs and holds your attention.
Steve Poltz is in a category of his own. As a longtime fan I was thrilled to see his name on the Bluesfest roster for the first time. He played two shows and won a legion of new followers, including Bluesfest Director Peter Noble, who confessed to the Sunday crowd that he should have booked Poltz well before now.
First Nations Artists
As always, Indigenous Australia was well represented at Bluesfest. I'd seen the Marliya Choir performing the song cycle "Spinifex Gum" at previous festivals, it always gives me goosebumps. Yirrmal is also a stirring performer. I was floored by the hour-long tribute to the late Archie Roach, who is revered by Aboriginal artists. The program was meticulously planned and beautifully performed. Among the highlights were a ballad by Radical Son (David Leha), best known as a rapper, and a recitation by actor Tamala Shelton. 
International Artists
Most Bluesfest acts are drawn from Australasia, North America, and the British Isles, but there is usually a sprinkling of artists from other parts of the world. This time it included Icelandic blues-rock band Kaleo and Finnish novelty act Steve 'n' Seagulls. Nigeria's Femi Kuti, son of Afrobeat pioneer Fela Kuti, was back after a 17-year absence playing with the same passion and conviction.
Apart from the glorious weather, I will remember Bluesfest 2023 mainly for two artists. It was my first time seeing the remarkable Allison Russell, and it was likely my last time seeing Buddy Guy. I first saw Guy in November 1971, when he was 36 and I was 19. His final Bluesfest show happened to be on my birthday. I couldn't think of a better gift. 
Click on any photo below to view the gallery as a full-size slideshow.
---