ALBUM REVIEW: Trombone Shorty Brings the Party Back on 'Lifted'
---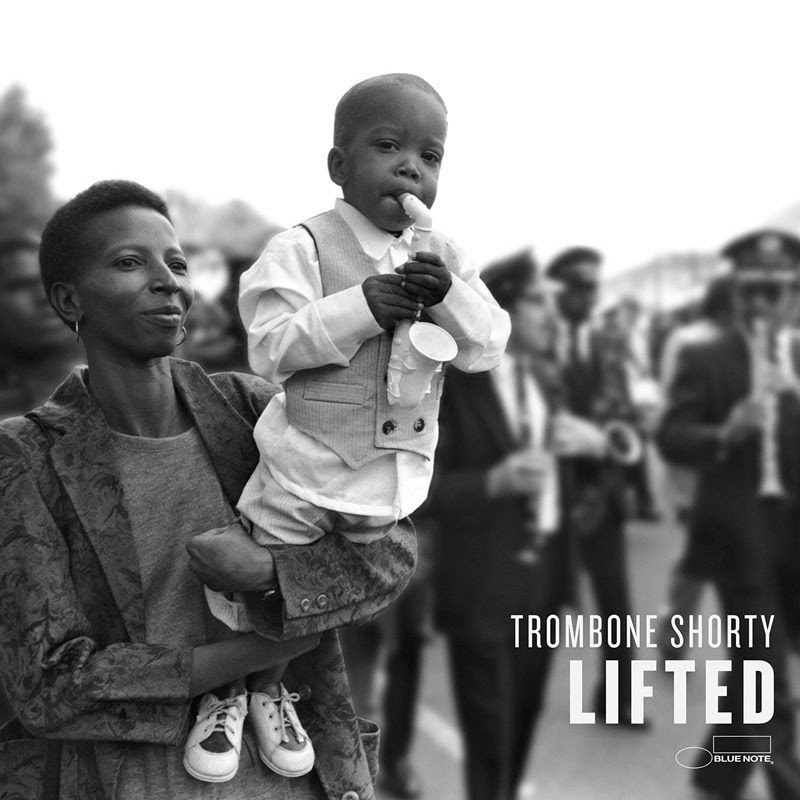 Trombone Shorty is a party in progress. A never-ending second-line party parade purveyor, Troy Andrews has had his "Shorty" nickname since the age of 4, making his professional debut onstage at New Orleans' Jazz Fest with Bo Diddley.
In person or on record, Shorty brings the same energy and excitement, backed by a group of jazzy funksters who can flip and turn in an eyeblink to accentuate their leader's stratospheric takeoffs. Equally proficient on trumpet and trombone, Shorty stirs soul, rock, funk, and jazz into a bubbling gumbo that gives a hotfoot to anyone within range.
On his latest, Lifted, Shorty stands taller than ever. The album is dedicated to his mother, seen on the cover holding him up at a second-line parade. He credits her as his teacher in keeping the culture and spirit of his Treme neighborhood alive. Gary Clark Jr. and Lauren Daigle drop in for a couple of interludes, but this show is all Shorty, all the content written or co-written by him and performed like a sweaty, enthusiastic crowd was in his face cheering him on.
"New Orleans is a special place, 'cause it's like the heart of it all," Shorty says the spoken-word intro to the video for the soulful "Come Back," ostensibly a plea for a departed lover to return. But the lyrics could also be interpreted as an outreach for his battered hometown's recovery: "It's been beaten, it's been bruised, been had, but at the same time, it still give you love."
"Lie to Me," anchored with an Afrocentric beat sprinkled with Prince and Lenny Kravitz accents, is juiced up by a beefy brass presence led by Shorty's Fred Wesley-esque trombone lightning flashes and stabbing trumpet attack.
The title track sounds like a Kravitz outtake, big, bold, and brassy with a fist-pumping bravado that could fill a stadium. But for sheer brassiness, it's hard to beat the infectious Sly and The Family Stone-style funk on "Everybody in the World," boosted by a guest sit-in by young New Orleans artists New Breed Brass Band.
Gary Clark Jr. has to work hard to get his instrument heard over the bombast created by Shorty and his band on "Standing Here," but he manages to get some stratospheric guitar licks in to let you know he's in the house.
Grammy-winning Christian artist Daigle gets celestially funky on "What It Takes," like Mavis Staples frontin' Sly.
Even though it came from the studio, Shorty takes it to the streets once again on Lifted. Party on.
---