Music and History: Pablo Dylan's New Americana
Posted On January 16, 2019
---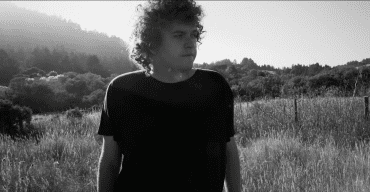 The Finest Summersault,* Pablo Dylan's new EP, will be released on Jan. 25. The keenness of the concerns Dylan explores, the stories he tells and the way he tells them, and the heart in the cautions he seeks to give all work together to make this record feel more rooted in America, and Americana, than any other I've heard for a long time.
The title track is a rocker with a skiffly-shuffly danceable beat and twisting, wacky words, a mock-epic love story of a chance encounter and a solid escape. In a world of "L.A. drivers and a million Italian cars," the singer sets out to meet someone and knows just where to go: "It's where all the girls go when they get bored / To look and find men with dazzling swords." Sure enough, a girl who looks like Scarlett Johansson and "said I talked like Caesar" takes his shoulder and says let's go.
"We jumped in the Uber and I turned on Kanye / Looked like a mind was wasted, or she had a mighty long day / She said I only like singers who don't write their songs / Please do me a favor and turn on Bieber / He's nothing close to a poet, he's a real singer … ." Of course, there's a guy at her place the next morning who might have a gun ("Americans love their guns"), and that's the singer's cue for his disappearing act — in that "finest summersault." It's a gas, a replication of celebrated escapes from Cherubino out the window in The Marriage of Figaro and the various fraught getaways of Byron's Don Juan, to the jokey flight from a very different-looking woman in Bob Dylan's "I Shall Be Free."
It's about another kind of freedom, too: the freedom for a young musician to be himself in a new, different way. Dylan chuckles when I ask him that "The Finest Summersault" is really about. "My manager Ty said this song is so out of place on the album; written sarcastically. I'm not saying all these ridiculous things; all of this is horrible. It's lifeless, and there's nothing in it. That song is kinda wrapped up like Christmas Eve, the presents under the tree. I wanted it to seem very shallow." It's an elegy of sorts, an epitaph to Dylan's first recordings of the 2000s: "this is the death of the Pablo that wrote like that once; the whole 'rapping grandson' thing is now laid to rest, that's the end of it, and now you're going to get a more serious version of me."
On this new record, Dylan also exercises his freedom to be ironic, to explore various styles and themes of American music from days long past, and to use history and folk tradition to provide a handle for what is happening in this country today. Although The Finest Summersault is no concept album, its overall theme is, briefly, America. Says Dylan, "I was trying to grapple with the mystery, with what people are feeling right now in the country … the record's really more about a sense of division in this country, the social fabric torn apart at its seams."
Dylan's voice is clear and pleasing, with a simple folk delivery and devoid of the ghastly vibrato that young singers too often make their prime mode these days. It's a good voice in which to deliver both sarcasm and sensibility, cautions, and compromises — or, more correctly, just promises — in the lyrics of these songs. His sense of history, both American and world history, is sharp and comes out loud and clear in a song like "When We're All Free," which considers the question of justice. What is justice, whether it's elevating us or bringing us all to hell, can only be resolved when we're all free — if that day ever gets here. "In a nation based on freedom, it's all in the name of freedom / Justice should supersede any man / But I see Joe McCarthy a-dancing with the ghost of Salem / Spirits never were banished from the land."
What inspired "When We're All Free"? "It started with a story I overheard at a bar, once — a lot of my songs do," says Dylan. "It's about telling an amalgamation of stories. I was just in a town outside the city and I overheard this story about a guy going to prison and all that stuff, and the rest of it all fell into place."
Similarly, "Don't Wait for Me" started "with another story I heard, or rather a couple, at a bar up north outside the city," Dylan says. "And I noticed this persuasive theme of the world moving on without them. Outside of the cities in this country, people feel that the rapid change in other parts of the country have left them out, left them out of it. People have a tendency to stick to their guns. It's about longing, about why don't you want me to be part of this too, why have you neglected me? About the pace of change, and how we don't think it through fully or its consequences."
"Eye of the Storm," which Dylan calls "the most open-ended song on the record," begins it.
"'One Too Many Nights' came really quickly," says Dylan, "to balance 'Don't Wait for Me' and 'Eye of the Storm' and the heavier, more serious songs." He compares his writing process to a Basquiat painting, recalling how Basquiat crosses words out, but they can still be read beneath the artistic "redactions" that don't redact, but make something new. "Art is made out of what's retained, and what's crossed out. I wanted to balance everything — 'The Finest Summersault' and 'When We're All Free' on the same record."
Dylan is quite clear about the importance of writing his own songs. "Other people may tell you something different, but songwriting just comes. It's something you just have to do, and in search of a perfection you can never really find. I don't know all the answers to that — will it make divisions better? — but it'll affect people the way it does." Dylan is already working on new songs, and repeats, "I'm always going to be laser-focused on trying for perfection." What's perfection? I ask. "Shakespeare," he says immediately, with a laugh.
Bob Dylan is his grandfather. Jakob Dylan is his uncle. How do they, and their status as his relatives as well as well-known musicians — and particularly as singer-songwriters — affect Pablo's own music, and its performance? Dylan does not respond lightly to this question, giving it plenty of time and thought. When he does speak, it is with grace and affection — and independence. "I love my grandfather and uncle, and they've done the most consequential work, but I'm focused on my own songs and what I want them to say."
Pablo Dylan, with James Harte, "Undone" (2019)
Dylan is currently on tour in California and New York. Stay tuned @pablodylan on Instagram for dates.
* several days after this article was published, the spelling of "Summersault" was changed to the more contemporary and usual "Somersault."
* * * * * *
Your subscription helps keep independent roots music coverage alive! Subscribe to No Depression now and join a community of roots music fans from around the world.
---