Moonshiner Reunion time again!
Posted On September 18, 2018
---
it's almost my favorite time of the year as the crisp fall air begins,football is winding up, and of most importance the big ole family to do in Campobello South Carolina. The first weekend in October is always cleared and marked on my calendar. The legendary Barney Barnwell's property known as the Plum Hollow Farm is home to two music festivals a year. It has been a celebration of life for few decades now.
Barney started the festival with a goal of promoting values of helping fellow neighbor and celebration southern heritage. I never had the pleasure of meeting him. The stories of him are what legends are made of. One story I'll share is the bath house showers were down once years ago so Barney calls up the fire dept to bring trucks out. He tells every to bring your soap and wear bathing suits in the open field as fire hoses sprayed water on thousands. I'm sure that was a sight to see.
I've been coming the past five years and I always meet folks that are strangers who become family.Individuals from all aspects of life coming together is a beautiful thing. So many volunteers work very hard to make this happen. They truly look out for one another and all your troubles of the world are left at the gate for a few days. It's the best therapy around if ask me. This place restored my faith in humanity.
The farm is a 50 acre music park right on edge to the Blue Ridge mountains with a two stages,amphitheater area,shower and bathrooms, cabins, RV field and good ole primitive camping that hold 7,500 folks.
It's a three day event that begins on Thursday with gates opening at noon and ends Sunday. Thursday bands play on the smaller stage while Friday and Saturday the larger stage host some greatest regional music around.
The longest running music festival in foothills of South Carolina has changed it's name a time or two but, the spirit of picking and singing on a beautiful farm with peach,pear,apple and pecan trees lives on. Festival-goes may even catch of mother nature's creatures such as deer,rabbit and maybe even a skunk. You will not go hungry on the farm as you walk around someone is always making something such as grilled BBQ chicken,hot dogs or such. Kathy Johnson is known as the "" Bean pot lady" and cooks on a open fire. One night it be chicken and dumplings while, the next is pintos and cornbread. It really draws people in and Kathy is one of the purist souls I have ever met in my life. When get fed go check out movies on Barney Barnwell in the theater beside bean pot.
Dirty Grass Soul,South 85, Bill Noonan and Plum Hollow Band are regulars amongst others. It's billed as a "Alternative bluegrass festival" with some finest pickers around that play it all from bluegrass, outlaw country, rock, metal, new grass,grunge crass, and many other genres yet to be discovered. You are treated to showcasing these styles from the best talent in the region. A really unique thing is the self sufficiently of having a recording studio on the farm as well as a t-shirt and promotional company.
Nighttime after the music stops on the stage hop on your golf cart and head into the woods as they come alive with socializing,storytelling, campfire picking, and happy memories. I've got some the best sleeps ever in my life in these woods. I had some best times staying up all night to sun comes up as well. It's to say that Barney's vision is keeping tradition as he would have wanted it to.
So, I urge you all to make plans to come out to leave all your troubles behind, see the old working 1936 peach flat truck, get you some of Kathy's chicken and dumplings, listen to Dirty Grass Soul, and join the family! Amen!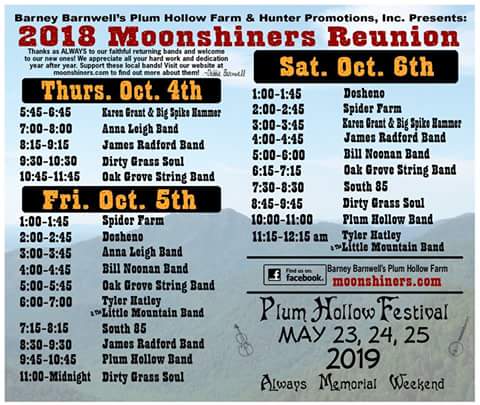 Photography by "General" Lee Garner
#partsunknownproductions
---