Lizzie Weber's Beautiful "You"
Posted On October 24, 2018
---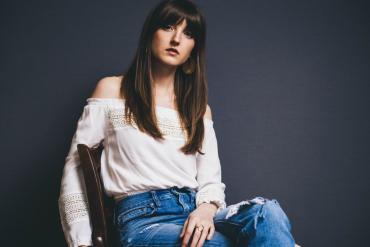 Born in St. Louis and currently living in Seattle, folk artist Lizzie Weber has released a video for "You," a beautiful and hauting tale of heartbreak from her recent EP of the same name. The video features the singer songwriter alone in a softly lit room, playing an acoustic guitar and singing to the camera. The video is also Weber's co-directorial debut.
Of the video, Weber says, "[it is about] the paralysis that can come with a heartbreak. Specifically: a moment in time where you feel that you've been deeply wronged by someone you loved, but in the end admitting you had seen their true colors all along."
Of the three song EP, "You," Weber says, "I wrote these pieces many years ago, after a traumatic break-up. They were so brutally honest that I couldn't bring myself to record them for a while, even though personal lyrical candor has never been difficult for me–I couldn't face them. When enough time had passed, I felt compelled to record them as I know these feelings to be universal for those of us who have ever felt the pain of lost love."
It's a confessional trio of lovely songs and we look forward to what Lizzie Weber does next.
---