JOURNAL EXCERPT: Julian Lage Finds Inspiration in Old Classics and New Collaborations
---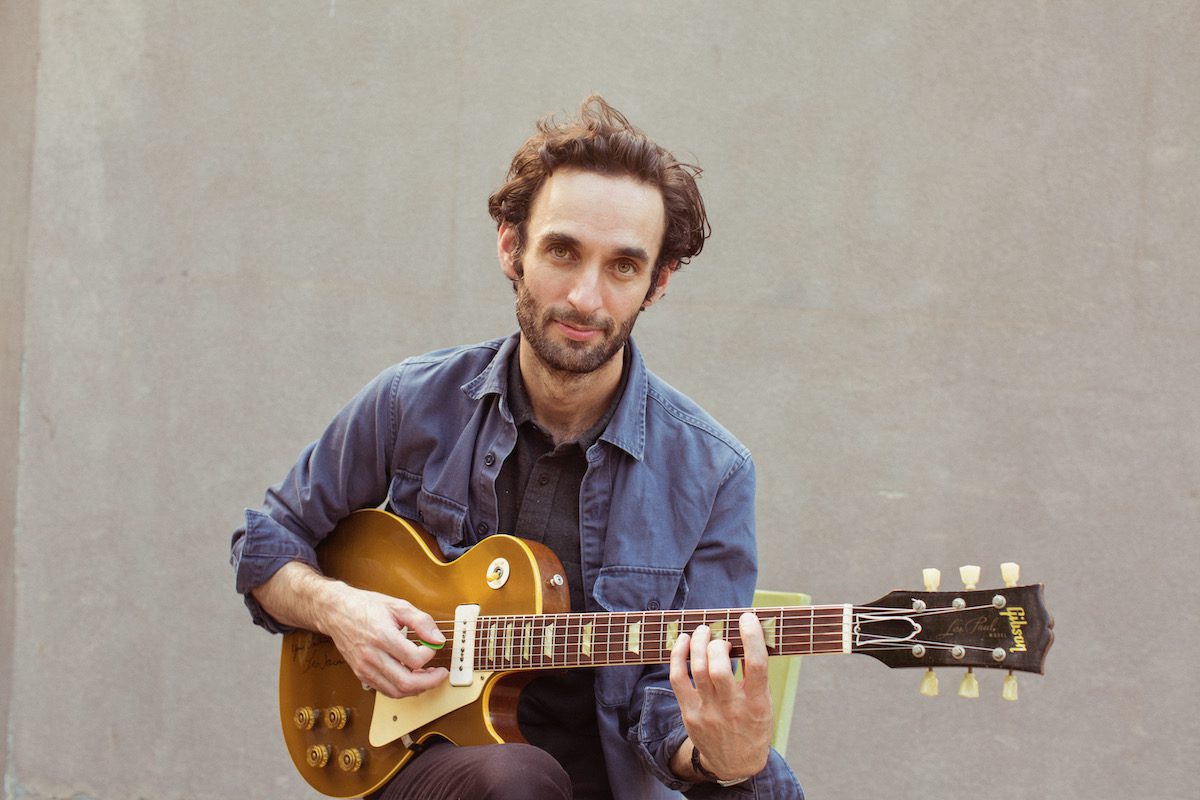 Photo by Alysse Gafkjen
EDITOR'S NOTE: Below is an excerpt from a story in our Spring 2021 journal, "The Great American Songbook." You can read the whole story — and much more — in that issue, here. And please consider supporting No Depression with a subscription for more roots music journalism, in print and online, all year long.
When he was just a teenaged jazz guitarist back in 2000, Julian Lage told his California hometown newsweekly The North Bay Bohemian: "As I play, I discover a spiritual element in the music. I meditate and I find that this centers me and allows things to happen. You can't force the music — you can't force yourself into a groove."
Twenty years later, Lage stands by that statement. "Music represents what it needs to represent at the time for each practitioner," he says on the phone from his current home in Nashville. "Maybe when I was growing up, I thought that I had to overcome certain challenges. But I find great delight in the things that each person uniquely struggles with and also in all the things we share in common. You kind of have your own karma with the guitar. As long as you go along with the ride, I think it's very kind and friendly. That's my experience with it."
His karma has been good. Lage grew up in Santa Rosa, California, 40 miles north of San Francisco, and started playing guitar at age 5 after hearing his father strumming the instrument. At 12, he had already contributed to David Grisman's Dawg Duos album, played on the 2000 Grammy Awards telecast, and been the subject of the Academy Award-nominated documentary Jules at Eight. By 16, he had studied sitar and tabla at the prestigious Ali Akbar College of Music (where he met a future collaborator, the tabla master Zakir Hussain) and was composing for and performing with veteran jazz vibraphonist Gary Burton.
Now 32, Lage has a slight build and is soft-spoken, with a quick laugh, joyful nature, and gentle disposition. In 2009, he released his debut album, Sounding Point, with a band gleaned from his days at Berklee College of Music in Boston. Known for his improvisational skills, he has recorded nine solo, duo, and trio albums, including sessions with fellow guitarists Nels Cline of Wilco and Chris "Critter" Eldridge of Punch Brothers. His most recent album, 2020's Love Hurts, features Dave King on drums and Jorge Roeder on bass. Squint, a follow-up with that same trio, is due out on June 11 on Blue Note Records.
Lage's music often echoes the sound of such legendary jazz guitarists as Jim Hall and Pat Metheny, whose atmospheric styles are reflected in his playing. But his guitar heroes also include the late guitarist Clarence White, who played in The Kentucky Colonels before joining The Byrds and becoming a country-rock pioneer. Another is Jerry Garcia, who had a lifelong connection to bluegrass, recording several bluegrass albums with Grisman. "I think once you start looking, a lot of guitarists have a deep connection with American traditional acoustic music," Lage says. "As a guitarist, you don't have to care about it, but once you do you realize it's all laid out for you — then it's easy to bridge the gap between American traditional acoustic music and modern jazz."
In Standard Time
For Lage, standards are an important foundational tool that helps make him a better composer and player —  his latest trio album includes "I'm Getting Sentimental Over You," first recorded in 1935 by Tommy Dorsey; "Love Hurts," introduced by The Everly Brothers and popularized by Gram Parsons and Emmylou Harris; and "Crying" by Roy Orbison.
"Standards are the ultimate emblem of melody and harmony and form — it's defines the tradition I come from," Lage says. "If you're going to talk about atmosphere and lyricism, you're gonna talk about 'Stardust' and 'Embraceable You' and 'Body and Soul.' Those are the texts that I return to, and anything that works there is going to work elsewhere. That's the foundation for everything I've written, and even free improvisation leans on what you can learn from standards about what a satisfying contour feels like. If you play '(Somewhere) Over the Rainbow,' by the end of that first chorus, you've been changed. No matter what else you play, you end up asking, 'How can I achieve that when I don't have the benefit of this great song?' Because it forces you to think about the contour — the rise and fall, the tension and release. So standards are something I've been close to all my life and I feel that I am getting closer to them. They bring something to jazz that I want to celebrate."
Yesterday's standards wax and wane in popularity, and tomorrow's standards may not even exist yet. But Lage believes that the current canon, with all its fluidity, contains a number of contradictions. "You might say a standard is something that's classic and it's 32 measures and singable. Well, not necessarily," he says. "Well, then you might say it's something with a vamp and a groove. Well, it's not necessarily that either. So I think popular culture is what determines whether something sticks as well as how people interpret it. 'My Favorite Things' would have been a standard no matter what, but John Coltrane playing it sent that song to another level, so it's now here to stay."
Lage's partner, the singer-songwriter Margaret Glaspy, has introduced him to new music while in quarantine together, including some potential new standards. Recently, they performed an at-home, acoustic rendition of Kacey Musgraves' "Rainbow."
"It's a great song because it makes you feel something and it's very clear," Lage says. "It's masterfully done. It's one of those songs, like 'God Only Knows,' a song that is harmonically and melodically and rhythmically and lyrically on point — everything is firing. … So if you're searching for the next standards, look for those songs that check the most boxes for you."
Always Hearing

"I realize this might sound like hyperbole, but I feel like he is already one of the all-time greats of the instrument," says guitarist Chris Eldridge, who shared a 2017 Grammy nomination with Lage for Best Contemporary Instrumental Album for Mount Royal. "It's a privilege to have a guitar duo together. I always want to just be better when I'm playing with Julian. I mean that in a very healthy way because Julian leads with warmth and love and is great at making everyone he plays with feel comfortable. I once told Jefferson Hamer, another guitar player friend of mine who was going to hang out and play with Julian, 'It's bizarre, but somehow you will never feel better about yourself as a guitar player than when you are playing with Julian.'"
Nels Cline, lauded for his technical and melodic guitarwork with Wilco, has had a similar experience playing with Lage. "I can get pretty neurotic about playing, but not when I play with Julian. He is always hearing what I play. This quality alone is liberating for me," he says. "It relaxes me and hence feels nurturing to the point where I feel that I just play better when I play with Julian. If that's not a strong connection I don't know what is. … We play music. Together. We appreciate not only each other's voices and sensibilities but, crucially, the music that happens from our combined efforts. As Julian has said, it's more 'one big guitar' rather than two sovereign individuals sparring or whatever."
Lage typically doesn't use traditional comping, the ubiquitous jazz accompaniment technique in which a musician fills in around a partner's lead lines with complementary harmony chords before stepping up to take their own moment in the spotlight. Rather, he overlays his partner's guitar parts by playing empathetic lead lines and building textured melodies, perhaps a shadow of his classical Indian training. This technique is audible throughout Mount Royal. On "Old Grimes" and "Greener Grass," Lage and Eldridge simultaneously weave cross-picked guitar lines to create lacy melodies. On "Goldacre," they blend their divergent styles deftly, with Lage adding moody minor-chord accents to Eldridge's traditional bluegrass runs.
"Playing with Critter was a gateway that showed me I have access to these tools and they apply to a different genre," says Lage. "It wasn't necessarily me taking on that different genre. I'm not a great bluegrass guitar player, by any stretch of the imagination — I know about four songs in the tradition. But I do love Critter and I love playing music with him. The music that's dear to him is in that realm and I'm going to find every way that I can to apply my understanding of his music and be a good and empathetic musical partner with him. … It just so happens that his realm is very guitar friendly.
"It makes as much sense as you want it to," Lage adds, considering how to blend jazz and bluegrass, blues and country. "When I'm coming from a jazz perspective, I can see how you may not be inclined to see the way into basically American traditional acoustic music. You don't have to, but if you choose to do it, you find that a lot of the behavior around guitar technique — how you do it, how you frame it, how you conceptualize approaching soloing and accompaniment, all those principles — they're very well laid out through the lens of traditional American acoustic music."
---