JOURNAL EXCERPT: Guest Editor Dom Flemons Finds Balance Between the Past and the Present
Posted On August 21, 2023
---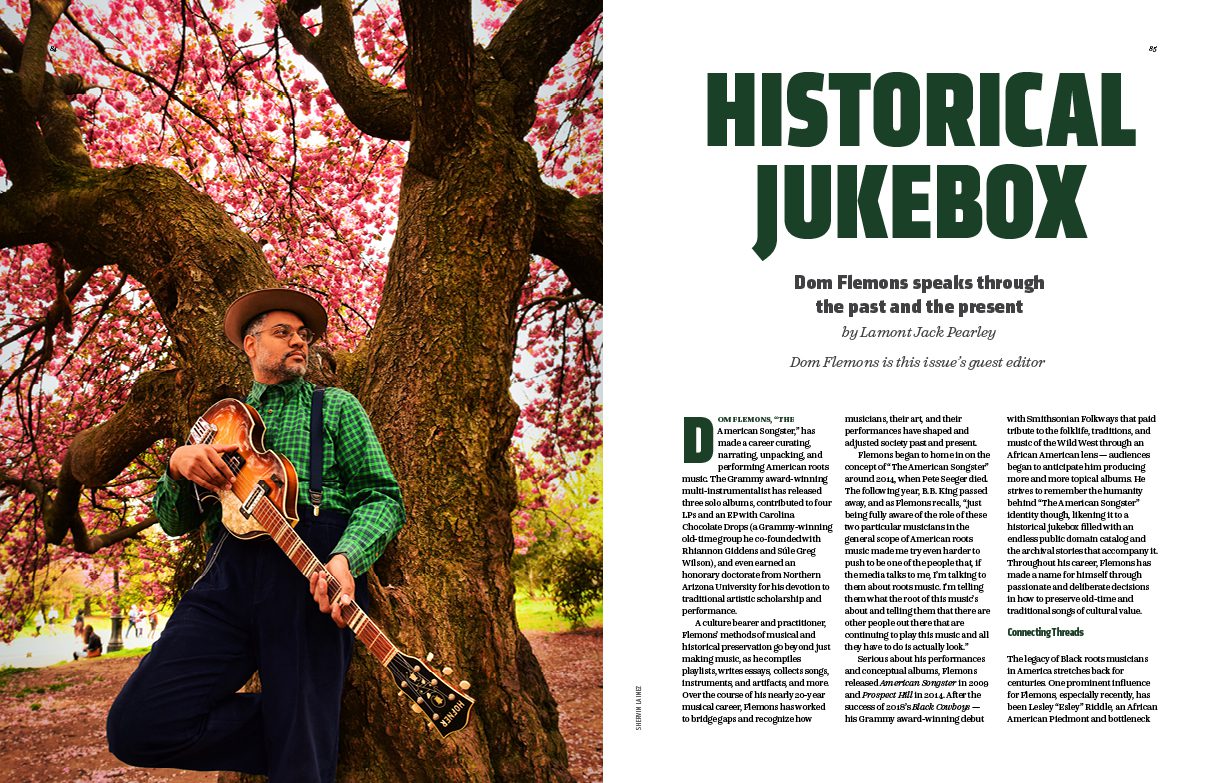 EDITOR'S NOTE: To continue highlighting the Summer 2023 issue of No Depression, we're pleased to share this feature profile about Guest Editor Dom Flemons. As guest editor, Flemons — whose new album, Traveling Wildfire, came out via Smithsonian Folkways in March (ND review)​ — worked with us to conceptualize elements of our Summer 2023 journal, available now. Order your copy or, better yet, subscribe today and support nonprofit roots music journalism in print and online for a full year!
Dom Flemons, "The American Songster," has made a tenured career curating, narrating, unpacking, and performing American roots music. The Grammy award-winning multi-instrumentalist has released three solo albums, contributed to four LPs and an EP with the Carolina Chocolate Drops (an old-time group he co-founded with Rhiannon Giddens and Súle Greg Wilson), and even earned an honorary doctorate from Northern Arizona University for his devotion to traditional artistic scholarship and performance.
A culture bearer and practitioner, Flemons' methods of musical and historical preservation include go beyond just making music, as he compiles playlists, writes essays, collects songs, instruments, and artifacts, and more. Over the course of his nearly 20-year musical career, Flemons has worked to bridge gaps and recognize how musicians, their art, and performances have shaped and adjusted society past and present.
Flemons began to home in on the concept of "The American Songster" around 2014 when Pete Seeger died. The following year, B.B. King passed away, and as Flemons recalls, "just being fully aware of the role of these two particular musicians in the general scope of American roots music made me try even harder to push to be one of the people that, if the media talks to me, I'm talking to them about roots music. I'm telling them what the root of this music's about and telling them that there are other people out there that are continuing to play this music and all they have to do is actually look."
Serious about his performances and conceptual albums, Flemons released American Songster in 2008 and Prospect Hill in 2014. After the success of 2018's Black Cowboys —  his Grammy award-winning debut with Smithsonian Folkways that paid tribute to the folklife, traditions, and music of the wild west through an African American lens — audiences began to anticipate him producing more and more topical albums. He stives to remember the humanity behind "The American Songster," though, likening it to a historical jukebox filled with an endless public domain catalog and the archival stories that accompany it. Throughout his career, he has made a name for himself through passionate and deliberate decisions in how to preserve old-time and traditional songs of cultural value.
Connecting Threads
The legacy of Black roots musicians in America stretches back for centuries. One prominent influence for Flemons, especially recently, has been Leslie "Esley" Riddle, an African American Piedmont and bottleneck slide guitar picker and mandolinist who was vital in collecting and teaching songs in the African American communities of Appalachia.
Born in 1905, Riddle was known in close-knit musical circles alongside players like Brownie McGhee, Blind Lemon Jefferson, and John Henry Lyons, but was never considered a peer or offered a professional musical opportunity himself. Riddle did, however, teach The Carter Family how to play Black country music, instructing Maybelle how to play slide guitar utilizing a pocket knife. With Riddles' instructions for playing songs, The Carter Family recorded numerous popular titles such as "Coal Miner Blues," "The Cannonball," I Know What It Means to be Lonesome," and were catapulted into the spotlight.
Riddle played an important role in the story of Black folk music that fed into the country and western genre. According to Flemons, following those historical threads offers, "exciting subtlety that you find in the history of country music: You have first the Black folk songs that fueled country music, and that's one piece of it.  You have an area of country music with African American performers covering country western material. And now that, in that section of history, you can have a country music song redone by African American artists, which is done entirely differently."
He continues, "In the more recent couple of years…there has been a pushback of Black songwriters asking for more songs that reflect a Black country life. And again, I always break down 'Black country' as both Black country and western music, and also Black rural culture. Black rural culture has sprung up and said, 'Hey, we want to be counted.' So that means that the songs also have to start reflecting the values and some of the aesthetics that go with Black rural culture."
The representation of Black rural culture is something Flemons is very conscious of, especially throughout his new LP, Traveling Wildfire, which came out in March on Smithsonian Folkways. He deliberately focused on Black country and western music in a way that felt historically accurate, but also personally fulfilling. Flemons says that the album was also more inspired by real-life experiences and modernity than previous works.
The 15-track Traveling Wildfire is structured almost like two sister albums: On the first half, Flemons dives deep into the dark side, whereas he uses the second half for redemption. On Side A, the pedal steel drives songs like the waltzing "If You Truly Love Me" and hangs hauntingly in the background of the six-minute-long title track about getting caught in Hurricane Ida. Side B, however, offers stories of celebration. "Song to JCB," for example, is a cover that originally appeared on the compilation album Tribute to a Songpoet: Songs of Eric Andersen this February. An up-tempo, acoustic romp punctuated by Flemons' bones playing, the song serves as an homage to Bay Area harmonicaist J.C. Burris, another underrecognized hero of Black musical history. As he describes, it's "a song not really giving you a moral, but it's trying to show you redemption through powerful music and the wealth of culture."
Taken as a whole, the new album is a celebration of Black love through country music, and one that Smithsonian Folkways believes is particularly important. Says label director Maureen Loughran, "that combination of bringing the contemporary alongside the traditional, of making the 'old' new and as relevant as ever…speaks to the history of Smithsonian Folkways as a label documenting 'people's music.' We are glad that Dom is a part of that legacy."
Leaving a Legacy
A seasoned entertainer, educator, and curator, as well as a conscientious and compassionate husband, and father, Flemons is quite conscious about his legacy — what he leaves behind, and how he and his work are viewed.
"Dom is an important musician, but I think his scholarly work and effort to preserve the Black folk tradition are equally important," says Michael Jones, author of the 2014 book Louisville Jug Music: From Earl McDonald to the National Jubilee. "He is a link between the past and future of the culture."
Flemons' contributions to preserve and advance folk music come via multiple mediums. Since 2014, for example, Flemons has hosted American Songster Radio, a monthly show broadcast on Nashville's WSM radio station (that began on North Carolina Public Radio). He and guests investigate, interpret, and express what roots music means to the artist who creates, as well as how audiences respond.
In text, Flemons wrote the foreword for Jerry Zolten's 2002 book, Great God A'Mighty! the Dixie Hummingbirds: Celebrating the Rise of Soul Gospel Music. And much more recently, he contributed an entry to Birthright: A Black Roots Music Compendium, an extensive collection of American Black roots music that came out in February via Craft Recordings. The 40-song compilation crosses most, if not all, Black American musical genres. Flemons offered an unreleased Carolina Chocolate Drops gem called "Georgie Buck," and the box set also features songs by John Lee Hooker, Odetta, The Staple Singers, Lightnin' Hopkins, Mississippi John Hurt, Cedric Burnside, Layla McCalla, and more.
Still, it's through music, that Flemons' work shines the brightest. In addition to his own albums, the International Bluegrass Music Association commissioned him to launch a new project around the history and legacy of Black fiddler and guitarist Arnold Shultz last year. Simply called "Shultz's Dream," the mission is to pay homage to early African American performers that fueled country music, and Flemons has joined Jones on panels and projects surrounding "Shultz's Dream."
As a learned scholar and folk artist on the grounds with the people, Flemons has been a living testimony of roots and old-time folk music. Looking back, he says, "When I first started in the roots music business, when you wanted to see someone, like when I went to see Mike Seeger, I had to drive in a car and go to his house. And we'd have to sit down and play music or talk about records for a couple of days. And then I'd have to go and visit him again. And that led to at least a dozen different visits, where I was learning new things. I had new questions and new things I wanted to find out. And that's a unique position to be in. Because nowadays, it's so much easier to contact people. And it's much easier to have a one-to-one conversation over the internet."
Looking ahead, he continues to embrace new technologies to reach audiences. But as a tradition bearer, Flemons still champions live performances and people getting together as the best form and aesthetic of folk music tradition.
"The world cannot ignore him," says two-time Grammy-nominated bluesman Guy Davis. "He is our bridge to keeping an earlier way of American music alive and accessible."
---