Jenny Brook: A Bluegrass Festival Fairy Tale
---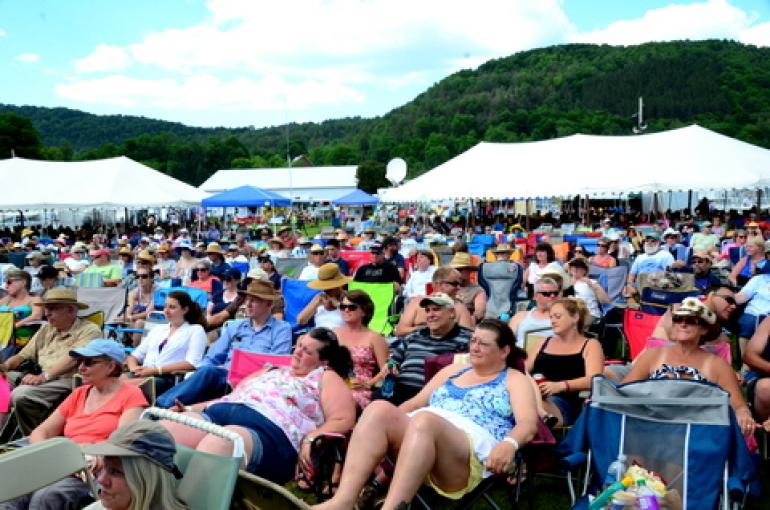 We're at the Jenny Brook Bluegrass Festival in Tunbridge, VT, this weekend. Located in the hills of central Vermont, east of the Green Mountain National Forest and west of the Connecticut River that divides Vermont and New Hampshire, the Tunbridge "World's Fair" grounds, home of a well-known traditional country fair held in September, are a perfect setting for this festival.
Since Monday the grounds have been filling up, irreplaceable volunteers and family arriving first to turn the fairgrounds into the home of one of the finest festivals anywhere. The stage, placed on a large old truck chassis, is rolled into place and reassembled. Shade tents are erected. The little details making a festival run smoothly come together as experienced volunteers and ones new to this festival work under the direction of Candi Sawyer and her husband, Seth, promoters. This is the festival's 15th anniversary, and, while there are always plenty of questions about whether Jenny Brook will make it to another year, it looks like a good crowd will be here, despite the rain that rolled in Monday night and continued through the next morning, creating soggy mud bogs in several places. The lineup is strong and varied, the festival design complex, built to encourage lots of jamming, opportunities to learn to pick, a Kids Academy for young pickers to learn before their Sunday performance, and children's activities that will make sure young children are happy and have good supervision. There's even a movie theater showing G and PG films around dusk to entertain young people who don't wish to go to the stage for bluegrass music.
We can't quite agree what year we first came to Jenny Brook, but it was probably the third or fourth year of its existence. Then, Jenny Brook was held along the real Jenny Brook running along the back of a small town park in Weston, VT. A couple of tennis courts with basketball standards, a small cinderblock building with a couple of flush toilets, and a few water standpipes represented virtually all the amenities. The Sawyer family stayed in a pop-up camper placed behind the homemade stage, which, while now greatly expanded, remains a potent symbol of the festival.
But it's not possible to tell the Jenny Brook story without knowing something about the Sawyers themselves. Candi Sawyer's grandfather, Fernan Parker, promoted an old-time country concert series at the Weston Playhouse for a number of years, during which Candi came to love the music. She and Seth met at the Blistered Fingers Blue
Bluegrass Festival in Maine. Seth was recuperating from a disabling motorcycle accident, while Candi was selling 50/50 raffle tickets. A bluegrass romance ensued and they soon married. Sounds like a bluegrass fairy tale, but heartbreak and difficulty were soon stalking their lives. (PHOTO: Candi Sawyer)
Candi and Seth's younger son, Mathew, faced health problems almost from birth, but Candi wished to realize Fernan's dream of an outdoor festival, and the first Jenny Brook was held in 2001 at the park in Weston. A year later, Candi was diagnosed with multiple sclerosis, which began sapping her energy and reducing her strength. Her dream, however, persisted, and the family's many friends served to energize her efforts. Within a couple of years of her own diagnosis, Mathew was diagnosed with scoliosis, a curvature of the spine that would, over the years, require many expensive surgeries and eventually be diagnosed as Marfan syndrome, an inherited disease affecting the connective tissue that modern medicine has made manageable. Through their trials, the dream of Jenny Brook provided a goal, a motivation, and a life's direction. And the festival continued to grow. Slowly and carefully, Jenny Brook grew its lineup and began attracting an increasingly large and sophisticated bluegrass audience as it became known for the quality of its national and regional bands. From the beginning, jammers were welcome and came to make music late into the night. A young band called the Gibson Brothers appeared at the second Jenny Brook and have not missed performing there since.
In 2009, having outgrown the Weston site, Jenny Brook moved north to Tunbridge. With a number of flexible use buildings, plenty of room to expand, and cooperative management, the fairgrounds there offer an ideal location for a midsize festival. In recent years, the Jenny Brook lineup has risen to include national acts like Rhonda Vincent & the Rage, The Seldom Scene, Lonesome River Band, IIIrd Tyme Out, and, always, the Gibson Brothers, now one of the foremost bluegrass bands in the country who always remember those that got them there. Attendance has grown to about 1,500 during the four days of the festival. (PHOTO: Seth Sawyer)
Each year, Candi finds ways to make seemingly small changes to the festival to enrich the experience of those attending, keeping a sharp ear out to find ways to meet the needs of those who pay the bills. This year a "Pickin' Place" has been added to meet the needs of slow jammers and those who feel excluded by many of the more accomplished and established jam groups. The Pot Luck Supper, long a feature of Wednesday evening, now has a band playing classic country music with Eric Gibson on electric guitar. People flock in to eat good food and to see Eric in a different role, as well as brother/sister duo Tom Venne and Julie Hogan. The Grass Seeds Gazebo Stage has provided a performance venue for bands (some of them advanced jams) to compete for a place on Sunday's bill as well as a chance for a booking in the next year. Meanwhile, administratively, the festival continues to make it easier to purchase tickets and get onto the grounds and into a suitable camping spot. Jenny Brook has succeeded because it has never exceeded its resources and always sought to improve the listener and participant experience. While following her dream, Candi Sawyer and Seth Sawyer have built a unique institution that brings the joy of bluegrass music to an eager and deserving audience.
---