FreshGrass Festival: More Than Just Another Bluegrass Festival
Posted On September 19, 2018
---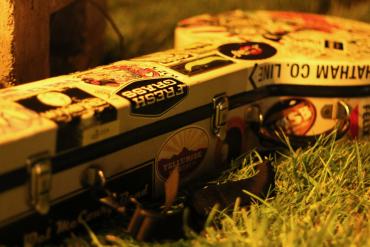 No Depression has a seemingly subtle, yet extraordinarily important relationship with the FreshGrass Festival — an annual bluegrass and roots music festival that takes place at the Mass MoCA contemporary art museum in North Adams, Massachusetts. The presenting organization, the FreshGrass Foundation, also publishes No Depression.
For the past three years since the Foundation resurrected our print presence, No Depression staffers and contributors have descended on the 300,000-square-foot complex in the Berkshires for the three-day event. No Depression's presence has grown to include an unofficial designation of the second-largest stage (thanks to a giant banner hanging above it), as well as co-sponsoring the FreshGrass/No Depression Singer-Songwriter Award.
Because the FreshGrass Foundation produces this eponymous festival, commissions, grants, and awards like the No Depression Singer-Songwriter Award are a huge part of the weekend. Each year the Foundation names five finalists for four awards — the FreshGrass Band Award, FreshGrass Fiddle Award, FreshGrass Banjo Award, and the No Depression Singer-Songwriter Awards. Each of the finalists performs for a group of judges (which each year has included editorial staffers, Foundation programmers, and established musicians). Additionally, the winners of the previous year's contests play full sets on the No Depression stage.
The largest composition award that the Foundation gives is the FreshGrass Commission Award. Previous winners included Sarah Jarosz and Bill Frisell, and this year, Rhiannon Giddens won $50,000 to continue a musical pursuit in the same vein as the mission of the FreshGrass Foundation — "to preserve and support innovate grassroots music." Giddens, who is an established solo musician as well as formerly part of the Carolina Chocolate Drops, opened the festival by performing new music written for the event, inside the Hunter Center of Mass MoCA. Though mostly seated, fans squeezed into the dark room just to catch a glimpse of the multi-instrumentalist and hear never-performed-before music before her rollicking Main Stage set the following day.
One of the most engaging sets during this year's FreshGrass Festival was the production of Fresh Scores, featuring experimental song collectors/interpreters Anna & Elizabeth, Tunisian avant-garde musician Emel Mathlouthi, and Haitian-American cellist, guitarist, and singer-songwriter Leyla McCalla. Each year, the Foundation commissions a few musicians to craft original scores to short films of their choosing.
Anna & Elizabeth, laughing backstage after the performance, remembered that their original search tactics for a film to score included "feminism," "weird," and "the 1920s." The result was the 13-minute short from 1928 called Hände (Hands) by writer Stella F. Simon and director Miklos Bandy, in which two individuals' hands seem to find each other in a sea of other limbs and humanity. Like on their records, the duo explored fiddle sounds, scratching on the head of a banjo, acoustic guitar strumming, vocal droning, and more to achieve an ambiance as eerie as the old film.
Next, McCalla chose to score snippets from a field recording called Commandment Keeper Church, Beaufort South Carolina, May 1940, directed by author Zora Neale Hurston. Performing as a trio with a fiddler and percussionist, McCalla stuck with a hollow-bodied electric guitar instead of her usual cello and wrote a series of vocal and lyric-based songs to accompany Hurston's footage of religious services in the Gullah communities of rural, coastal South Carolina. Her songs were so complete, in both structure and emotional content, that any of them could be recorded and/or expanded to be released on a record.
Finally, the hour-long Fresh Scores presentation concluded with Mathlouthi's interpretation of Der letzte Mann (The Last Man), a German silent film from 1924 directed by F. W. Murnau. Mathlouthi manipulated the third of the 90-minute film portraying the frustrations and sorrows of a hotel doorman who loses his job. Then, having spliced elements of the film itself, she created a score that blends electric guitars, delay pedals, and soaring — if wordless — vocals to create a pained and panicked atmosphere to mimic that of the protagonist. For the duration of the longest Fresh Score commission, Mathlouthi sat on the floor of the stage, surrounded by pedals, crafting huge sounds that resonated in sharp contrast to her small frame crouched on the large stage.
Throughout these commissions, each of the three artists explored how their own backgrounds in roots music could be adapted and interpreted for a visual medium. As former ND Editor-in-Chief Kim Ruehl was overheard saying as she left Mass MoCA's Hunter Center afterward, "Well, that's not something you see everyday at a bluegrass festival!" But the Fresh Scores were one of the most progressive, intellectual, and emotionally stimulating presentations of the entire festival.
Still, there was plenty of bluegrass in a more standard form to hear (Ricky Skaggs and Kentucky Thunder, Yonder Mountain String Band), dances to jig to (including Molsky's Mountain Drifters and Flogging Molly), and songs to sing along with (Trampled by Turtles, Della Mae, I'm With Her, and every Grateful Dead song in a super-jam led by Alison Brown) across the two main stages. Plus, we discovered up-and-comers like Upstate and Twisted Pine that impressed us with their energy, harmonies, and ingenuity. Check out the photos below for more of our favorite sets from FreshGrass 2018.
The FreshGrass Festival returns to Mass MoCA Sept. 20-22, 2019.
---