In the Deep End With … Joshua Ray Walker
---
Joshua Ray Walker (photo by David McClister)
It only takes a few seconds of Joshua Ray Walker's What Is It Even? to realize this is a bold project.
The 11-song tribute to female singers and songwriters starts with an unaccompanied piercing country wail: "I'm cryin' …" But it's not a country weeper, or at least it wasn't before Walker got a hold of it. It's Lizzo's "Cuz I Love You," and it's epic. Walker's powerful voice packs the full punch of unexpectedly falling in love and not knowing how to handle the feelings, backed by horns, organ, and the same pounding drumbeat that made Lizzo's version a hit. It's best to go ahead and buckle up, because the album, which comes out this Friday on Soundly Music, doesn't let up from there.
Whitney Houston's "I Wanna Dance With Somebody" becomes a gospel jump blues, impossible not to want to get up and dance too, whether with somebody or all by yourself. And Walker transforms Cher's "Believe" into a country burner, dripping with pedal steel, no Auto-Tune needed. Even before we all revisited "Nothing Compares 2 U" upon Sinéad O'Connor's recent passing, Walker remembered the beauty and power of the Prince-penned song, speeding it up a bit and adding a drum and acoustic guitar backdrop for What Is It Even? but losing none of the heartbreak from the lyrics.
While the songs of What Is It Even? span genres and decades, a sense of freedom and fun pervades them all. But there's a sense of purpose, too, as Walker honors the women who helped shape the singer, songwriter, and musician he's become. We asked Walker about those influences, his approach to these songs, and what that title means, even, for our Deep End series. Much like a good cover song, the questions start out on the surface, but spend a little time and you'll see there's something deeper. The conversation has been edited for length and clarity.
How did this album of covers come to be? Was there a certain conversation or song that was the seed?
We knew we wanted to do something fun, and we had a couple different ideas for a concept record that we were bouncing around. One of them was an all-female cover record, and I had some ideas for songs. What really kind of spurred it forward was I was talking to my drummer, Trey Pendergrass, on the patio of the Mercury Lounge in Tulsa, Oklahoma, and there was this one kind of gospel backbeat drum rhythm I'd wanted to incorporate into one of our songs for a long time. And we just never found the right song. So I was talking about doing a Whitney Houston cover, and he jokingly started beating that rhythm that I wanted out on his thighs. He's like, "What if we do it this way?" And I was like, "Actually, I think that could work." So that's how we ended up with that sort of jump blues, Blues Brothers version of "I Wanna Dance With Somebody."
That's usually what drives my music forward: I'll have this idea in my head of a way that I want to hear a song, whether it's an arrangement of one of my originals that's not finished yet or a cover or whatever. I'll hear it in my head the way that I want to hear it with, like, the organ and the horns and the beat. It's like having to sneeze and not being able to get the sneeze out. And so going into the studio and actually tracking ["I Wanna Dance With Somebody"] the way that I heard it was this big release after months of thinking about it. That song was the one that made me excited enough about the project to really start forming the whole album.
Why did you want to put the focus on female singers and songwriters for this project?
I never really thought of myself as a singer until recently, maybe album three [See You Next Time (ND story)], "Sexy After Dark." When I've been alone, either in my car or in the house or in the shower or whatever, female pop songs were the only songs I can remember growing up that I ever really belted out or really tried to push myself and sing. I didn't take it seriously. Everybody does that. But you don't know if you can sing or not until you try. And I think a lot of the reasons why I can do what I can do vocally is because I used to clean my house to Beyoncé. So I think I just owe a lot to those artists, from a musician standpoint.
And then some of the artists [covered on What Is It Even?], like Lizzo, I just really love their message and it's affected me personally, the positivity that some of these artists bring into the world. And then also just as a songwriter. Regina Spektor's "Samson" was one of the first songs I ever listened to where I really listened to the lyrics. I've been playing music since I was 6 and I was always really focused on the instrumental part, I'd listen to the drum and the guitar, the bass line, and I never knew any lyrics to any song. I could hum the hook, but I didn't actually know the words. When that record came out that had "Samson" on it, that was one of the first records I ever listened to from a lyrical place.
What do you feel is the recipe for a good cover song?
For all the songs that I chose, the common thread is that they're really great songs, they're well-written songs. If you take a really great pop song, it can be reinterpreted almost any way you want. And it'll still be a good song because at the core, it just is a great song. I think what makes a good cover song is finding a great song and then making it your own, turning it into something that you want to hear or that makes you connect with the song so you can deliver it with some sort of sincerity.
Have you been performing these songs in your live shows? How do they go over with fans?
Last October I did a four-night popup at a dive bar in Dallas that's kind of where I got my start and I debuted some of the covers there. That was the first time anyone had ever heard us play them. And the reception was crazy. We launched into the first line of the Lizzo cover and I've never seen so many phones come out so quickly. Within the first three notes of the song, there were like a hundred phones up with the flash on. It was really wild. I've never experienced anything like that.
Let's talk about the name of the album — What Is It Even? Where did that come from?
I sang the national anthem at the Formula 1 [US Grand Prix] in October of 2021 and it was internationally televised. I believe it had a viewership of like 90-something million people. It was the first time I was on national TV, and we had a very over-the-top national anthem: There were people parachuting in with giant American flags and Red Bull sponsorships and the Dallas Cowboys cheerleaders were doing their thing. There were some trolls on the internet that got upset because they thought that I was a trans woman. And so they started going off about how "woke" America is and all this stuff.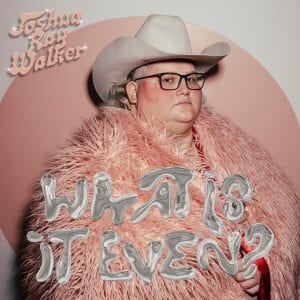 I see this start to happen on Twitter and YouTube, and I was just like, "OK, well, I'm not going to engage because I'm not about to try to prove my gender on the internet." It's not a battle worth fighting; also, I don't care. That's not the first time that I've been misgendered. It's something that's happened my whole life. I remember going to a new high school and at the end of lunch a table full of kids asking me if I was a girl or a boy. Little kids come up to me and ask me if I'm a boy or a girl all the time. I get called "ma'am" at restaurants and then they hear my voice or see my face and they're like, "oh, sorry."
Growing up, that was a big I source of insecurity for me. I identify as male. I was born a male, I'm a cisgender man. And coming of age, you don't want to be seen as feminine if you're trying to be masculine. And so it caused this sort of inner turmoil with me growing up where it was a source of embarrassment that I wasn't masculine enough. So that was something that happened on this international scale. In my 20s I guess I had just grown a lot and I realized it didn't bother me when that happened. I wasn't embarrassed anymore. I didn't feel uncomfortable. And that was a really empowering moment. I wanted to channel that into the record, because I knew I was going to get pushback for doing an all-female record in the country world. So I really leaned into the visuals and just decided to own it.
I think because I was insecure about not being perceived as masculine as I wanted to be growing up I avoided a lot of the non-masculine traits that I had. I overcompensated. And in my 20s I stopped caring so much about that. So now I do wear really flamboyant clothes. I do like sparkly shit. I'm wearing Lisa Frank Crocs right now. I like colorful, flamboyant things. And I've just become more comfortable with that over the years. So it's not like I'm doing a bit for the [album] cover. I'm just leaning into that side of my myself.
[When] the trolls came out [after the Formula 1 appearance] there was one comment on YouTube that just said, "What is it even?" I thought that was funny, and that became kind of a side joke in the van the next couple months. So when it came time to name the record, I decided to go with What Is It Even? And that kind of became the mantra while making the record as well. Anytime we had a weird idea — "Is that too much?" "Is this arrangement too kooky?" — it's like, "What is it even?" Let's make it as weird as we can. You always gotta serve the song and try to make it as best we can, but we didn't shy away from anything weird, whether it was production style or the actual arrangement or the guitar tone or whatever. We let ourselves be okay with it just being as weird as we wanted it to be.
---