'I Play It Because I Need To': Nat Myers Gets Personal with the Blues
---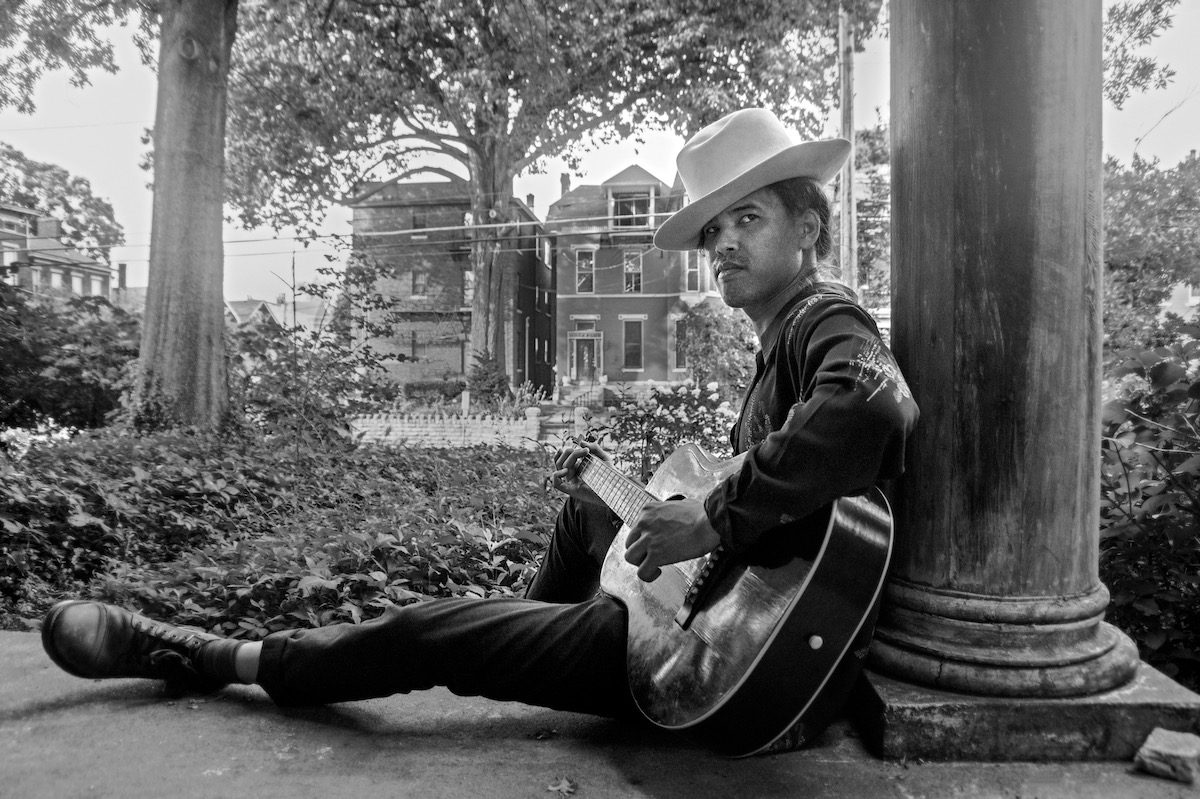 Nat Myers (photo by Jim Herrington)
Life is coming at Nat Myers fast.
It was only a few years ago that the Kentuckian was recording on the cheap, busking and hustling in the gig economy to make ends meet. This week he's releasing his debut LP for Dan Auerbach's Easy Eye Sound, Yellow Peril. Produced by Auerbach and written and recorded in collaboration with him, Pat McLaughlin, and Alvin Youngblood Hart, the record is the culmination of a series of unexpected life circumstances for Myers. And the jump blues specialist is doing his best to enjoy and contextualize this moment.
"It's so surreal thinking about your own record," says Myers. "You know, every day I get really excited hearing the things people are saying about it, but seeing how much value and belief people put in me also gives me a little fear and dread. But am I proud of the record? Fuck yeah!
"Two years ago, I was back home and commuting to New York pretty regularly. It was the pandemic, I had no money and was busking, working at coffee houses, delivering weed on a bike, doing Uber Eats," he adds. "Whatever comes my way now is more than I expected two years ago."
The Human Condition
Yellow Peril presents Myers' preferred listening and playing taste: pre-World War II-style acoustic blues. It's a style he was first exposed to as a kid while going through his dad's records, and it struck a chord with him.
"Generally, I'm a pretty lowdown kind of person and the experience I get emotionally from the blues keeps me going from day-to-day," he says. "I can't just practice Charley Patton; I need to really play it to feel ease in my own soul. I play it because I need to.
"If it ain't 12 bars, I'm not listening to it as my first choice; I just love the blues, man," Myers continues. "I don't want to play roots, country, I'm not into pop-country shit. I'm trying to speak to the human condition."
Myers' first attempts at speaking through the blues were a pair of lo-fi EPs: a batch of DIY tunes released in 2020 and 2021 titled Field Recordings and Hobo Wine and Remedy Blues, respectively. Attempts at recording a full-length album never really panned out until late 2021/early 2022.
A friend offering some unprompted help was reaching out to some of his industry connections on Myers' behalf. This led to Myers linking up with his current management team and the receipt of an unexpected email he wasn't sure was real at first.
"I had come home to stay put and was feeling real lowdown, thinking of setting music down until MusiCares sent me some money — shout out to them — and then wild shit started happening," he recalls.
"I got this email that said, 'This is Tom Osborn from Easy Eye Sound, and it was so on the nose, like 'guy trying to get your bank account info,'" he laughingly recalls. "I was like, 'No you definitely ain't Tom with Easy Eye.'"
Turns out it really was Tom Osborn, general manager of Easy Eye, and he was reaching out to see if Myers was interested in collaborating with Auerbach on a record. Myers was certainly into the idea and signed a deal to work with Easy Eye.
At first, Myers wasn't sure how he and Auerbach would get along and how the recording process would work. But the Black Keys frontman set Myers' mind at ease immediately, paving the way for a fruitful and fulfilling album-making process.
"Even before the ink was dry, Dan invited me on down to his house to see, 'does it jell?' We sat around a table and it fucking jelled," Myers says. "Dan's a real down-home guy and he's good at fucking hanging, man. It was interesting; him, Alvin Youngblood Hart, no one tried to dazzle me with their image. These guys made their legacy themselves and are down to spread love for others.
"I was pretty nervous about the whole thing, and Dan has this pretty quiet voice that's charmingly dishonest," Myers continues. "I said I might need more time [before being ready to make a record] and he said, 'You're nervous, man. Just fucking come in and see what happens.' It was like, 'Oh yeah, I can fucking do it.'"
A Masterclass
In early 2022, Myers and Auerbach sketched out roughly two dozen song ideas. Some of them were Myers originals that predated his meeting Auerbach; others were written in collaboration.
Work on Yellow Peril began in earnest around June 2022. The sessions took place in the sunroom at Auerbach's house, "this old limestone spot in Nashville, where you walk on the hardwood floors and feel the memories," Myers says.
Recording direct-to-tape via analog recorder and utilizing a skeleton crew of musicians, Myers banged out the entire album in three days. Seeing Auerbach and talented musicians like Hart, McLaughlin, and banjoist Leroy Troy at work was a revelatory experience.
"I didn't really know the work producing involved; seeing Dan was like watching a master, like seeing a car mechanic," Myers says. "Everybody really treated me good, like I was their baby, man. It was like I was floating.
"Everything was one take, if I made a mistake or something, Alvin would go, 'just play on through that shit,'" he continues. "It was this opportunity to take a masterclass with these really wonderful musicians I admire."
Myers credits those musicians with helping him pull together several songs that had bedeviled him. Auerbach and Hart helped him figure out the syncopated chord structure for the break-up lamentation of "Undertaker Blues," and he "gives as much credit as I can without knocking myself to Alvin" for his work on the murder ballad "Roscoe."
But the pinnacle of Yellow Peril's collaborative spirit is on its incendiary title track, named for a racist metaphor that reflects a Western fear that East and Southeast Asians pose an existential threat. The song was conceived during the shocking rise in Asian hate during the coronavirus pandemic and reflects Myers' desire to record a piece that fits into the historic blues tradition. Writing assistance from McLaughlin and Auerbach, and some lights-out guitar playing from the latter, helped him pull together a song that addresses the casual to blatant prejudice he saw Asians and Asian-Americans experience when certain portions of the population sought to blame China for the creation and spread of COVID-19.
With lyrics like "Nothing 'gainst you but it's all about who you are, sorry" and "Just wanna have a little fun before we die / There never ever was no difference 'tween you and I," Myers delivers a broadside against the treatment of otherness he's experienced firsthand as a Korean American.
"It started as my own shitty version of 'Boll Weevil Blues' by Charley Patton. Often in blues songs, it's no chorus, a continuous drone narrative, telling a deeper story," he says. "Asians are one of the fastest-growing populations, and one of the most economically stratified. When the pandemic started and hearing 'Kung Flu,' it was so fucking weird, man. My initial reaction was like, 'What the fuck,' it's so stupid and just not funny at all. Things just started getting really real and exacerbated certain things. There's this larger fear about the rise of places like China, and demagoguery, and I just started to take these tidbits and applied them to life. So, I had the idea and needed a little help making it something cohesive.
"On the same day we recorded 'Yellow Peril,' Dan was playing a show with Hank Williams Jr. at an American Legion and was playing so hard his fingers started to bleed and blister. If you had told me two years ago that Dan Auerbach may miss notes at a show because of me I would have said, 'Go fuck yourself.'"
Full Speed Ahead
Myers is now in the midst of a high-profile promotional cycle for Yellow Peril. He recently released a video for the track "Ramble No More" that was directed by Jason Momoa (you know, the Aquaman and Dune star), who he met and befriended when filming a segment for Momoa's in-production travelogue series On the Roam. The video comes from the show, consisting of Momoa-filmed footage of Myers performing the track beside a campfire.
He also has a batch of live shows planned this summer and is currently in talks for a support slot on an international tour this fall. All of this, from music videos to major tours, is uncharted terrain for an artist more accustomed to a recording and playing career that's come in fits and starts. But Myers is figuring it out and eager to play and prove himself as a full-time musician.
"Touring, press, things like that, are all so new to me, but I'm figuring things out and got stuff planned," he says. "I appreciate Jay [Momoa] the same way I appreciate Dan, Alvin, Pat — there ain't no dazzle to them. I met their friends, people they admire, and it's such an honor to have created songs from my time with them all. I hope one day to look at all of them as my contemporaries."
Nat Myers' Yellow Peril is out June 23 via Easy Eye Sound.
---