BONUS TRACKS: Los Lobos Returning to High School to Rock, Grammys Eye AI, and More
---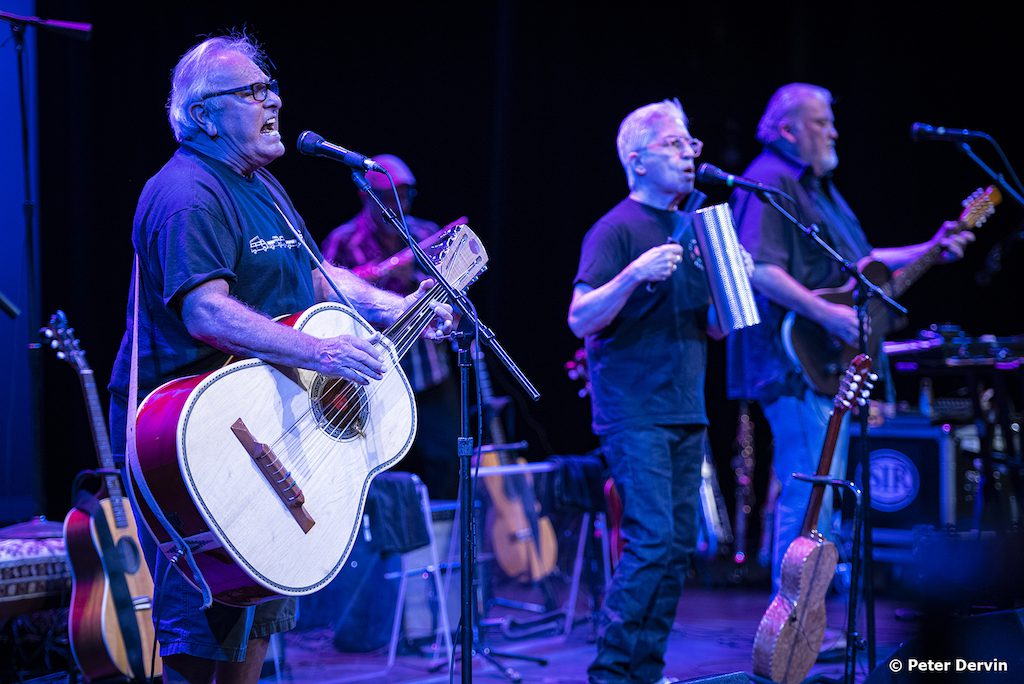 Los Lobos during their 45th Anniversary Tour (photo by Peter Dervin)
On some level, I think we all hope to someday show up at our high school reunion with a cool story to tell, some proof that we somehow emerged and did all right for ourselves. Los Lobos is no doubt going to rule their school when they return for a concert this fall celebrating the band's 50th anniversary. "We're very excited and proud to announce that we'll be playing at The Escalante Auditorium at James A. Garfield High School in East Los Angeles as part of our 50th anniversary celebrations," the band's Louie Perez Jr. says in the tour announcement. "Garfield High is our alma mater and where we all met. It remains a huge part of who we are. There will always be a special place in our hearts for Garfield High. We may be wolves, but we're also Bulldogs for life." The rest of the band's 50th anniversary tour will hit amphitheaters and venues — you can find all the dates here.
When I'm not listening to, writing about, or thinking about music, you can often find me getting cozy with some dystopian or speculative fiction — books or TV shows about our own world as shaped by some force that's not quite real or not quite here yet, but could be. So, as you can imagine, AI is freaking me all the way out. But it's real, and it's here, and for a lot of folks, including in the music industry, there's nothing fictional about it. The Recording Academy — the organization behind the Grammy Awards — isn't waiting to find out what happens. Among the new rules for 2024 it announced this week is a statement that "Only human creators are eligible" for consideration for a Grammy. And CEO Harvey Mason Jr. acknowledged that the Academy is talking about more specific "guardrails and standards." For now, music and content that have AI elements can be submitted for consideration, but songwriting and performing awards will go only to humans. Read more from Mason in this interview at Grammy.com, including non-AI news that the existing non-classical award categories for Songwriter of the Year and Producer of the Year will move to the general field, meaning all Grammy voters can have a say in them.
Amid all the fun of peak summer festival season are some sad reminders that things can change in an instant. At Red Rocks Amphitheater in Colorado Wednesday night, large hail started falling just before headliner Louis Tomlinson began his set, and seven people received injuries severe enough to land them in the hospital. News outlets vary on their count of how many concertgoers needed to be treated at the scene, but the numbers land between 80 and 100. The audience was given a weather warning by the venue via Twitter and asked to seek shelter, but according to witness accounts the hail started falling almost immediately. The concert was called off, and Tomlinson, a former member of One Direction, expressed concern and promised to return at a later date. Read more about the storm and see photos of the aftermath in this coverage from CBS News.
And it wouldn't be a week in America without a mass shooting to mourn. Two people were killed and three were injured at dance music festival Beyond Wonderland at The Gorge in Washington state last weekend when a man with a gun fired at random in a festival campground. You can read the details in this CBS News story. And you can find ideas for what you can do to help support policies that can stem the tide of gun violence at Everytown for Gun Safety.
Whatever you do, be careful out there.
WHAT WE'RE LISTENING TO
Here's a sampling of the songs, albums, bands, and sounds No Depression staffers have been into this week:
Willie Nelson – "You Left Me a Long Time Ago," from his new album, Bluegrass, coming in September
Josh Ritter and Aoife O'Donovan – "Strong Swimmer"
Becky Buller feat. Jim Lauderdale – "Wall Around Your Heart" (Reno and Smiley cover)
Harper O'Neill – "When You Love Me"
sjowgren – "now & then"
My Sister, My Brother – "Another Life"
The Clements Brothers – "Morning Train," from their new album, Dandelion Breeze, coming in August
Olive Klug – "Song About America," from their new album, Don't You Dare Make Me Jaded, coming in August
This Is the Kit – Careful of Your Keepers
Geese – 3D Country
Lake Street Dive feat. Monica Martin – "Can't Help Falling In Love" (Elvis Presley cover)
Bonny Doon – Let There Be Music
Deer Tick – Emotional Contracts
Nat Myers – Yellow Peril
Andrea von Kampen – "Juniper"
Beth Nielsen Chapman – "Back to This Moment"
---