Herb Pedersen on Linda Ronstadt, Jerry Garcia, and More
Posted On September 19, 2016
---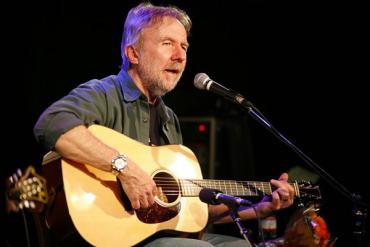 Herb Pedersen just finished an exciting tour playing with Tom Petty and Mudcrutch. Yet, I wonder how many Mudcrutch fans at those incredible full-blown rock shows now remember the name of the talented backup singer, acoustic guitarist and banjoist who stood on the far right of the stage.
Yes, it was Herb,  a true national musical resource who has never gotten the acclaim he deserves. But that's always been the way with Pedersen, a California bluegrass and session musician who has played with many musical legends. I'll start the name dropping: the Dillards, Lester Flatt, David Grisman, Jerry Garcia, Emmylou Harris, Stephen Stills, Linda Ronstadt, John Denver, James Taylor, Gordon Lightfoot, Dan Fogelberg, Eric Andersen, Vince Gill, Johnny Rivers, Jennifer Warnes, John Prine and Jesse Winchester.
There are many more, and I would guess that the name Herb Pedersen is credited on more albums than any other musician. Plus, he has released three solo albums, is an original member of the Desert Rose Band and was, or is, a member the Pine Valley Boys, Vern and Ray, Country Gazette, the Laurel Canyon Ramblers, J2B2 (John Jorgenson Bluegrass Band),  Loafers' Glory and the Grateful Dudes. And we haven't mentioned his main gig for decades — his acoustic duo with long-time buddy and former Byrd Chris Hillman.
"Chris and I have a great relationship spanning 45 years," Pedersen says. "He knows that when something comes up like Mudcrutch, we adjust our schedule accordingly. Chris and his wife Connie, are going on a trip (this month) — a vacation —  so we will put things on hold till they get back."
Pedersen says the most memorable, satisfying moments of the Mudcrutch tour was how everybody in the band interacted. Mudcrutch was formed by Petty and Tom Leadon in 1970, broke up in the mid-1970s, reunited more than 30 years later and released its first album in 2008.
"You know, it's not easy to keep a group of musicians together for 40 years," Pedersen says. "All the guys in the band, the crew, management, everybody did their required part and then some."
While Mudcrutch formed on the East Coast in Gainesville, Florida, Pedersen hails from the West Coast. The son of a police officer, Pedersen was born in Berkeley, California, and became acquainted with country music at various local folk festivals. He met Jerry Garcia and David Nelson of New Riders of the Purple Sage, and put together the Pine Valley Boys, a bluegrass band, as a teenager.
Pedersen played with David Grisman's Smokey Grass Boys in the early 1960s and moved on to join Vern and Ray. Earl Scruggs, trying to recover from a hip operation, asked Pedersen to fill in for him in Flatt & Scruggs and the Foggy Mountain Boys, and then Pedersen replaced Doug Dillard in the groundbreaking progressive bluegrass/country rock band, the Dillards.
"I think I was on four of their albums,"  Pedersen recalls. "I was with them from '67 through '69. I think they added a big boost to the West Coast bluegrass/folk scene back in the 60s."
Legendary Byrds songwriter Gene Clark teamed with Doug Dillard in 1968, and the duo, as Dillard & Clark, recorded an exceptional album, The Fantastic Expedition of Dillard & Clark. Hillman played mandolin on the album. Pedersen played and recorded with the MIssouri-bred Clark and says Hillman revered Clark.
"He was an amazing songwriter but had a lot of ghosts prowling around in his head," Pedersen says. "We put a band together with Chris and played the Palomino in North Hollywood one night. Chris loved ol' Gene."
Pedersen also recorded with Gram Parsons and became a very sought after Los Angeles session musician. He guesses he has played on "several hundred" albums and names a handful that make him most proud: James Taylor: Greatest Hits, Gordon Lightfoot's Dream Street Rose, Emmylou Harris' Elite Hotel and Linda Ronstadt's first album Hand Sown…Home Grown.
Pedersen first met Ronstadt while playing with the Dillards, and she asked him to sing harmony on her 1969 debut. He says he sang two parts — above and below Ronstadt's lead vocals— on the album's second track, "Silver Threads and Golden Needles." He also sang harmony on that song on Ronstadt's 1973 album, Don't Cry Now, her first hit record.
After playing with so many talented artists for decades, there must be some who truly stand out as musical geniuses and Pedersen admires.
"James Taylor, Gordon Lightfoot, John Prine, Jackson Browne, Bill Bryson, Lee Sklar, Earl Scruggs and Lester Flatt — to name a few," Pedersen responds. "All were so together musically and very impressive."
Pedersen fondly recalls his days working with John Denver: "Denver was a good man," Pedersen says. "He took good care of all of us on our world tours. Recording-wise, he was a bit behind the times, but it didn't matter. His fans gobbled him up anyway. I was impressed.  One time, we played the Forum in Los Angeles for one week. It was completely sold out. Too much."
In 1985, Hillman, Pedersen, guitarist John Jorgenson, steel guitarist Jay Dee Maness, bassist Bill Bryson and drummer Steve Duncan formed the Desert Rose Band. The band released six albums 1987-1993, and several songs — including No. 1 hits "He's Back and I'm Blue" and "I Still Believe in You" — reached the Top 10 on the country charts. The group occasionally reunites for a handful of live shows.
"The Desert Rose Band was a great band," Pedersen says, "It opened up a lot of doors for me — production-wise and with our hit records. It gave us credibility in the music scene for years to come."
Pedersen joined Rice, Rice, Hillman & Pedersen, which released three solid albums 1997-2001, and then became a member of Old & In the Gray for the group's self-titled 2002 album. It's a great album recorded as a followup to Old & In the Way, the exceptional bluegrass band Jerry Garcia formed in 1973. Pedersen replaced the late Garcia on banjo and guitar, and bassist Bryn Bright replaced the late John Kahn. Three original members — mandolinist David Grisman, guitarist Peter Rowan and fiddler Vassar Clements — joined Pedersen and Bright.
"David called me for a couple of reasons," Pedersen recalls. "One, we knew each other from our Berkeley days. I grew up with Jerry — he in Palo Alto, me in Berkeley. I also knew the material, played banjo and could sing better than any of them! Ha! The album was done very quickly. I wish we could have taken more time with the vocals, working out parts, etcetera."
For several decades, the one constant in Pedersen's music has been Hillman.
What's the dynamic between them that makes their musical duo so special?
"Chris and I came up musically at the same time, listening to the same music — bluegrass," Pedersen explains. "Although he ventured further into other musical styles — Byrds, Burritos — our love for roots music never left us. Our singing style works very well when we sing duets, and his mandolin playing adds a lot to our shows."
Besides the musical dynamic, what else creates a special bond? "Chris and my humor are pretty much on the same page," Pedersen says. "Politically? Not so much. We've known each other so long we are really just like brothers. I'd take a bullet for him."
Hillman has pointed out that Pedersen's style of guitar playing is unique.
"My guitar playing is based on bluegrass rhythm/Clarence White push beats," Pedersen says. "I use a lot of bass licks (lower strings) when needed."
Pedersen has recorded many albums with Hillman, and his favorite one is Hillman's The Other Side. The album — released in 2005 — begins with a roaring acoustic version of the Byrds' "Eight Miles High" and includes the brilliant Hillman/Stills composition "It Doesn't Matter." Besides Pedersen and Hillman, other musicians on the album include Desert Rose Band bassist Bill Bryson, guitarist Larry Park, accordionist Skip Edwards, fiddler Gabe Witcher, dobro player Sally Van Meter and vocalist Jennifer Warnes.
"I like [The Other Side] best mainly because it had great players," Pedersen says. "It went smoothly, and I produced it. It had great song selection, too."
Of the many bands Pedersen was in, which provide the fondest memories or were the most rewarding musically?
"The Desert Rose Band and (his current band) Loafers' Glory," he answers. "Both are wonderful bands with great players and singers. My times with Lester Flatt — and working with Emmylou's band and Linda Ronstadt — were pretty cool, too."
Hillman and Pedersen have resumes to die for, but the mass public doesn't recognize their names and musical accomplishments. So I ask Pedersen whether he and Hillman ever discuss or get bothered by the lack of recognition.
"Oh sure," Pedersen responds, "especially when the Grammys come around. I got one for being on The Songs of Bill Monroe produced by Todd Phillips. But for Chris not to have at least one? Ridiculous."
Arguably, Pedersen's biggest songwriting achievement is the tender "Wait A Minute," which the Seldom Scene covered and made a favorite among bluegrass fans. Pedersen plays the song at most shows with Hillman, and it always creates a few beautiful minutes.
Wait a minute, did I hear you say
You're goin' far away again?
Try to change it, I can't take
The lonely nights without your love

Do you want the road
To get the music done and move along?
What good does it do
Play your songs for her and hear her say?

Wait a minute, did I hear you say
You're goin' far away again?
Try to change it, I can't take
The lonely nights without your love

Rollin' along and life's been
Good to you but even so
She comes to you, late at night's
The time you hear her say once again

Wait a minute, did I hear you say
You're goin' far away again?
Try to change it, I can't take
The lonely nights without your love

Waitin' for you thirty days
And nights without a rest
I got to hold on, twenty-five to go
And once again or I'll hear her say

Wait a minute, did I hear you say
You're goin' far away again?
Try to change it, I can't take
The lonely nights without your love
I ask Pedersen to explain the circumstances behind the song's lyrics and what it means to him.
"It's too personal — sorry," he says. He then mentions other songs he considers his best.
"Old Train," "No One Else," "Never Let Go," "Our Baby's Gone," he says. "All have very personal memories for me."
Seldom Scene recorded "Old Train" as the title cut on its highly acclaimed 1974 album which also included "Wait A Minute" and featured guest stars Ronstadt and Ricky Skaggs.
Ronstadt, Harris, David Lindley and Larry Carlton appeared on Pedersen's first solo album, 1976's Southwest, and a second solo album, Sandman, followed a year later. A third solo album, Lonesome Feeling, was less slick — a rootsy bluegrass and country release by Sugar Hill in 1984.
"I don't think I was quite ready for Southwest and Sandman," Pedersen says. "However, Lonesome Feeling was more my cup of tea."
Playing live shows with Hillman throughout the country is also his cup of tea. The duo's vocal harmonies are sublime, and each show is a bit of an American music history lesson. Besides playing their own songs, they cover songs of the Byrds, Bob Dylan, the Louvin Brothers, the Flying Burrito Brothers, the Everly Brothers, Ralph Stanley, Eric Andersen, Danny O'Keefe and Buck Owens,  On a lucky night, you might hear them sing their mesmerizing version of "The Bells of Rhymney." The beautiful song, which the Byrds recorded, was first recorded by Pete Seeger using words of the Welsh poet Idris Davies.
Besides playing with Hillman, Pedersen is currently involved in three other bands — J2B2, Loafers' Glory and Tom Petty and the Heartbreakers, who have asked Pedersen to tour with them next year.
In August, Loafers' Glory went into the studio to work on its second album. The band is comprised of Pedersen, Bryson, multi-instrumentalist  Patrick Sauber and fiddler/banjoist Tom Sauber. Their self-titled debut album was released in 2012 on Arhoolie Records.
Pedersen has spent so many nights on stage, so I ask him his thoughts about those rare nights when he is in the audience watching a fellow performer.
He says the best concert he attended was a Beach Boys show at the Greek Theatre in Hollywood, California.
"The harmonies and songs were killer, plus my friend Ed Carter — a great guitar player — was in their band at the time. I think it was back in the 90s."
The most influential concert he attended, though, was just two years ago. It was an Eagles show in May 2015 at the Rabobank Arena in Bakersfield, California.
"Don [Henley] invited my wife Libby and me to the show," Pedersen says. "It was great to see them live after all these years. What writers they are. Bernie [Leadon], Don, Glen [Frey] and Tim [Timothy B. Schmit] treated us like royalty. They have the same DNA as Chris and me!
Despite his very active schedule, Pedersen says he doesn't have future musical goals.
"I've pretty much done musically everything I've wanted to do," he says. "I've recorded with the best in the business, toured with some of the greats and put my kids through school as a working musician. And now I'm waiting for what's around the next bend."
---