THROUGH THE LENS: ND Photographers' Favorite Roots Music Concerts of 2021
Posted On December 7, 2021
---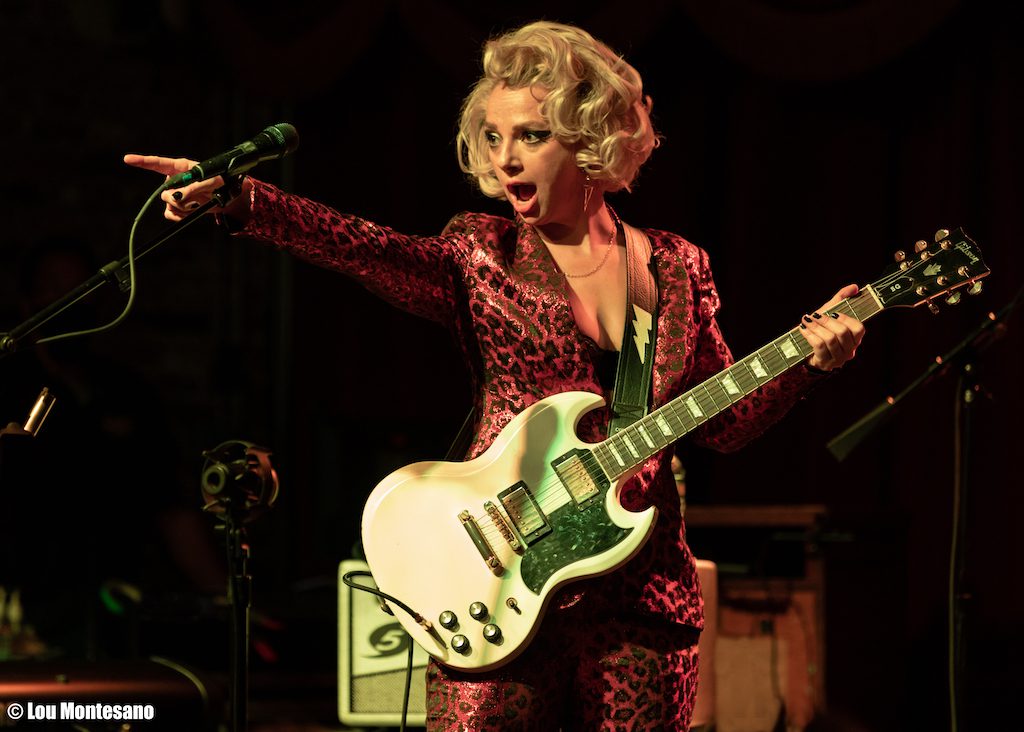 Samantha Fish - Brooklyn Bowl, New York, NY - Photo by Lou Montesano
While the performance season opened a bit late this year and was somewhat light in volume, ND photographers still managed to get in a good number of shows. There's something for everyone in this week's column as many branches of roots music are represented from a wide variety of venues and locales, from Scotland to Washington state.
Here's what 16 ND photographers have to say, in words and photos, about their favorite roots music gigs of 2021.
James Taylor and Jackson Browne — VyStar Veterans Memorial Arena, Jacksonville, Florida 
With over 100 years of experience between them, Taylor and Browne have truly earned the label of "troubadour." Hearing them play their classic songs, introduce new ones, and tell stories from the road was a wonderful experience. Each did a full set and sat in during the other's set. — Kim Reed 
Abigail Washburn & Wu Fei — AmericanaFest, Nashville 
In a time when you have some people arguing about whether people who look, love, worship, or believe differently than they are even deserving of being called human, Washburn and Wu Fei are the antidote. Their set leaned into the things that are common in all cultures: love, loss, laughter, pain, work, play. They radiated unabashed joy in playing together. — Chris Griffy 
Samantha Fish — Brooklyn Bowl, New York
Fish has been on the road since September in support of her new album, Faster. With costumed people already on the street, I caught Fish the evening before Halloween, where she, resplendent in red, rocked Brooklyn Bowl. You could feel the energy in the crowd. She's a commanding performer who plays guitar with attitude. — Lou Montesano
Anders Osborne — Online from New Orleans  
Every other Friday for well over a year, Osborne turned his living room into the Ya-Ya Room. Through shut down, lock down, Hurricane Ida, and his own bout with COVID-19, he has welcomed fans into his family space. Whether collaborating with musical partners indelible to the Crescent City or flying solo with guitar and harp, these gigs revealed a soul of such warmth, depth and honesty, you almost forget what a monster guitar player he is. — Jim Brock 
Los Lobos — McMenamins Elks Temple Spanish Ballroom, Tacoma, Washinton
Their shows prove why they are one of the best bands in the land. Mixing original songs, classic rockers, and traditional music, they are my favorite band to hear and photograph. A national treasure. As a bonus, I was thrilled to be able enjoy their music with family and friends. — Peter Dervin 
Joe Crookston — Heartwood Soundstage, Gainesville, Florida
With a comforting voice and crafted storytelling, Crookston has the ability to relate to his audience with simple choruses, encouraging them to join in with soft harmony. It adds to his performance, just like being at a Pete Seeger concert. He's blue-collar troubadour whose older songs concentrate on observations of others, while his new batch is more introspective, mixing humor into the reflections on personal tribulations. — Larry John Fowler
Valerie June — Keswick Theatre, Glenside, Pennsylvania 
This stop on June's Moon and Stars Tour turned out to be absolutely one of the best shows ever. With a 12-piece band, she rocked the joint. My reaction at the end was WOW. — Mark J. Smith 
Richard Thompson — Levon Helm Studios, Woodstock, New York
A perfect summer evening with all the hits, incredible stories from the road, the perfect intimate space, and a crowd on the edge of their seats for the night. It doesn't get much better. — Anthony Mulcahy
Gregory Alan Isakov — Rialto Theatre, Tucson, Arizona
As always, an Isakov show is one where you can close your eyes, immerse yourself in the sound, and savor every minute, knowing you're not missing a thing. Even in this, a fully seated show, you feel as if you're at an intimate house concert. — C. Elliott
Jason Isbell & The 400 Unit and Marty Stuart & His Fabulous Superlatives — St. Augustine Amphitheater, St. Augustine, Florida 
Being a member of the Country Music Hall of Fame and a five-time Grammy winner, Stuart is not your usual opening act, and with His Fabulous Superlatives, the amphitheater could have sold out the show with him alone. But paired with the high-riding (and also Grammy-winning) Isbell, finally able to tour after the early 2020 release of Reunions, it was truly a fantastic night of two bands at the top of their game. — Rick Davidson 
The Quebe Sisters — Natalie's Grandview Music Hall & Kitchen, Grandview, Ohio  
Hailing from rural Texas, these three fiddle playing and singing sisters have made quite an impact in roots music. Accompanied by guitar and upright bass, they took us on a musical ride that recalled gypsy jazz, cowboy music, old-time fiddling, and of course that glorious Texas Swing they cut their teeth on. A terrific evening. — Kevin Smith
Los Lobos — Vashon Center for the Arts, Vashon, Washington 
Having seen Los Lobos many times over the last 35 years gives one perspective on how solid and soulful this band is. They take their work seriously yet appear to be having as good a time as the audience when performing their very deep catalog of music. It was a wonderful two nights of music, hanging with friends, and especially spending time with the original members and newcomer Fredo Ortiz on drums. — Boom Baker 
Richard Thompson and Katherine Priddy — Royal Concert Hall, Glasgow, Scotland
In the city's grandest venue, Thompson read extracts from his book, Beeswing, and provided insight into well-known lyrics, along with witty banter, making it feel like an intimate gig. He was joined at times by his partner, Zara Phillips, as well as Katherine Priddy, who opened. The gig ended with a glorious and energetic rendition of "When the Saints Rise Out of Their Graves." As we say in Glasgow, "pure dead brilliant!" — Carol Graham 
Yonder Mountain String Band — Gerald Ford Amphitheater, Vail, Colorado   
It was the first big post-COVID show for the band, the venue, and the fans, and it was hot! Best fan energy and experience of any show I caught this year.  — Bryan Bolea
The Mavericks — Carolina Theatre, Durham, North Carolina
For the first time in two years, I made it back to one of my favorite venues to catch one of my favorite bands. A great time was had by all, and finally getting to hear the songs from En Español live was a treat! — Todd Gunsher 
John Hiatt and Jerry Douglas Band — City Winery, Atlanta, Georgia 
Douglas and band opened, and later, when serving as backup to Hiatt, they brought a freshness to his beloved, older songs. Adding newer ones to the mix made it a superb, memorable evening. — Brenda Rosser 
Now, the photos. Click on any photo below to view the gallery as a full-size slideshow.
---