HELLO STRANGER: Get to Know our Summer 2021 'Voices' Journal + Playlist
---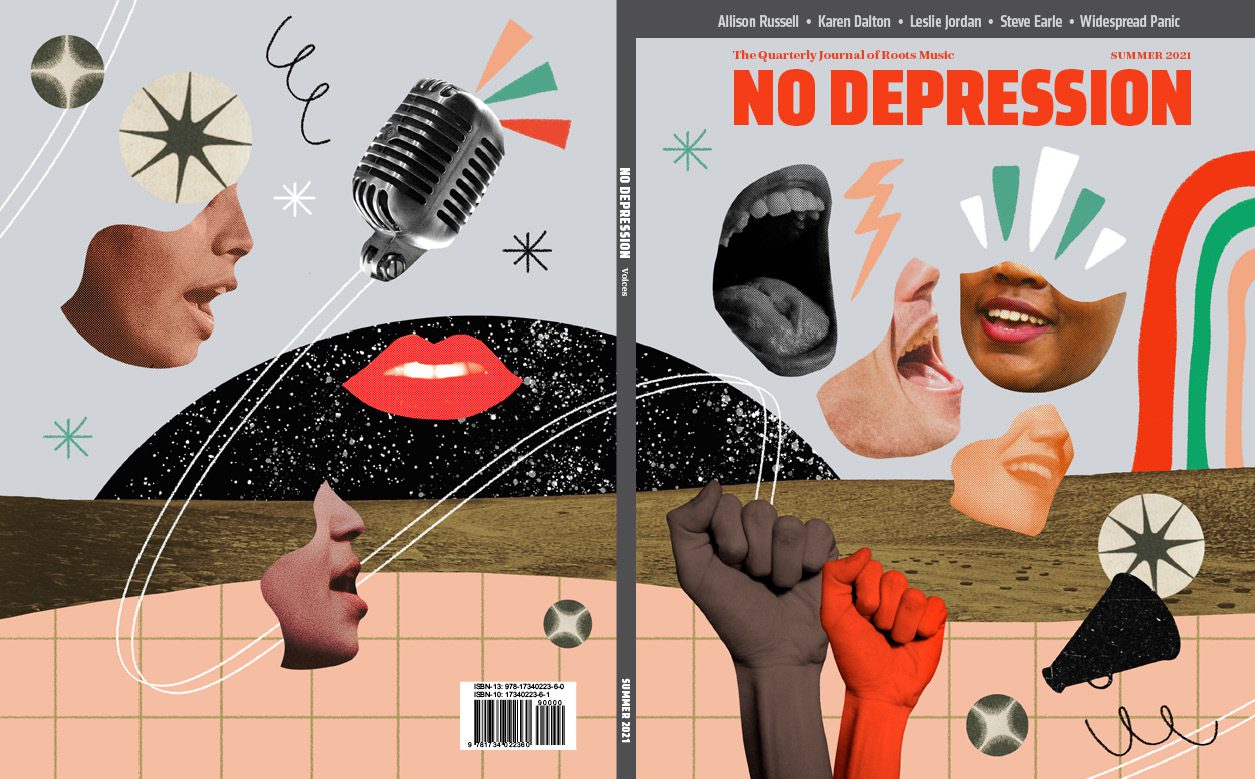 Cover artwork by Jenny Chang-Rodriguez
EDITOR'S NOTE: As our Summer 2021 print journal lands in the world, we wanted to share Managing Editor Hilary Saunders' opening letter reflecting on the issue's theme, "Voices." We invite you to dive into the issue's 100+ pages of stories about the songs that have shaped our culture (and the culture that has shaped our songs) by buying it in print or digitally here. Better yet, start a subscription with this issue and help support No Depression's music journalism in print and online all year long.
My best friend since elementary school is a singer. To this day, she sings in church services, choirs, and other gatherings, even if her actual profession lies outside of the music industry. Growing up, she was the lead singer in our rock and roll band, but also the person who taught me about singing nuances and techniques — the difference between a head voice and chest voice and the importance of using your diaphragm.
After years of working up the courage to sing along with the radio or records, as well as taking some ear-training classes in college, it's pretty safe to say I can match pitch. I love taking long drives, blasting sing-alongs and embracing the sounds. (Tom Petty's Wildflowers and Sam Cooke's Live at the Harlem Square Club live in my car's six-CD changer pretty much permanently.) Much to my permanent chagrin, however, I am not a good singer, nor will I ever be one.
It's taken me much longer to realize more relevant truths about singing: You don't have to be a good singer to sing out loud and enjoy it. Singing together is one of the most inspiring and powerful acts of humanity. Our voices can be utilized effectively outside of carrying a melody atop a song.
During my tenure at No Depression, we've published entire issues on technology in the music industry (Fall-Winter 2018's "Innovate") and instruments, gear, and digital innovations in roots music (Summer 2020's "Tools of the Trade"). But we've yet to devote a book to the human voice. Until now.
The Summer 2021 issue, "Voices," explores the timbres, tones, and techniques prevalent among roots music vocalists. One in-depth feature explores the history of yodeling (which is deeper and more diverse than many might suspect!), and another digs into the differences between singing for stage and film. In a beautiful photo essay, nine of our favorite roots musicians wrote about both how and why they sing.
Many other stories in this issue highlight the voices that carry messages of praise and protest throughout roots music. Multiple pieces celebrate the role gospel music and hymns plays — from beloved actor-turned-singer Leslie Jones on his star-studded debut and Memphis sacred-soul singer Elizabeth King's latest release. And on the heels of her new book, A Singing Army: Zilphia Horton and the Highlander Folk School, out now via University of Texas Press, former No Depression editor-in-chief Kim Ruehl writes about the power of vocal groups like the Freedom Singers to enact social change.
I've always considered myself a writer before an editor, so it felt especially poignant to use my voice, so to speak, in the "Voices" issue. When speaking with Sara Watkins for the story I wrote about how voices change, she specifically told me to tell you how much she misses singing with and performing for you:
"Even before the pandemic, there was a lack of people singing together. Church used to do it, but that's not a place that as many people go to anymore, so that doesn't play as much of a common role in people's lives," she says. "So I'm really looking forward to singing with people, not even in harmony, just like, saying the same things with a group of people! It's a powerful thing."
She's right: The sounds of human voices all together is a powerful thing. To me, it's one of the most magical things about being alive. I truly cannot wait to see you all at a show sometime, singing together somewhere, safely, and soon.
Here's a playlist of songs and artists featured in the Summer 2021 journal:
---