JOURNAL EXCERPT: Leslie Jordan Revisits Hymns of His Childhood
Posted On October 24, 2022
---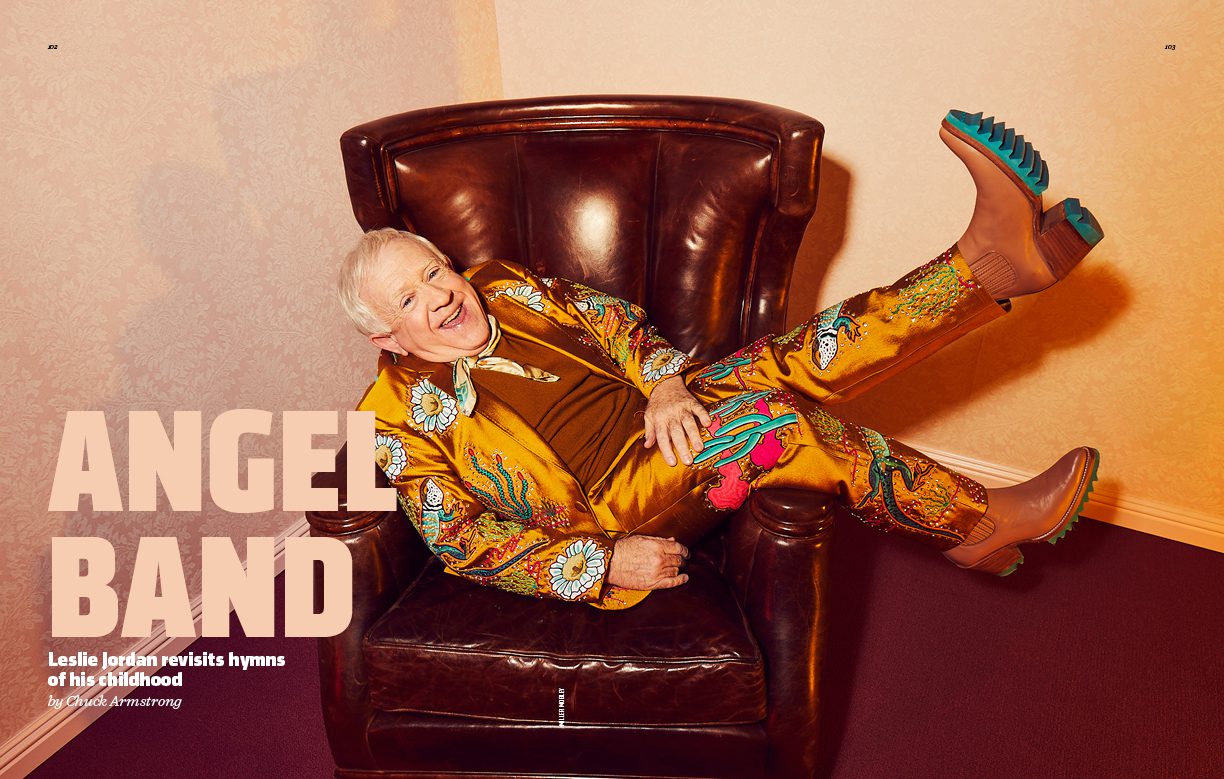 EDITOR'S NOTE: The team at No Depression is saddened to hear about the passing of actor, comedian, and musician Leslie Jordan. TMZ broke the news, reporting that he died in a car accident after a suspected medical episode. Tributes are beginning to pour in on Twitter from across the entertainment community, and musicians like Jason Isbell, Margo Price, and former Wonder Woman actress and singer Lynda Carter were among the first to commemorate his storied life and delightful personality. In Jordan's honor, we're sharing this excerpt of a story about his album of gospel songs from our Summer 2021 journal, "Voices."
Leslie Jordan has an unmistakable voice, though it might be more recognizable when put to use in his acting career than in his singing. He's been acting and writing for more than three decades, using his endearing and comedic gifts to bring joy to others.
After spending some time exercising race horses — "It's all I wanted to do, but I can't be a jockey, I'm too fat," he says — Jordan decided to go back to school when he was 27 years old. He thought he might get into journalism because he liked to write, but after a friend told him to take the Intro to Theater class for his arts elective, he found his true calling.
"I never performed, I never did high school plays," says Jordan from his home in Los Angeles. "I was always funny, but that was just to keep the bullies at bay. In this class, we did improvisations and it hit me like a drug." His first experience with an audience was when he began to fully understand the power of his voice.
"We were doing this upscale show called What the Butler Saw by Joe Orton, a terribly deep, black comedy," Jordan says, retelling the story in his best English accent. "The night that I was to walk on stage for the first time, the director pulled me to the side and he said, 'If you get cute, I'll break your legs.' So, I went on stage and I got so cute."
Jordan recalls the director was "salivating" with anger, but he didn't care. The audience applauded and laughed at everything he did, and he felt something he had never felt before in his life. That specific onstage experience sticks with him: "That was the moment that I thought, 'Wow, I have to harness this in the right ways.' That was my moment."
Now, at the age of 65, Jordan is harnessing the gift of his voice in a new way. In April, Platoon released his first musical project, Company's Comin', an album of reimagined hymns, new gospel songs, and snippets of classic melodies delivered in spontaneous, conversational bursts, featuring a guest list of some of the best country musicians working today.
A Hit with Hymns
Jordan's first foray into television was acting on shows like The Fall Guy and The Wizard in the mid-1980s, and he eventually landed a small role on the big screen in the Richard Pryor film Moving in 1988. Since then, he's held hilarious roles on sitcoms like Hearts Afire and Will & Grace, and has become an award-winning actor, acclaimed comedian, and gay icon.
Music always affected him, but it wasn't until songwriter Travis Howard, his longtime friend and collaborator, began a weekly Instagram series in May 2020 called "Sunday Mornin' Hymn Singin'" that the idea for Company's Comin' started to come together.
"I was actually doing this hymn thing on my Instagram, with a meager little following, and Leslie told me, 'Let me get a piece of that,'" Howard says. Rather than wading into the politicization of the novel coronavirus pandemic or offering his opinion on the growing racial injustice in the country, he decided to pick up his guitar and do what he calls "a little Sunday churchin'."
Just as the title suggests, the two friends spent Sunday mornings sharing their favorite hymns from their childhoods growing up in the church. The videos on Instagram were never professionally shot or overly polished; Howard would handle guitar and backup vocal duties while Jordan took center stage. Though he's not a trained singer, Jordan's passion for hymns rang through.
Jordan's voice, coupled with his massive fanbase, brought the duo a lot of praise. "An atheist told us he tunes in to hear the music," Jordan says, just as baffled today as when he first heard it. "It's just so healing to know that so many different kinds of people love this music."
Growing up in a very devout Baptist family in East Tennessee, Jordan's whole life was centered around the church. "I didn't know anyone who didn't go to church and I didn't know anyone who drank alcohol," he says. "When you grow up like that, it's all you know. You want to be a good Christian boy, you want to follow those teachings." As he better understood his own sexuality and tried to reconcile it with what he was hearing on Sundays, he left the church when he was 17 years old.
Howard shares a similar experience with his own childhood. Growing up in a Pentecostal church in Georgia, he always wrestled with the guilt of that context. "You're 14 years old and you're in danger of hellfire if you touched your dick," he says. Though he laughs thinking about it now, there is an obvious frustration with the reality of his childhood. "I was just a kid and felt all this guilt and shame, having to beg for God to let me back in. When I met Leslie, I was 29 years old, and I identified so much with all of the shit that he was dragging around."
Danny Myrick — another mutual friend and collaborator on Company's Comin' — also knows the complexities of growing up in the church. The son of a preacher in Pascagoula, Mississippi, he started writing songs when he was 14 years old. He moved to Nashville in 1984 to write gospel music and celebrated his first No. 1 hit, "Jesus Is the Light," when he was 17. It didn't take long for him to have several more chart-topping tracks, but even with the success, something didn't feel right.
"I just couldn't get past the shame and the guilt," Myrick admits, reflecting on his childhood and his time in the gospel music industry. "The only thing that mattered in my household was your relationship with God, and that can be pretty fragile, and when that is tied to your parents, it can be incredibly damaging when things go awry. I eventually left it and went into country music, and I felt a freedom like I had never before. I got away from songs that could really only say one or two things, and now I felt like I could finally tell stories about all of life."
But, like Howard and Jordan, Myrick still loved the music of his past.
"I think there's something about the fact that most of these songs were written a long, long time ago," Myrick says. "It's almost like recipes from your family, but hymns are on another level because they involve God. My granddaddy was the first voice I heard singing some of these songs, and he talked about his granddaddy knowing these songs. You're sharing something from decades and decades ago."
The musical heritage of church resonates with Jordan, too. Though he walked away from the world that flooded him with guilt and shame for being gay so many years ago, he never left the music of his faith.
"What's interesting," Jordan says, "is this journey from 17 to 65 years old has taken me to a place where I'm perfectly comfortable with who I am, what I am, and I can revisit these songs without any axe to grind, without any bad memories."
Making Connections
Thanks to the viral fame of his Instagram hymn singing, in September 2020, Jordan was invited to host the CMT Top 20 Countdown and to sing a song on the weekly TV show. Though he's never one to shy away from the spotlight, he said he'd sing only if his friends Howard and Myrick could join him. "The three of us grabbed dinner and we decided we'd sing a little 'Delta Dawn,'" Myrick remembers. "And Tanya freakin' Tucker heard our performance."
Call it divine intervention or simply a lucky coincidence, but after Tucker heard the trio sing her 1972 hit song, she sent Jordan a direct message on Instagram and gave him her home phone number.
"I was on the phone with Tanya Tucker," Jordan says, just as giddy and excited as any fan would be. "It was crazy, and then it all just kind of happened. We were all of a sudden recording."
On Company's Comin', Tucker duets with Jordan on "When the Roll Is Called Up Yonder," a hymn written in 1893 that has been recorded by Loretta Lynn, Johnny Cash, and Willie Nelson. Tucker's contribution made it obvious that this record was looking a lot different than anyone had expected.
"It's pretty safe to say that we got whoever we wanted, but we weren't going through managers," Howard says. Though he didn't have a typical music industry background to bolster his requests, Jordan used his own voice to personally reach out to the artists with whom he wanted to collaborate. "This was all direct messages. Leslie was just direct messaging people."
One of the biggest cheerleaders of the project was Brandi Carlile, who sings on "Angel Band," a hymn that was first published in 1860 and gained some mainstream attention in 2000 after its inclusion on the O Brother, Where Art Thou? soundtrack. Much like singing inside a sanctuary, Carlile and Jordan aren't beholden to any script or formula on the track; they sing and lift their voices to the heavens while also celebrating one another.
"Brandi is such a sterling human being," Jordan says. "She taught me that I'm a gay person of faith. It's hard to be a gay person of faith, but I love that she showed me what that means."
Leaning into the communal nature of hymn-singing, the rest of Company's Comin' is filled with other sterling human beings, including Katie Pruitt on their beautiful rendition of "This Little Light of Mine," Ashley McBryde and Charlie Worsham on the fast-paced "Workin' on a Building," Chris and Morgane Stapleton on a horns-soaked "Farther Along," and Eddie Vedder on a ukulele-inspired hymn for the 21st century.
"Eddie didn't grow up with these kinds of songs, he's more agnostic, he was never really in the gospel world," Myrick explains. "Travis and I went back and forth and thought about doing a Johnny Cash song, but that didn't really fit what we were doing. So, I came up with an original on the ukulele, this thing that felt kind of old-school and King James-y. But I wrote it fast and happy."
When he sent the track to Howard, he suggested slowing it down, and they worked on it until it was ready to send to Vedder. "We were so anxious and nervous," Myrick admits. "I was such a big fan of Pearl Jam. … I can't put into words what it was like creating a demo for Eddie Vedder."
Regardless of the anxiety felt, Jordan is quick to interject with how the track, "The One Who Hideth Me," was received by Vedder.
"He devoured it," Jordan says. "His wife told me he never does this, but he locked himself in the studio."
In case Vedder wasn't a high enough mark for Company's Comin', Jordan got the Queen of Country on the record, too. "I've been a Dolly Parton fan since I drove from the University of Tennessee in Knoxville to see her in 1973," Jordan fondly recalls. "'Jolene' came out in '73. I was there, and from then on, everything she does … well, you can't find anybody who does what she does. She walks the walk; she talks the talk. She's a woman of faith, but she's not going to throw it down your throat."
For Jordan, there was no greater or more humbling experience than to have Parton accept his request to duet on "Where the Soul Never Dies" — which also features Worsham on mandolin and acoustic guitar — but it was another singing partner that brought him a sense of the power of what he, Myrick, and Howard were doing together.
"I remember hearing TJ Osborne's voice — my God, what a voice," Jordan says. "So, we recorded "Sweet By and By" and I laid down my part, and then he came in and did his." Not long after recording, Osborne shocked the country music world by announcing that he is gay.
"Sweet By and By" has been sung inside churches all over the world since 1868, and while the hymn is renowned for its beautiful chorus, with the help of Osborne, Jordan made it uniquely his own. With Osborne's voice ringing out over the final line, "We shall meet on that beautiful shore," Jordan once again goes off-script and adds a closing, succinct psalm as he responds to his duet partner: "And I'm gonna see my daddy."
"The way Leslie says it, I break down every single time I hear it," Howard says.
Jordan doesn't need a flawless singing voice to affect those listening; the character and honesty of who he is comes through and overpowers any imperfections that might exist. Osborne felt that unique, faith-filled power of Jordan's voice before he ever set foot inside the studio.
"TJ wrote me the sweetest email about his journey and how much it meant to him for me to call and ask him to be on this album, at that time in his life when he was wrestling with his decision to come out of the closet," Jordan says, pausing for a moment to honor the courage of his friend.
"That's when I realized there's a little more at play here than just us singing songs. That's music at its finest, when people are moved in ways like that. I'm just so proud. My gosh, I'm proud."
'What a Journey'
There is something distinct about the music of the church as compared with the teachings of the church. While the latter is often masked in doctrinal and theological arguments that can change from generation to generation, the former is lifted up to the heavens with timeless joy and expectant, universal hope for all. The power of a hymn resides in the community that sings it. After all, the gospel is not about keeping this joy and hope to oneself or coercing others into submission based on one's doctrinal stances, but rather about sharing this profound truth and yearning with others.
"You start sharing that communal love, that's when people really start getting moved," Myrick says. "I think there's a big need for that, and Leslie, for me, he is such a perfect mouthpiece for this love and grace. I hope this record fills that need."
"It's different being a hymn-singer than being a Christian," Jordan adds, acknowledging the encouragement and support from his friend.  "Do I believe everything I was brought up to believe? It doesn't matter. That's irrelevant. What I've learned is that we all seek. You keep an open mind and you keep an open heart."
Jordan began to better understand this when he entered his first recovery room for his abuse of drugs and alcohol. Though he's been clean for more than 22 years, he still thinks about that first experience in recovery.
"It was like church," he says firmly. "But it was like a church with a god of your own understanding. It was and still is an amazing journey. People say they've found faith. No, you haven't. You may have it today, but you could lose it tomorrow. And then you'll find it. And then you'll lose it. It's a journey. For me and my journey…wow, what a journey. This album, it just cemented everything for me. Singing these old hymns and still loving myself and loving the music, it really is a journey."
---