HELLO STRANGER: Get to Know our Spring 2021/'Great American Songbook' Journal + Playlist
Posted On February 26, 2021
---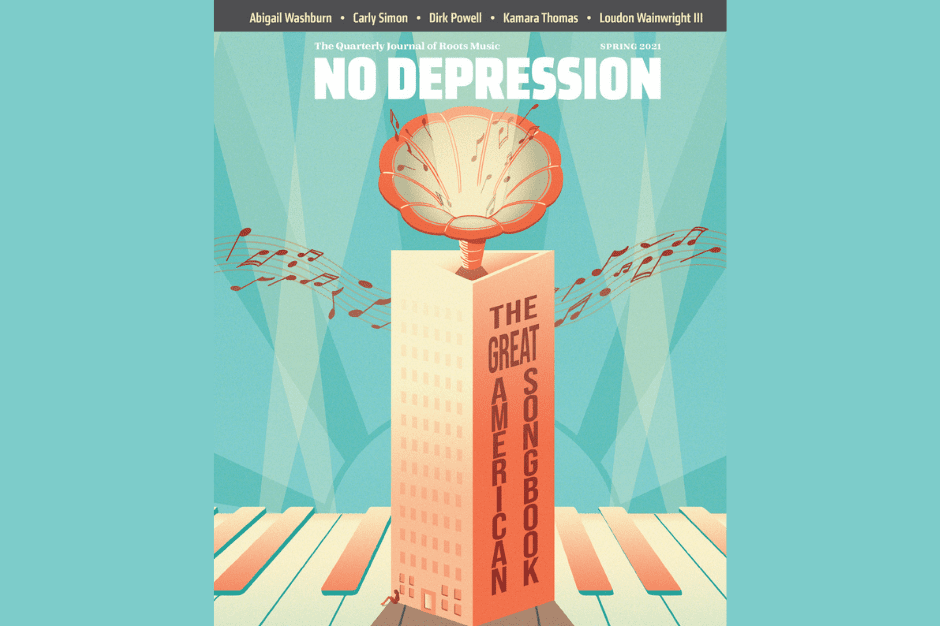 EDITOR'S NOTE: As our Spring 2021 print journal lands in the world, we wanted to share Managing Editor Hilary Saunders' opening letter reflecting on the issue's theme, "The Great American Songbook." We invite you to dive into the issue's 100+ pages of stories about the songs that have shaped our culture (and the culture that has shaped our songs) by buying it in print or digitally here. Better yet, start a subscription with this issue and help support No Depression's music journalism in print and online all year long.
It's the day before Christmas and I'm thinking about Justin Townes Earle again. His 2014 album Single Mothers is playing from my shallow iPhone speakers and I suddenly remember that he wrote the gorgeous, languid ballad "White Gardenias" in honor of Billie Holiday.
"I think my favorite song that I've ever written is 'White Gardenias,'" he told NPR during a Tiny Desk Concert the week before the LP came out on Vagrant Records. "It's for Billie Holiday. You'll notice that it almost feels like I'm gonna miss the spot that I'm supposed to start singing in. That comes from Billie Holiday — falling way behind the beat," he explains before quipping: "It'll scare the shit out of a rhythm section, that's for sure!"
Holiday, of course, was a legend of soul, jazz, and pop singing. In the 1930s, she toured briefly with the Count Basie Band and clarinetist/composer Artie Shaw before recording her defining, defiant work, "Strange Fruit."
Earle's death has haunted me since late summer, throughout the fall and into the winter. But it is spring now and new people have filled old offices and scientists have made and shared miraculous molecules that protect us from invisible pain. Though grief is not linear, something like hope feels like it might just flicker again.
I read Rebecca Solnit's Hope in the Dark during this period too — those days of dull repetition, fear, isolation, and mourning 500,000 killed by a virus, one from an accidental overdose, and so many others. At times, the small book infuriated me with its cautions of patience and reminders that we may never see the results of our actions. But one of the best lessons Solnit offers is that "grief and hope can coexist." In fact, I believe our most hopeful actions stem from grief, for we cannot be moved toward change without seeing sorrow first.
In my own waves of grief that crashed and steadied throughout the end of a hellacious year and the end of this issue's production cycle, I imagine talking to Earle about Holiday and the Great American Songbook. It would have been delightful — I can hear Earle's deadpan humor and earnestness alternating in one-liner punches hitting like the pick and slap of his guitar strings — a perfect encapsulation of how this strange and malleable genre resonates with roots musicians today.
Even without either of their voices, a sense of timelessness courses through the pages of the Spring 2021 issue of No Depression. It's quite the historical issue, with multiple features that explain and contextualize this amalgamation of standards, pop songs, jazz hits, and showtunes from the first half of the 20th century — from the rise of Tin Pan Alley to the near-forgotten riots in the Hudson Valley to crossover hits in Cuba. But this issue is also firmly rooted in the present, almost surprisingly so. Nearly a century after the heyday of this type of music, Rachael Price of Lake Street Dive, Julian Lage, M. Ward, Caleb Caudle, and so many others continue to cite these songs and singers as influences.
In our reading, however, the Great American Songbook also refers to a broader range of great American songs. We felt like it was important to assess tomes of traditional American music like Carl Sandburg's American Songbag and Harry Smith's Anthology of American Folk Music, as well as Dust-to-Digital's new follow-up box set, The Harry Smith B-Sides. And while sociologists, politicians, and ordinary residents and citizens continue to grapple with this country's complicated history, No Depression writers found merit in mining our musical legacies like murder ballads and minstrel songs for what remains great and what in our songbook ought to evolve or simply not survive.
Ultimately, we found more questions than answers — a frustrating yield, despite such an important and fascinating romp throughout music and time. I'm finding hope in the fact that we're asking these questions, though. One issue of No Depression won't fix systemic racism in the country music industry or erase the sexism and violence perpetuated through old-time songs. But identifying those patterns and asking questions about them might broaden our perspective, spark our curiosity, and grow our empathy.
"What other stories can be told? How do people recognize that they have the power to be storytellers, not just listeners?" Solnit asks in her book. In music especially, we are all storytellers and listeners; we are as much a part of the songs as the melodies and percussion. And therefore I have to hope that we also have the power to challenge and change our musical narrative in time. For as Solnit continues, "Hope is the story of uncertainty, of coming to terms with the risk involved in not knowing what comes next, which is more demanding than despair and, in a way, more frightening. And immeasurably more rewarding."
Here's a playlist of songs and artists featured in the Spring 2021 journal:
---