HELLO STRANGER: A Walk Through No Depression's Summer 2023 Journal + Playlist
---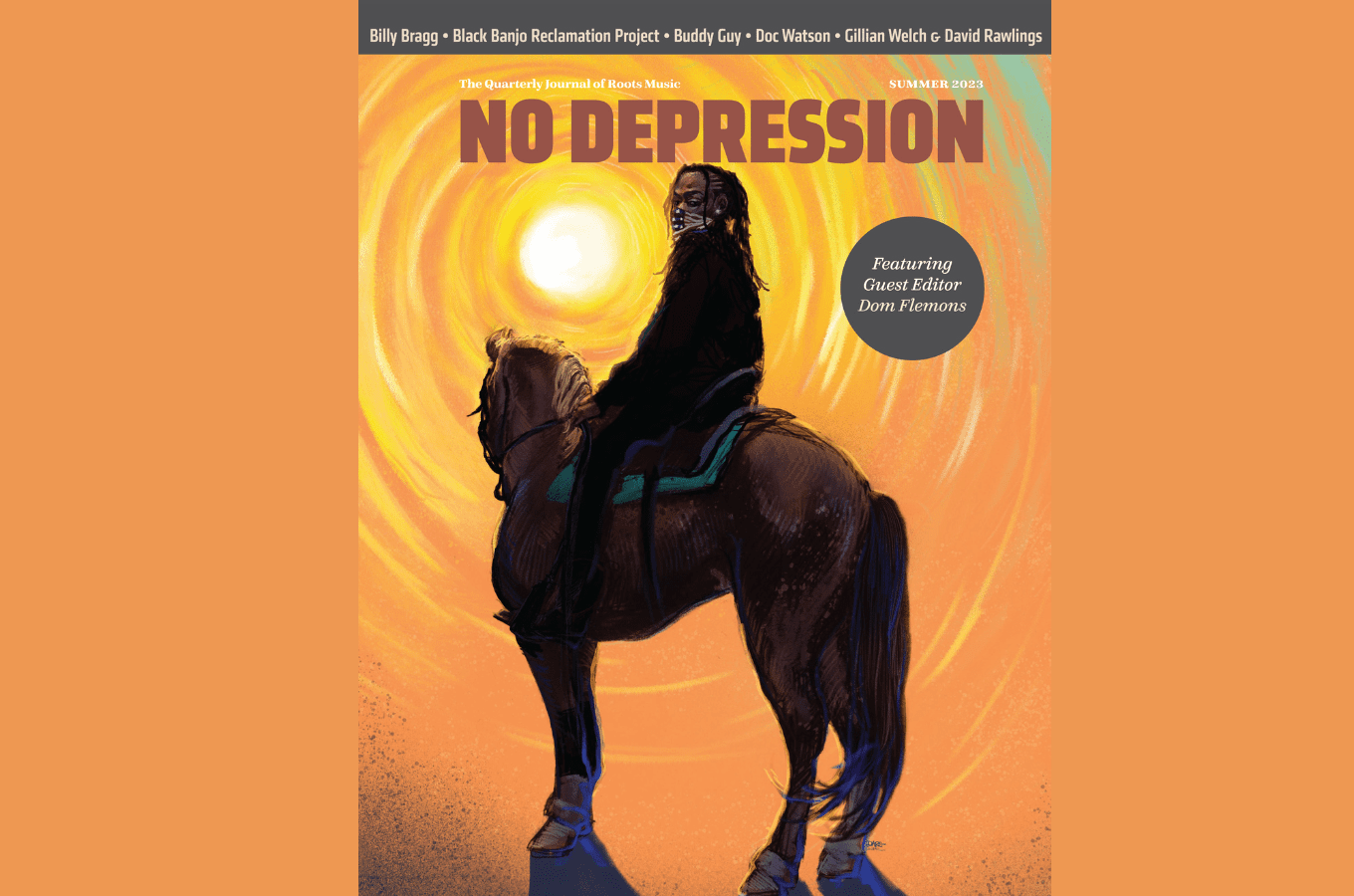 The Black cowboy cover art for our Summer 2023 journal is by Dare Coulter
EDITOR'S NOTE: Managing Editor Hilary Saunders' letter, below, opens our current quarterly journal, featuring the best and most timely stories in roots music today. Buy the Summer 2023 issue in print or digitally here. Better yet, start a subscription with this issue and help support No Depression's music journalism all year long.
Freezing rain fell every day I was in Juneau this April for the 48th annual Alaska Folk Festival. The timing was horrible — four days after I smashed my knee in New York City on the way to another friend's gig and just two weeks before this issue was due to print. I was tired, sore, swollen, bloodied, and even experiencing uncharacteristic moments of fleeting ambivalence before the 12-hour outbound travel day.
But my friend Annie Bartholomew, whose debut historical folk album Sisters of White Chapel comes out June 16, had been pushing me to come out since we met at Folk Alliance in Kansas City in 2018. She never did explain what makes the Alaska Folk Festival so magical, just that it was, it is, and that I ought to experience it for myself. So obviously I wasn't going to let her down or miss a chance to see live music somewhere beautiful.
Set between snow-capped mountains and an ever-descending fog sits Juneau's quaint downtown. The bars and buildings, no higher than a few stories tall, stretch just four square blocks and claim origins in the 1800s during the Gold Rush. Each of these bars and venues — The Crystal Saloon, The Red Dog, The Triangle Club, The Alaskan Hotel, and more — host pop-up acts and solo-acoustic singer-songwriters during festival days. And at night, riotous bluegrass bands stomp and shred so hard that crowd surfers float across hands held high in reverence and revelry.
But this was all technically separate from the core of the Alaska Folk Fest, which takes place at the Juneau Arts & Humanities Council and Juneau-Douglas High School. Each day of the week-long festival, one of these venues hosts a four-hour concert comprised of 15-minute or three-song sets from players of all kinds. Teenagers, amateurs, hobbyists, professionals, just-for-the-weekend groups, and more all play their favorite folk songs, and the audience always cheers.
It's the oldest and largest festival of its kind in Alaska. Plus, there are dances, instrument exchanges, educational workshops, and more. Everything is free, run by volunteers and on donations, and people truly can't get enough of it. They stop their Subarus in the middle of the street to roll down the window in the sleet to scream "Happy Folk Fest!" at all who pass.
The thing is, I went to Folk Fest for fun, to see friends I hadn't seen in five years, not for work. I didn't intend to write about it because there were no headliners or major acts. It didn't seem "worth" the coverage.
But the deep sense of community — that, in ways, can only happen in a 30,000-person town like Juneau — is what struck me the most. The wholesome, earnest support of anyone and everyone who loves this kind of music inspired me to write. The city's devotion to keep renewing and improving a free, educational community event for nearly 50 years is a feat that deserves attention and praise. It's a perfect example of why we should always ask ourselves who we cover, and why.
These themes of community, collaboration, preservation, and perseverance from the Alaska Folk Fest dovetail perfectly with the Summer issue of No Depression. Singer, songwriter, multi-instrumentalist, historian, and overall thoughtful human Dom Flemons has spent decades cultivating these ideas in and out of his songs and has generously lent his time to serve as this issue's guest editor.
On the heels of his new album, Traveling Wildfire, which came out in March on Smithsonian Folkways, Flemons spoke with me to devise a story idea for this issue. We discussed his long-standing interest in tintype photography and the interesting relationship between what is old and what is new. Additionally, Lamont Pearly, who co-founded "cultural news magazine" The African American Folklorist, wrote a feature on Flemons to showcase the depth and breadth of his commitment to Black folk traditions and roots music as a whole.
As much as I try to remind myself to heed the lines separating work and life, sometimes life butts back in to remind me that what we do here at No Depression is not just special, but important. Thank you all for subscribing, donating, and believing it too.
---