Annie Bartholomew Finds Musical Treasure in the Stories of Klondike Gold Rush Sex Workers
---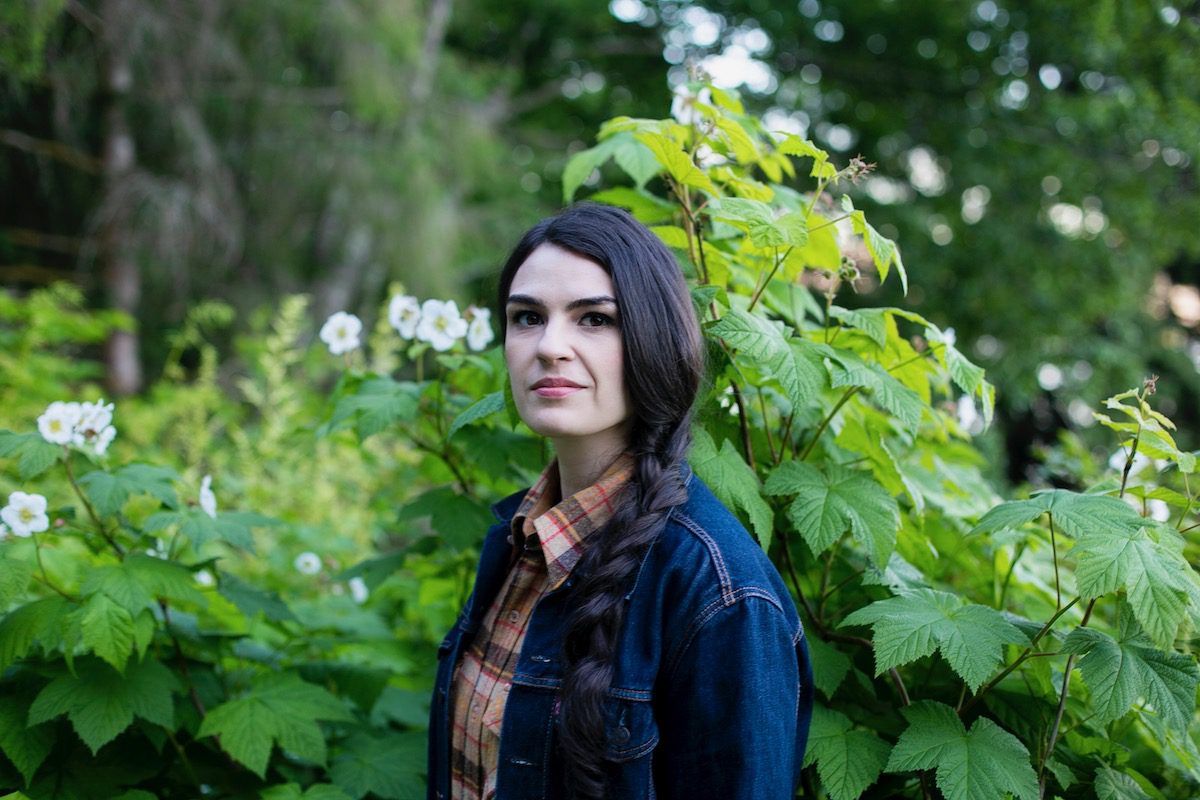 Annie Bartholomew (photo by Julie Shelton)
It was Alaska folk singer Annie Bartholomew's eureka moment. After playing a show in Skagway in 2016, she toured the brothel museum at the town's Red Onion Saloon, which documents the lives of women who descended on the area during the freewheeling Klondike Gold Rush of the late 1800s. "I was floored by the stories I heard," the Juneau native recalls. "I started reading books about the time and wanted to share that history with people, so I thought about writing songs."
Bartholomew consumed first-person accounts and newspaper articles, as well as examining holdings of artifacts from the period, such as clothing, furniture, and musical instruments, at a number of regional museums. Her debut album, Sisters of White Chapel, out Friday, draws on that extensive research to tell stories of the women who struggled, and occasionally thrived, during this brutal era.
"I learned that there wasn't one single narrative," notes Bartholomew, who says "white chapel" was a term for a red-light district. Some women became sex workers after being stranded by hardship and finding no other means of support, while professionals traveled there to work for a fixed amount of time and take their earnings home to what Alaskans now call "the Lower 48." Often describing themselves as entertainers or actresses, many women used assumed names to protect their identities should they return to "normal" life. Some worked as dance hall girls, getting paid by the dance, and some pursued a "Klondike king," a newly rich (and often gullible) husband, in this volatile environment.
A fascinating dive into history, Sisters of White Chapel is also bracing listening. Bartholomew and a cast of standout Alaska roots players mix instruments like banjo, fiddle, and mandolin with her vibrant original songs, which have the immediacy of pop music filtered through an old-time sensibility.
Throughout, she projects a commanding poise, whether testifying to life as a "good time gal" in "Feel My Sin," singing, "Carpet on my back / You know just where I've been," or exploring the dangerous trip to Dawson City in search of gold on "Dead Horse Trail." In "Spoils," Bartholomew addresses "the environmental costs of the gold rush," she says, "the boom-and-bust cycle and its toll on the earth. I don't want people to think this project celebrates colonialism or the exploitation of the earth and its people."
If Sisters of White Chapel marks Bartholomew's emergence as a gifted storyteller, it's just the latest stop on a winding trail. After graduating with a degree in photojournalism from University of Alaska Fairbanks, she spent the better part of a decade playing blues and jazz standards, as well as original folk songs, on the disorderly bar scene in Juneau and Fairbanks. Following a stint in Washington, DC, in 2015 as an intern at NPR's All Songs Considered, she returned to Alaska to help run an NPR station there. Bartholomew later settled into a day job at the Alaska Department of Fish and Game, pursuing her muse in her off-hours and getting into old-time music in big way.
Musical Mentors
In early 2018, Bartholomew began to think about writing songs based on her research, but soon expanded her concept to include a stage show after a meeting with Arkansas folk musician Willi Carlisle, who combines storytelling and music in his own live performances. "Willi gave me a blueprint for creating theater art that also includes music," she says.
That summer, she attended New Hampshire's Miles of Music camp to hone her songwriting skills. There, Bartholomew had her first close encounter with clawhammer banjo, studying the instrument with Grenadian-Canadian musician Kaia Kater.
"I thought I would enjoy it, but working with Kaia changed me," Bartholomew says. "She gave me the idea of re-tuning the banjo to unlock new melodies and ways of playing." Citing the instrument's "ethereal" quality, Bartholomew notes, "When you hear a wonderful clawhammer player, it feels like it comes from another world."
Kater says clawhammer differs from the better-known bluegrass banjo, explaining, "the Flatt and Scruggs-style banjo has a closed back with a resonator on it, which serves as an amplifier, so it's a little bit louder than an old-time [clawhammer] banjo, which has an open back." In clawhammer playing, she continues, "You hammer the strings with your nail and pull up on the strings with your thumb in a rhythmic way. I call it Jola style, because the clawhammer was brought over from West Africa by the Jola people during the transatlantic slave trade. The instrument has been called a 'well of souls' because it carries a lot of history and grief.
"But the instrument is suited to be a modern instrument as well as a historical instrument," Kater adds. "The way Annie plays it is really beautiful. I feel like she adds a lot of modern flourishes to it."
In March 2019 Bartholomew served as artist in residence at the Yukon's Jenni House, developing songs for Sisters of White Chapel in a timber frame log cabin. That same month, she learned on a visit to Dawson City Museum that some women brought their banjos to the Gold Rush, and that convinced her to make the instrument an integral part of the project.
Struggling with how give her songs a narrative arc for a stage production, Bartholomew had a breakthrough when she met Laurelyn Dossett that summer.
Dossett is a veteran North Carolina folk artist whose songs have been recorded by Levon Helm ("Anna Lee") and the Carolina Chocolate Drops ("Leaving Eden"). Besides co-writing seven stage shows that match historical accounts with original music, she's served as a mentor to younger artists, including the Drops' Rhiannon Giddens, who returned the favor by inviting Dossett to perform on the debut episode of her current PBS series, My Music with Rhiannon Giddens.
Dossett was coaching a Juneau youth production of her show Bloody Blackbeard when she met Bartholomew. "We just hit it off," Dossett recalls. "She didn't really need my help, but I was happy to help her." They discussed "how to write a bunch of songs that go together," Dossett says, as well as the use of vernacular language and "how to suit music to a particular time period."
Says Bartholomew, "Laurelyn was the first person to not treat me like I was crazy."
Co-producing with Justin Smith, Bartholomew recorded Sisters of White Chapel in a cabin at a Juneau Methodist camp in 2021. She concurrently collaborated with the arts organization Theater Alaska in a year-long writers workshop to create the companion stage production, Sisters of White Chapel: A Short But True Story, which fleshes out the tales of the women in her songs in vignettes with dialogue. Directed by Heidi Handelsman, this Victorian folk opera featured a cast of singers and musicians and was presented at a variety of venues in Alaska last year. Other productions are tentatively in the offing.
"I had no idea how many moving parts there are in theater," Bartholomew laughs. "Otherwise, I might not have done it."
The Story Continues
Even though Sisters of White Chapel is set in late-19th century Alaska, the issues addressed by its songs and stories resonate in today's political landscape.
"Any time you're talking about labor, talking about gender, talking about the economic forces that drive people into making difficult choices, I think it's inherently political," Bartholomew says.
She adds, "I don't think I could write these songs if I didn't draw on personal experiences. You don't have to be a sex worker to recognize power structures or see how the systems that were present in the lives of our ancestors continue today."
Looking beyond Sisters of White Chapel, Bartholomew envisions another project that combines history and original music, citing as a possibility the story of Swiftwater Bill, an "absolute buffoon" who hit the jackpot on a gold rush claim he won in a poker game and was eventually "sucked dry" by the woman he married.
"I definitely want to keep chasing this dream to the next place," she says. "There's so much interesting stuff in the public domain that songwriters could do cool things with. It's just waiting to be discovered."
---