Global Relief in Music: FAI Turns 30 with Lyrical Flourish & Thousands of Performances
Artist:
Anna & Elizabeth
,
carrie elkin
,
Colter Wall
,
Dave Carter
,
David Childers
,
David Tiller
,
Grant-Lee Phillips
,
Guy Davis
,
Jeff Rymes
,
Joan Baez
,
John Gorka
,
Kansas City Latin Jazz Orchestra
,
Kittel & Co
,
Red Molly
,
Roosevelt Dime
,
Ruthie Foster
,
Steve Poltz
,
Taarka
,
The Crane Wives
,
The Hackensaw Boys
,
The Honey Dew Drops
,
The Stray Birds
,
Tracy Grammer
,
Trout Steak Revival
---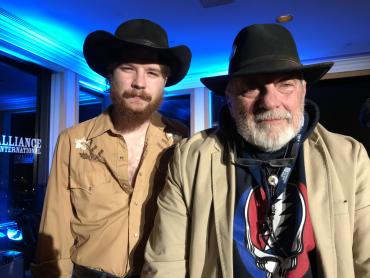 (From Part One) The world shares a voice when it comes to music, a central expression extracting the best and profoundest in us. Comprised always of sound, in its rhythms, reaches, and rampings up-and-down, music also includes silence, but not always words. When words are there, however, they, like the staff-based music, are of profound importance. One place gives close to an optimum look at music's up-to-the-momentary global push and pull, with sound, silence, and words coming together across borders.
(Part Two) In the first part of this look at this massive, important  merging of people and their voices, I described the 30th edition of the Folk Alliance International Conference in Kansas City and how thousands of musical artists, others within the  music industry, and fans came together again to celebrate and share world music. Performances took place in Official Showcases in the numerous auditoriums/show places in the Westin Hotel or the Private, or Guerilla, Showcases, in rooms/suites on the hotel's lower floors.
A favorite of mine was EmiSunshine and the Rain, a discovery for me. Her father, brother, and uncle, backed this 13-year-old virtuoso singer/songwriter/acoustic instrumentalist who has played the Opry 15 times and the Ryman four or five. Mama and other family members and friends travel with them in their rare, for this conference/festival group of performers, LARGE band tour bus, emblazoned with Emi's name and picture on the exterior. Intelligent and well-spoken, yet with a young, Southern drawl shining through bright red lips, she embodied her name's sunshine. Her performance was that of a seasoned veteran. She said she's been performing since nine, wrote her first song at five, played acoustic instruments at seven, and had a video go viral at 9. Now she does about 150 dates a year. "I just show up and play!" she said.
"I grew up in the Smokey Mountains, with the barn dances, the Grand Old Opry, and the bluegrass group Perfect Joy." She is a fan not only of Johnny Cash, June Carter Cash, Loretta Lynn and Dolly Parton, but she also likes Tyler Childress, Jason Isbell, and the Grateful Dead. "I sang at Jerry Garcia's birthday bash, sang a few Grateful Dead songs and a few of my own." And, she has opened for Jason Isbell. "He is such a nice guy," she said, "How could anybody write something so spectacular, sadness and happiness happening together."
Trout Steak Revival, the four guys of the band. In concert, they showed fun and polish, but I was felt there wasn't much new though I may have missed it.  On hearing the new cd, I heard what I felt they'd described as recent discovery in their music, how they'd increased the complexity and reach of the work. The new pieces struck me that way, reminding me a bit of Greensky Bluegrass and Fruition. "The lyrics tended to dictate what the music was like." "The recordings are a launching pad for the stage shows," they added. "The lyrics are more to the point, more like some of the other bands we like, like Greensky Bluegrass," Will Koster (dobro, vocals) told me about the genesis of one of his songs: "It's about meeting a waitress, painting that scene on the back of your eyes, where it begs that painting to bring it alive."
Kansas City Latin Jazz Orchestra, who played last at the final party, are an outstanding collection of Latin jazz musicians who gave one of the most rousing and enjoyable concerts. The Mastersons, unique in appearance and sound, are part of Steve Earle's band, The Dukes, and their recent album, brings a rocking, folky dignity and range to an essentially pop musical persona.
Steve Poltz, legendary but relatively little-known Americana poet and comic genius, from deep in Nashville to my catching him at Benton's 20th (Westin top-floor club) and, like the Mastersons, one of the offerings co-sponsored by No Depression. While the music was "grabbing," but found I craved the comedy: I don't know when I've laughed so hard with so little time out. His recent album, "Folksinger" features the blend of comedy and song, "Hey God, I'll Trade You Donald Trump for Leonard Cohen."
And, I didn't even catch Madisen and the Mama Bear or Martha Redbone Project, Delhi to Delphi, Ye Vagabonds, Sam Baker, Black Umfolosi, Boogat, Bryan Bowers, John Oates, Mary Gaitskell, Dar Williams, Mary Chapin Carpenter, or Skerryvore, among many others.
I didn't catch Tracy Grammer in performance either, much to my dismay, but I was lucky to talk. In her new album, Low Tide, Grammer is direct, honest, and her lovely voice holds her powerfully written songs. She has come out from the shadow of partner Dave Carter, lost at a much-too-early age, 49, of a heart attack. She told me, "I'd been living in that shadow for a long, long time, mostly joyfully."  She said that she grew through a program "Real women, real songs," which had women each writing a song a week and putting them on tape. "My story-telling helped provide a foundation," she said.
She added that Joan Baez had been a remarkable help. Grammer shared that while she and Dave had been romantically as well as musically involved, Dave was experiencing "gender inconsistencies" and had started taking hormones. So, it had already been a difficult time. She had thought she was along for the ride, so to speak, on the tour with Baez, due to Dave's songwriting. "As it turned out, she (Baez) validated my musicianship by making me a soloist in the band and highlighting my vocals. She lifted me up at a critical moment in my musical development, and this empowerment has carried me throughout my career." Tracy said about her new stuff, that it "tends to be personable, I'm told, universally relatable."
The legendary John Gorka's set had poetry and power. He shone as he did several crowd favorites and new ones. Also that night was The Stray Birds, one song better than the next, ending with the popular (& personal favorite) "Sabrina." Another singer-songwriter gracing that city lookout and the night-skaters below, the veteran performer, Grant-Lee Phillips exuded emotion and stretched vocal rawness between convivial between-song banter. I caught the iconic Red Molly, in spur-of-the-moment performance with Roosevelt Dime in the Westin lobby. Led by staturesque, richly personable  Laurie MacAllister. Red Molly's Abbie Gardner and Molly Venter were also in fine voice.
Meetings: It was at FAI that I finally met my friend developed on the internet, David Childers, whose "The Prettiest Thing" I fell in love with on hearing it as a cover performance of David's North Carolinian neighbors, The Avett Brothers. I convinced him to include the song in his PS that I caught, and he put on a fine set. I only got to say hello to friend Carrie Elkin after another band's show. Jeff Rymes had sent me his new CD and I think he's an original with a fine voice, with his laid-back bluesy style, but I missed his FAI set. I missed my roommate Ben Rabb's sets, but heard his fine new album, Feel Me Fall.
The Hackensaw Boys did their usual rambunctious set. Kittel & Co. were a right-on mix of the classical experiment (a la Jeremy Kittel's background in Turtle Island Quartet) and bluegrass/folk. The famed Freebo, of Bonnie Rait and Maria Muldaur renown, brought his bass to bear in his promotion of Alice Howe's fine voice and rapidly building songwriting. The Honey Dew Drops came to play, with a fine mix of instrumentation and voice. A handsome Canadian trio in the Alberta Room of Amelie Patterson, Maddie Stovold, and Justine Vandergrift caught my attention with their solos, powerful lyrically and musically
Lessons: My friend, Denver-area based David Tiller of Taarka (and numerous other bands the likes of Los Lobos) gave me one of my guitar lessons he's been giving me on Skype, this time in person in the Sheraton lobby, before noted mandolinist Don Julin (Billy Strings & Don Julin) dropped by to play some tunes there with the talented, gracious David.
Anna and Elizabeth showed their rich blend of classical experiment and traditional balladry. They enhance the story- telling with gravelly, historic tapes of original balladeers and what they call "crankies," reminding me of shadow boxes. "All for the story," they told me. They added that they have focused on research, learning, and music.
Grand Opening: The whole event was opened by a welcoming and awards ceremony at the historic Folly Theater, featuring performances by Ruthie Foster (an astounding solo) and Guy Davis.
Missing: I'm still missing people here, both ones I heard and other huge talents I missed. Most of my listens came from the U.S. and Canada, catching favorites and the limitations of getting to so many locations at the same time, while getting caught by ear as I went. There were others globally I'd hoped to catch and will be listening to. Others were U.S. acts found on conference videos such as the fabulous Crane Wives.
---