THROUGH THE LENS: Hoxeyville Music Festival and Winthrop Rhythm & Blues Festival
Posted On August 29, 2023
---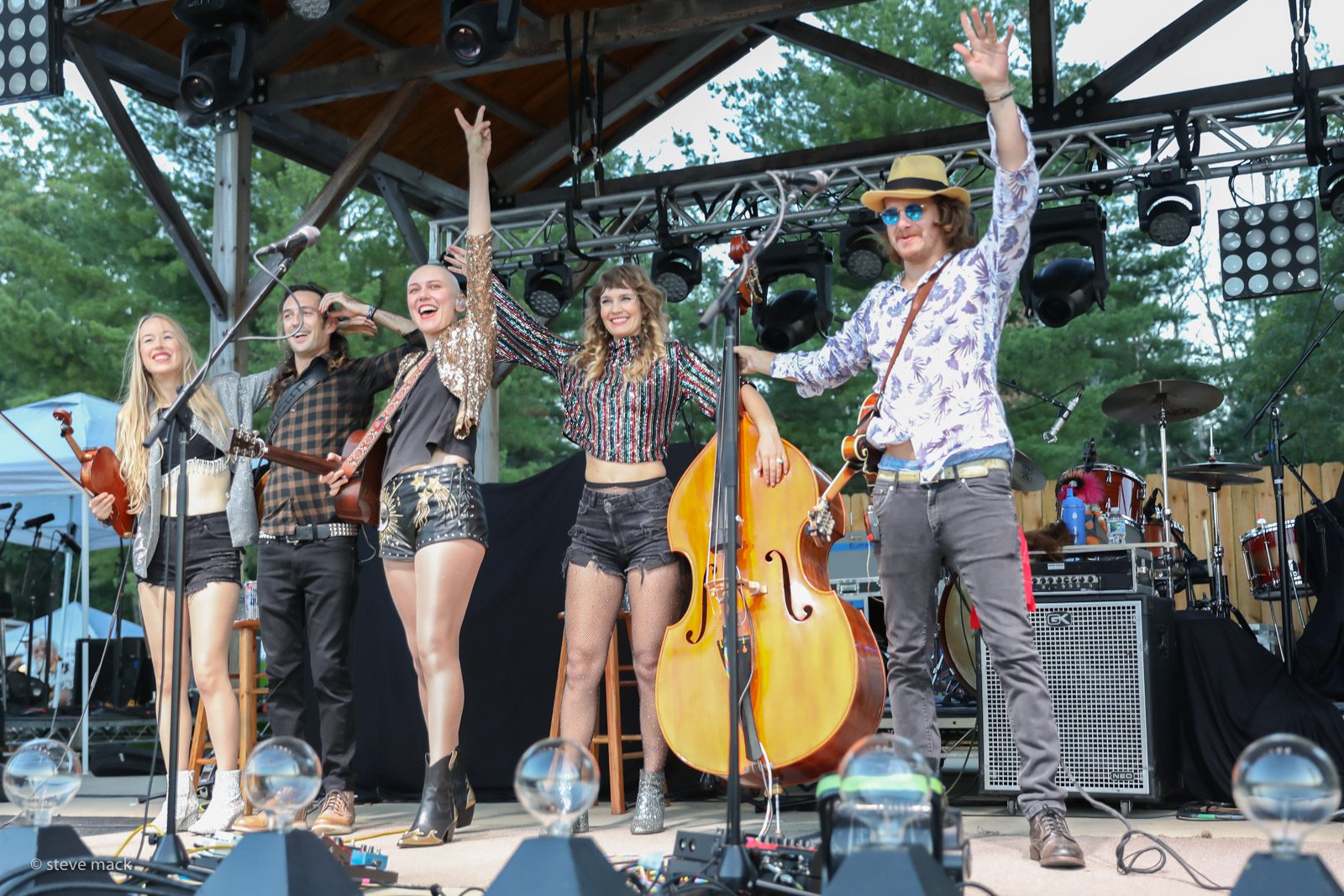 Molly Tuttle & Golden Highway - Hoxeyville Music Festival - Photo by Steve Mack
The summer roots music festival scene has become so popular that this week's column is another two-fer: Washington state's Winthrop Rhythm & Blues Festival (July 21-23, 2023) and Michigan's Hoxeyville Music Festival (Aug. 17-20, 2023). The former was covered by frequent contributor Peter Dervin, the latter by Steve Mack. I met Steve some years back at an Ohio festival, and while the column has featured his photos before, this is his first report.
The fests take different approaches to roots music, but like most regional festivals both offer headliners sprinkled with heavy doses of local talent. Both also demonstrate not just how pervasive roots music has become across the country but also how many great players there are just around the corner.
Hoxeyville Music Festival by Steve Mack
Held in the beautiful woods of northern Michigan, the 20th Hoxeyville Music Festival (my tenth) was another stellar event marked by founder/curator/talent scout Jake Robinson's penchant for showcasing a nice mix of nationally known acts with seam-busting local talent.
Twenty years of practice has ensured this festival operates like a well-oiled machine. With high standards of production, hospitality, regional vendors, security, medical services, stage management, and a great team of volunteers, Hoxey ensures everyone has a great experience, including in Dunegrass Gardens, a cannabis lounge that also sells, the first festival in Michigan to offer that.
Marcus King owned the stage from the moment he stepped front and center and showed a different side when he switched from guitar to keyboard for a few tunes, a move that may have been inspired by his bride of six months. The growth of this band has been so fun to watch!
Another highlight was Molly Tuttle and Golden Highway; when that much talent steps on stage together you know something special will happen, and it did. And what can you say about Sierra Hull? She walks onstage and you can't help but smile; then she starts to play and jaws drop.
Known locally for years, Full Cord, winner of the International Bluegrass Music Association's 2022 Momentum Award for Band of the Year and the 2022 Telluride Bluegrass competition, played three different sets, and their unbridled enthusiasm showed no signs of slowing down!
Last, but certainly not least, was northern Michigan's favorite daughter, Lindsay Lou. With a move some years ago to the melting pot of East Nashville and numerous appearances at other fests over the years, she's become an artist of considerable note. When sitting in with other performers during the weekend she also revealed a versatility that added extra depth to those sets.
For those who were there, you know what an amazing time the Hoxeyville Music Festival can be; for those who haven't made the trip, experience Hoxeyville once and you'll be back again and again and again.  As frequently heard throughout the weekend, "Happy Hoxey!"
Winthrop Rhythm & Blues Festival by Peter Dervin
Located in the mountains of the North Cascades along Highway 20 in the Methow Valley area of Washington state, the Winthrop Rhythm & Blues Festival is known as the best little festival in the Pacific Northwest. This year, fans and performers were greeted with idyllic summer weather.
The headliners demonstrated, with great flair, how they became big names. With her folk-styled blues, mixed in with funk, soul, and rock, Ruthie Foster is one of the best at connecting with her audience with her music as well as her fabulous storytelling. The North Mississippi Allstars' buzzed/fussed rockin' blues packed a powerful punch that resulted in an unreal sonic bliss.
Christone "Kingfish" Ingram may be from Clarksdale, Mississippi, but Winthrop festivalgoers call this frequent guest their own, as he first played here as a teenager. He came out on stage and immediately set the stage aflame with high-energy, incendiary blues. Marc Broussard brought his funky blues straight out of the Louisiana bayou, and mixing it with the sounds of New Orleans resulted in an intoxicating gumbo of flavors.
Led by Lady A (a Pacific Northwest powerhouse since the 1990s and subject of a 2020 Through the Lens column), with assistance from Polly O'Keary and The Rhythm Method, the annual Methow Juke Joint Allstars jam sessions in the beer garden after the main stage closes each night is something everyone looks forward to. On the first evening, Jackie Venson (who had her own funky blues set) joined the fun for an amazing evening of guitar-slingin' blues.
Tevis Hodge Jr., whose resonator guitar blues harkens back to a bygone day of back-porch blues, was a highlight of my Saturday and Sunday morning, too, when he led a gospel-tinged set with Foster and Lady A  that was a revival of a different sort.
As we headed down the weekend's homestretch, Judith Hill performed a set for the ages. From the first note on, alternating between guitar and keyboards, she provided an improvised mix of blues, funk, jazz, and rock that took a backseat to no one. The astonished fans looked on in disbelief. 
But what is to believed is how fabulous this festival is. I am already booked for next year.
Click on any photo below to view the gallery as a full-size slideshow.
---