FreshGrass Festival 2019 Showcases Roots Music from Near and Far
Posted On September 23, 2019
---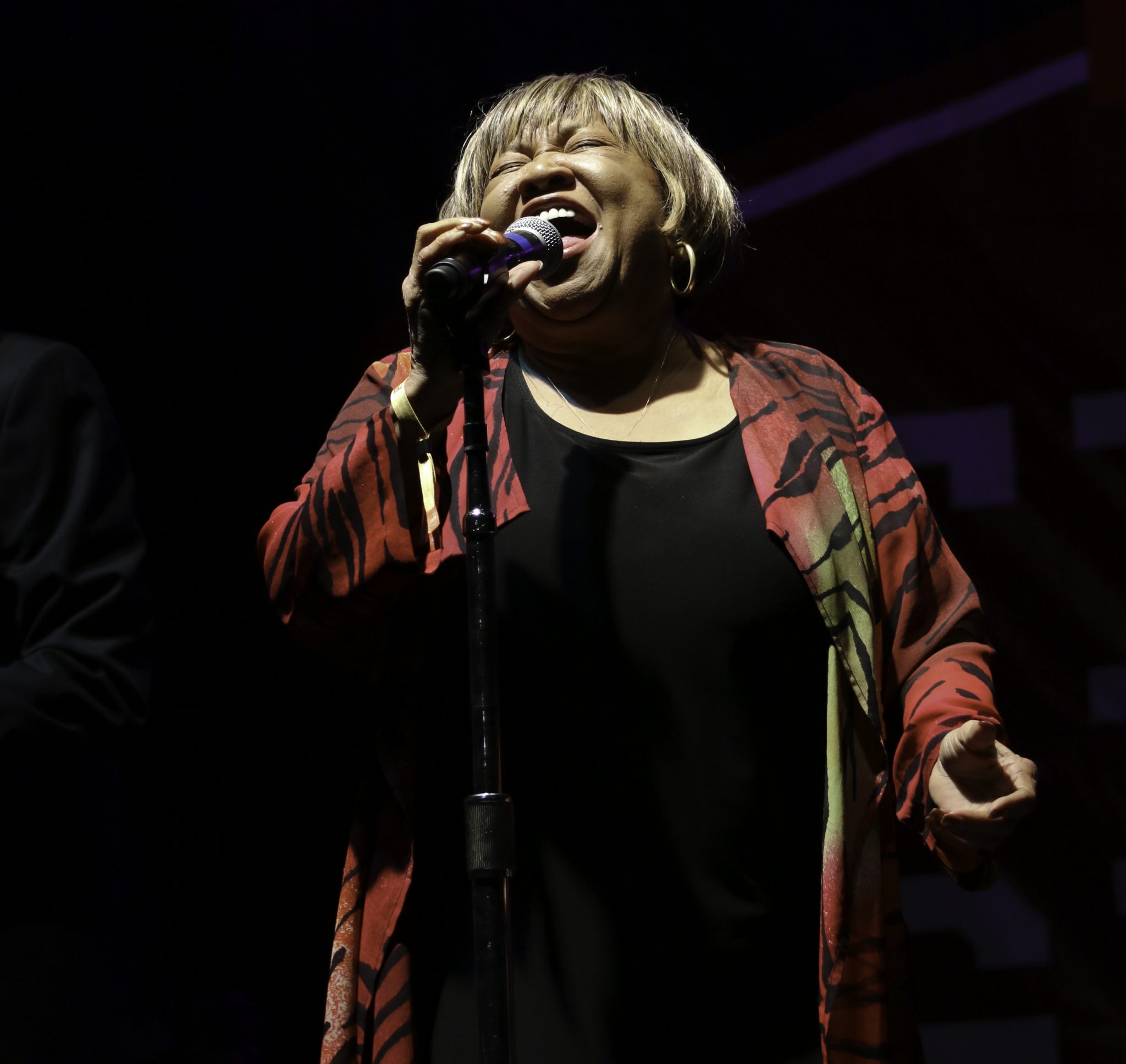 Mavis Staples (photo by Hilary Saunders)
The FreshGrass Festival in North Adams, Massachusetts is special in its own right – always a killer lineup, a gorgeous setting in the Berkshire Mountains just as fall is starting to set in, and friendly people who keep things running smoothly. But it's extra special to No Depression, because it's family. Both FreshGrass and No Depression are part of the FreshGrass Foundation, a nonprofit organization with a mission of supporting roots music. So like a family reunion, most of our remote-working staff heads to North Adams each September to attend the festival but also chat big ideas and future plans for the No Depression print journal and website, and to get to know each other in a way that our weekly Zoom calls and daily Slack chats can't quite accomplish. And what's a better bonding activity than listening to great music together?
Here are the musical highlights of our time at FreshGrass this year from Managing Editor Hilary Saunders, Assistant Editor Stacy Chandler, and Social Media and Marketing Manager Adam Kirr, along with photos from Hilary. (And here's more info on the festival if you're tempted to join us next time, Sept. 25-27, 2020!)
Our Unanimous Highlight: Mavis Staples
When Mavis Staples opens her arms in an embrace and sings "You Are Not Alone," from her album of songs written by Jeff Tweedy, you can be in the middle of a crowd of thousands and feel she is reaching specifically for you. That's the magic of Mavis. Singing about unity and love and joy, Staples is fierce in her delivery, passionate about the subject matter, and feeds off the energy of the audience. The performance was inspiring to witness.
Other High Notes
Jade Bird: In addition to rocking the afternoon crowd with her own impossibly catchy and witty songs, she delighted with covers of "I've Been Everywhere" by Johnny Cash (whom she called "one of my absolute heroes") and The Bangles' "Walk Like an Egyptian."
Contests: Watching the finalists for the instrument (banjo, fiddle, and mandolin) and band contests, and the No Depression Singer-Songwriter Contest, is like getting a glimpse into the future. In two songs, these unsigned artists show what they can do, and this year in particular I'm excited to explore their impressive capabilities more fully.
The Kronos Quartet's Music for Change: Pete Seeger @ 100: This was an incredibly innovative set that featured the quartet's signature modern classical music interspersed with audio clips of Seeger speaking on all kinds of topics, many of them eerily relevant to today's world. After their original composition — created as this year's FreshGrass Composition Commission — the quartet invited guests including Aoife O'Donovan, Sam Amidon, and banjo player Lee Knight to play and sing Seeger songs with them, sometimes with audience participation, just as Seeger would have wanted. You can read more about their composition in our feature story here.
International flavor: We loved the mix of international performers in this year's lineup. Vasen, Hanggai, and Tinariwen all brought a fresh, but appropriate, contribution to this roots music festival. As did Flor de Toloache, an all-women mariachi band that we covered in the Fall-Winter 2018 issue of the journal (available here).
Iron & Wine + Calexico: Sam Beam and Calexico closed the festival with stunning, soul-soothing renditions of songs from their new record Years to Burn, a perfect way to send us all into the post-FreshGrass afterglow.
New Discoveries
Again unanimously, our favorite new discovery at FreshGrass was Mongolian folk-metal band Hanggai. As Hilary explains: "I had heard of Hanggai just from preparing for the festival, but that in no way prepared me for the musical barrage they unleashed. I sat up front stunned while they delivered an energetic set to thousands of jumping, dancing FreshGrass Festival fans who, mostly likely, couldn't understand any of the lyrics sung in Mongolian and Mandarin. That to me epitomizes the power of music to show how we're more alike than different."
We were also blown away by all three No Depression Singer-Songwriter Contest finalists: Anna Tivel, Abigail Lapell, and Raye Zaragoza. "I had never seen them live and I got chills multiple times with each performance," Adam says. Tivel went on to win the contest — we'll have more coverage of her in the coming weeks.
Photos from the 2019 FreshGrass Festival by Hilary Saunders:
---