Five CD Reviews from Hearth Music
---
Hearth Music: What We're Listening To in April 2010
What We're Listening To is a new type of blog entry intended to give all our friends a quick sample of the various CDs we've been listening to over the past month. Take some time to explore these different mini-reviews and to listen to this great music.
VISIT THIS BLOG ON HEARTH MUSIC FOR AUDIO
Sean Hayes: "Run Wolves Run" Self-Released, 2010

While it seems that there are a lot of singer-songwriters mining their inner folk-nerd these days, Sean Hayes has been tapping the folk vein for long enough that his music has a truth to it that's rarely heard in his genre. His previous albums had a mellower vibe, perhaps born of the deep deep bohemian roots of San Francisco, where he lives. I guess you could say he took Gary Snyder's path out of San Francisco's beat corridors, aiming his sights on the emptiness and quiet of the Northwest's natural environment, instead of the frenetic kinetic path of Kerouac. But his new album, Run Wolves Run, has an edge that I haven't heard before in his music. Maybe the cover photo of a woman wrestling a snarling wolf to the ground has influenced my listening, but the music here is harder, angrier, more serious than what I've heard from him. He's also joined by a full electrified band in this recording, a departure from his lo-fi roots. Happily, his cracked voice has remained the same. It's the hallmark of his distinctive sound and a delicious pleasure to me.
VISIT THIS BLOG ON HEARTH MUSIC FOR AUDIO
Eamonn Coyne & Kris Drever: "Honk Toot Suite" Compass Records, 2006
Now, I'm the kind of folk music nerd that would buy a duet album of Irish trad music on banjo and guitar without blinking an eye, and settle back to geek out on the sparkling triplets and Old World twang of the Irish tenor banjo in all its glory, but the good news here is that you don't have to be a nerd like me to appreciate this amazing CD. Through the sheer power of great musicianship, Irish banjoist Eamonn Coyne and Orcadian (look it up, it's got nothing to do with Lord of the Rings!) singer/guitarist Kris Drever manage to completely transcend their humble instruments. It's no small feat, and makes for one of the nicest CDs I've heard in a while. I'm tempted to say that their effortless playing lends a certain lift and joy to the music, especially on the surprisingly fun "Lakeside Barndances", featuring some faboo vintage lilting. But then Kris slips into a dark, heavy ballad like "The Viking's Bride" and you realize that same effortless spirit can touch a lot deeper than you would have thought. I think the real secret with this album is that both artists just sat down to make a record of their favorite tunes and songs, regardless of that material's country of origin. Their joy and passion for the music translates well.
VISIT THIS BLOG ON HEARTH MUSIC FOR AUDIO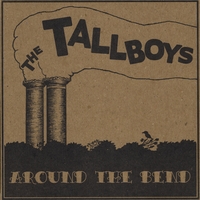 The Tallboys: "Around the Bend" Self-Released, 2009
For those of us who like our Southern old-time music to move as fast as one of those freaky zombies in 28 Days Later, the Tallboys can sure deliver. This is folk music that's not afraid to nut up. Each member of the Tallboys is a hardcore traditional musician in their own right, and after having cut their teeth on countless square dances, busking spots at Pike Place Market, and festivals in the NW, they've got a ridiculously polished sound. Joe Fulton leads the tunes on fiddle, with the loosest bowing arm I've ever seen. He's a powerhouse fiddler and one of the best kept secrets in our Northwest old-time scene. He's a great singer too, and has a fun twang in his voice that goes well with his fiddling. Banjoist Charlie Beck matches Joe on both clawhammer and five-string banjo, a rare feat. With his musical partner, Charmaine Slaven, he also leads a number of songs. Charmaine's a great performer, and happily her dynamite clogging is featured here on a number of tracks. John Hurd lays down the bass lines throughout, and after watching the band live at Conor Byrne's this past weekend, here's hoping he joins in on more songs in the future! Yep, The Tallboys are a tall glass of about-damn-time for us hardcore old-time music-heads and are bound to be a revelation for anyone interested in straight-up American roots music.
VISIT THIS BLOG ON HEARTH MUSIC FOR AUDIO
PSSSST: You can check out Charlie & Charmaine's fun duo, Squirrel Butter, in our Listening Lounge.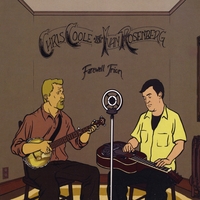 Chris Coole & Ivan Rosenberg: "Farewell Trion" Vol-O-Tone Records, 2010
I'm a sucker for a good dobro player; there's something about the dreamy way the notes slide around, letting in all kinds of silence while creating such rich tones. It's kind of a zen instrument, I guess. On this newly released duet album, the zen-like quality of Ivan Rosenberg's dobro contrasts nicely with the choppy rhythms of Chris Coole's clawhammer banjo playing. Both players are virtuosos on their instruments, but have the good taste to leave the flaming solos behind here and focus on the power of the music. Each song and tune is tastefully arranged and played with such a soft touch that you start to hear all kinds of different sides to the music that you didn't expect. A rowdy ballad like "Willie Duncan" with lyrics like "Cruel Willie ain't you sad, for makin' all the women feel bad" takes on a darker, more melancholic atmosphere than I'd have thought possible, thanks to the Chris Coole's gentle voice and Ivan's sweeping dobro passages. Though Chris hails from Toronto, he has such a wide knowledge of old-time banjo traditions and such a nice twang in his voice, that I really thought he was born and bred in the Appalachians. Ivan's a well-respected session musician from the Pacific Northwest. Currently living in Portland, Oregon, he guests on many albums and composes original music that has been featured on national TV shows. I hope both these artists will continue to play together and tour, and with a CD like this, they deserve to be much better known on the national folk scene.
VISIT THIS BLOG ON HEARTH MUSIC FOR AUDIO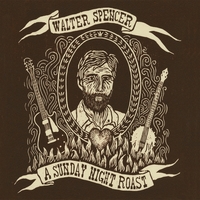 Walter Spencer: "A Sunday Night Roast" Self-Released, 2010
I know Walter Spencer best as the bass player for the Northwest's premier alt-old-time band, The Water Tower Bucket Boys. He's got a crazy sense of humor in the band, and when I saw them live at El Corazon in Seattle, he led the band in a rousing rendition of "Dr. Bronner's Magic Soap", a song he wrote about the true story of a friend that got busted for contraband thanks to a bottle of Dr. Bronner's. This song has the excellent chorus "It makes my baaaaallls tingle, but it don't get me high!". While a treatise on testicular tropes in American folk song may not be appropriate for this blog, suffice it to say that Walter joins a rich history of folk musicians drawing from this particular aspect of the human condition. Walter was kind enough to send me a copy of his new CD, A Sunday Night Roast, which features all-original songs and tunes and guest appearances from his many friends in the old-time/bluegrasss worlds. These friends range from Irish accordionist Johnny B. Connolly to French Acadian singer Nadine Landry, old-time fiddler Sammy Lind of Foghorn Stringband, and Josh Rabie and Cory Goldman of The Water Tower Bucket Boys. It's a fun CD and it sounds like it must have been a blast to record. There's a laid-back vibe to the album that I can only attribute to Walter's roots in the punk and folk communities of Los Angeles. These are the kind of songs you'd hope to sing along with at beach bonfires in LA, or in hippie communes in the hills of Southern California. It's not the most-PC album you'll hear (thank God!), but Walter's good nature shines throughout and welcomes you into to his delightfully warped worldview.
VISIT THIS BLOG ON HEARTH MUSIC FOR AUDIO
---