'Don't Skip Out On Me' by Willy Vlautin: "The Book Just Felt Like Music."
Posted On January 19, 2018
---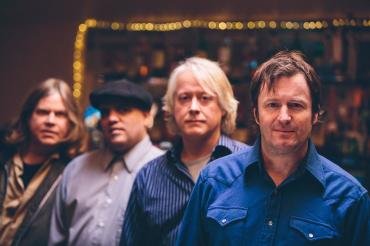 Richmond Fontaine
Seems the fat lady hadn't sung after all. 2016 brought down the final curtain on Richmond Fontaine after two decades, 11 albums, unremitted touring, minimal staff changes, and an international fan base that grew unswervingly in number and devotion over both those decades. Theirs was a special kind of alt-country, creating a backdrop to the life and times of America's marginalised; that soft underbelly of ordinary people – the working poor, the vulnerable, the ones that just slip through the net.
Frontman, guitarist, songwriter and novelist Willy Vlautin wrote those songs, and in some of them he incorporated characters from his own novels, such as Allison Johnson from his book Northline, whose name is also a track on Fontaine's Post to Wire album. Vlautin's novels place that vulnerable underbelly front of stage, leaving us to face those characters, or to walk away. The decision is ours. Two of his books already have been made into film. 2013's The Motel Life and 2010's Lean On Pete.
It was Vlautin who called time on Richmond Fontaine. "RF has had a great 20 + year run and these guys are my best pals," he said at the time. "It's a tough decision but the right one." However, he had one last job for his best pals. Vlautin releases his fifth novel, Don't Skip Out On Me, in February 2018 (02 Feb in Europe and 16 Feb in the US), and as offered with that earlier novel, Northline, a soundtrack CD accompanies the book.
For the soundtrack of Don't Skip Out On Me though, Vlautin had a particular vision, and early in 2017 he asked Richmond Fontaine to come together one last time to play all of the instrumental tracks on the recording. For Vlautin there wasn't anybody else for the job. "I'd always dreamed that RF would make a pedal steel desert instrumental record," he told me. "It was one of those ideas I could never let go of. I brought instrumentals in for every session we ever did, but most would get cut from the final record. When I started working on Don't Skip Out On Me the songs just came. Desert Instrumentals. From the very first chapter with Horace and Mr. Reese they did. The book just felt like music. So when I had the songs roughed out and the book more or less done RF got together and we decided to do it. A full on instrumental record. We practiced for months, it was a lot of work, and then we recorded the whole thing in a blizzard. A rare NW snowstorm. A desert record in the middle of snow. Those guys were so nice and cool to do it. And me, I was so damn happy 'cause I didn't have to worry about my voice or if the lyrics were right. I just got to listen to the band and play guitar and know that after twenty odd years we were finally making an instrumental record."
Each track revolves around people and events within the story, and bass player Freddy Trujillo can recall how they "discussed these key story parts and characters … Willy had his demos with acoustic guitars and a definite melody for either steel, guitar or trumpet. Willy also gave us visuals from the story. My favorite was "Night Out With Diego". Willy wanted it to seem like the song went from being a good night to having it end in a drunken bender. The song went from a 4/4 time into a messed up 3/4 time to signify he was in drunk in Mexico. Paul Brainard, the genius he is, was able to make the melody fit over either time signature. "The fight with Raymundo" was supposed to have the excitement of the fight only to end with the character getting knocked out … fun to make!"
This soundtrack is special for anyone who follows the work of Willy Vlautin, whether that is his novels, his more recently formed band The Delines, or much missed Richmond Fontaine. For Freddy Trujillo though the soundtrack, and his own work, has allowed a certain continuity to the work of Richmond Fontaine. His own upcoming album, Sketch of a Man, features co-writes with Vlautin, as well as Fernando Viciconte, and Luther Russell. "It really doesn't feel like it is over," he told me. "Doing this soundtrack was as if Fontaine didn't even go anywhere."
The soundtrack is released on 02 Feb 2018, the day after Don't Skip Out On Me is published by Faber and Faber. True to form, Vlautin is scratching at that underbelly again. Casting an unsentimental eye at the vulnerable out there because frankly, we have looked away. And he continues to stay in contact with characters he met in previous novels. This time you only need to get as far as page 13 in Don't Skip Out On Me to come across Lonnie Dixon, a background character in Lean on Pete.
"There are so many different ideas that go into a novel," he explained. "But one of the general ideas in this one came from walking around cities in the US. It's just staggering how many people live on the streets, in tents, in cars, on the side of highways. Old people, kids, women, adolescents. Some chose it, some are mentally ill, some are drug addicts, some just have bad luck. But the thing is there's just so many of them. It's horrific. That got me to thinking about how hard it is to fix broken people. It's easy to break them and so hard to fix them. That idea is in the air of the novel. A novel about a broken man who thinks he can re-invent himself as a Mexican boxer."
In a week or so Willy Vlautin travels solo to Europe to promote Don't Skip Out On Me, with the help of Irish musician David Murphy on pedal steel. Check dates. Tickets are selling quickly:
Don't Skip Out On Me European Book Tour
Tour dates.
Jan 25 Coughlans, Cork, Ireland *David Murphy on pedal steel
Jan 28 Crescent Arts Centre, Belfast, Ireland *David Murphy on pedal steel
Jan 29 Whelans, Dublin, Ireland *David Murphy on pedal steel
Jan 30 Gosforth Civic Theatre, Newscastle, UK *David Murphy on pedal steel
Jan 31 Celtic Connections Festival Glasgow
Feb 1 Cecil Sharp House, London UK *David Murphy on pedal steel
Feb 2 Rough Trade, Bristol, UK *David Murphy on pedal steel
Feb 3 St. Michael's Church, Manchester, UK *David Murphy on pedal steel
Feb 4 Far From Any Road Festival, Leeds, UK *David Murphy on pedal steel
Feb 5 Curzon Bloomsbury: LEAN ON PETE film Q&A
Feb 7 Twang, Stockholm, Sweden
Feb 9 Utrecht – Tivolivredenburg
Feb 10 Kilkenny – Cleeres (evening show sold out) afternoon tix avail via venue
Don't Skip Out On Me US Book Tour
Feb 13 PowerHouse Arena Brooklyn, NY *in conversation with Craig Finn of the Hold Steady
---