CROWDFUNDING RADAR: Caleb Caudle, Adeline, and Ro Myra Launch Campaigns for Inspired Projects
---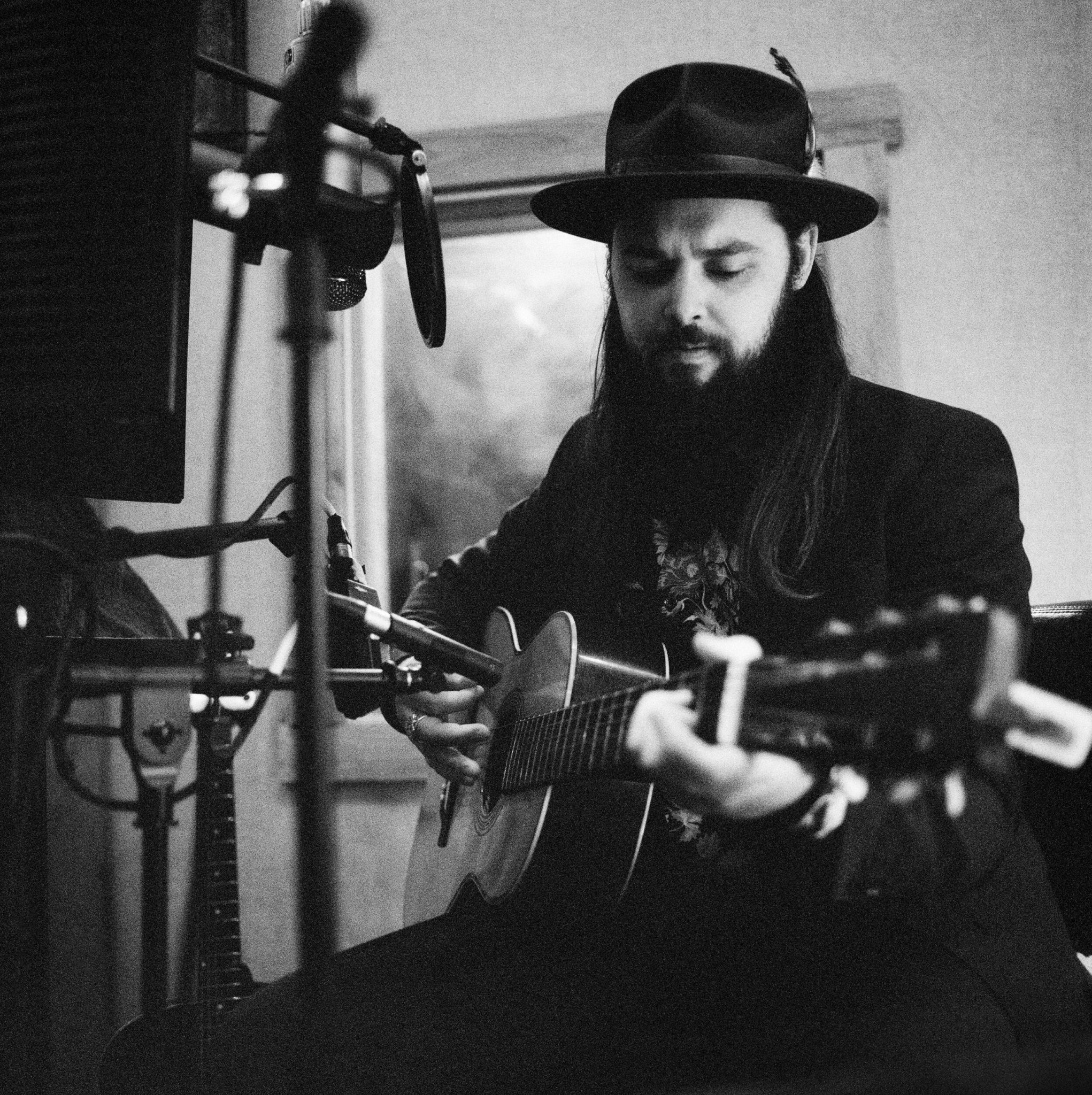 Caleb Caudle (Photo by Laura Partain)
In my previous column, I wrote that one of the things that drew me to crowdfunding was its inherent optimism. But I also love the stories of inspiration behind the songs. For those of us old fogies who remember the days of physical media, you'd sometimes get a paragraph or two in the liner notes about the writer's inspiration for the album. Occasionally, you'd get a sentence or two before each song's lyrics. With the art of the liner note being a dying one, the best place to get these stories of inspiration now is on a crowdfunding page. When you're asking people to pay for music they haven't heard any of, you better have a good story to tell about why they should care. This week, I'm bringing you three campaigns with compelling inspirations, from one of roots music's best young stars recording at the home of one of its true icons, a singer looking to capture the feel of her home, and a group of artists throwing back to one of bluegrass' oldest traditions.
Ro Myra – Nowhere, Nebraska (click here to view campaign)
Ro Myra lives in Nashville, but she grew up in small-town Nebraska and, in recording her first album, is trying to capture the "raw and windswept" feel of the town where she grew up. Certainly, Myra isn't the first to use the empty landscape of the Cornhusker State as inspiration. Bruce Springsteen did it in 1982, himself connecting even farther back to the tales of Dust Bowl migrants and farmers that also inspired Woody Guthrie. In some ways, 2020 was as perfect a landscape to explore the isolation and desperation of dried-up farm and oil towns, with COVID-19 turning even the most populated cities into ghost towns and the most social people into shut-ins. To reach her $8,000 Kickstarter goal, Myra is offering a number of backer perks. There is, of course, the album in digital, CD, and vinyl formats. There's also a recorded commentary of the stories behind each song, custom wildflower jewelry crafted by Myra, and handwritten lyrics.
Caleb Caudle – Untitled Cash Cabin Album (click here to view campaign)
If you're a regular reader of No Depression, you likely already know about Caleb Caudle. If not, you'll want to see to that because you're missing out. One of the brightest young artists on the roots music scene, Caudle is taking inspiration for his as-yet-untitled new album from one of the true icons of roots music history, recording at the legendary Cash Cabin with producer John Carter Cash. In addition to any positive influence garnered from the "Ghost of Johnny Cash" (thanks, Todd Snider), Caudle has assembled a strong cast of musicians: Carlene Carter, Elizabeth Cook, and Sarah McGuffey on harmony vocals, and Jerry Douglas, Sam Bush, Dennis Crouch, and Fred Eltringham pulling instrumental duties. Backer perks for Caudle's Indiegogo campaign include the album on CD and vinyl, one of 15 vinyl test prints, and a private tour of Cash Cabin followed by a live play-through of the album and Q&A session with Caudle and Cash.
Adeline – Adeline (click here to view campaign)
I've long held that bluegrass and progressive metal have more in common than people credit. Both value instrumental virtuosity and speed, lean heavily toward improvisation, and really like writing songs about the devil. So it's fitting that in the same week that prog metal's best all-star jammers, Liquid Tension Experiment, released their first album in 20 years, a Kickstarter campaign launched from an all-star stringband, Adeline. Combining members of Golden Shoals, The Slocan Ramblers, Sheesham and Lotus, and The Lonesome Ace Stringband, Adeline is an experiment in what happens when you stick five people who never played together in an Ontario cabin for three days and let them fool around with some old tunes they all happened to know. The result is a self-titled album that promises plenty of off-the-cuff arrangements and improvisational riffs. In addition to the album in digital and CD formats, backer perks include a song written for you and recorded to video and Zoom lessons with members of the band.
---