---
Editor's note: This article originally appeared in our Winter 2016/Bluegrass Beyond issue of the No Depression quarterly journal. When we're not running a subscription drive, everything in the journal is exclusive to print. Subscribe today for just $6 per month and never miss another issue.
* *
In the distance, a wildfire is raging — a red glow in a dark sky free of light pollution, dominated by the Milky Way and a blanket of stars. It's night five of a six-day rafting trip, yet the beauty is just as striking as it was when our group of 24 started, almost 65 miles upstream. We're on the Middle Fork of Idaho's Salmon River, a 100-mile stretch of pristine water that winds through high desert, open meadows, and towering rock faces amidst the 2-million-acre Frank Church-River of No Return Wilderness. Tonight, we're camped on a sandy stretch of beach known as Cliffside, in the throes of Impassable Canyon. As it's the last night, we've been tasked with finishing the booze.
We're here with Idaho River Adventures and the California-based jam band Hot Buttered Rum. Dubbed Pickin' on the Middle Fork, trips like this were envisioned as a way to combine the experience of rafting through the wilds of Central Idaho with the acoustic sounds of modern string music.
Hot Buttered Rum, although a bluegrass jam band, plays with a drummer who on this trip occasionally broke out his mandolin, in those instances completing a traditional bluegrass lineup. Tonight though, he's playing his nesting drum kit, as the rest of the quintet — guitar, fiddle, banjo, stand-up bass — stands in classic formation, illuminated by a string of solar LED lights. They're on a Beatles kick and the small crowd is letting it all go, grooving back and forth on the most intimate dance floor most of us will ever experience.
For the better part of a week, we've been treated to a show every night, seated around the proverbial campfire, getting to know the stories behind the songs and each other. Most people on the trip are here because they love Hot Buttered Rum, but some, like Steve Akers and Elise Robison — an adventurous older couple from Roanoke, Virginia — came for the fly-fishing and accepted the music as an added bonus. Somehow, our group is cohesive, despite generational, geographical, and occupational differences. We're here because we love music, confident enough in its transformative power to commit a week of our lives and a significant amount of cash. When we load out tomorrow, after the Middle Fork has joined the main Salmon River near the Montana border, none of us will be eager to leave.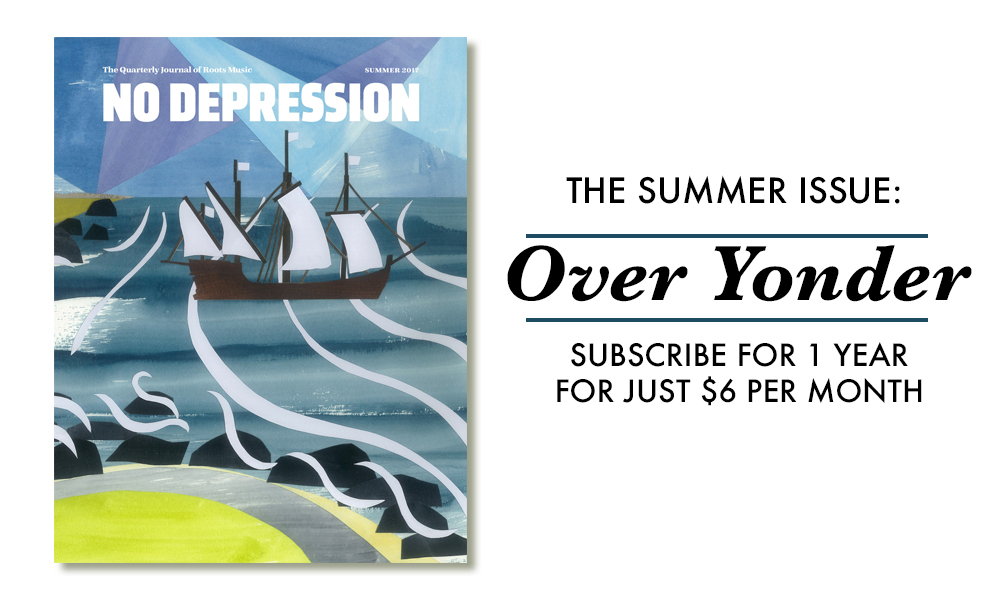 Choose your own Adventure
Perhaps more so than any other genre, adherents of destination bluegrass events are often die-hards, planning vacations around shows and always looking for new ways to experience the music they love. Thus, a handful of entrepreneurs have opted to capitalize on the demand for bluegrass-themed vacations, from chartered river cruises to train trips, the idea being that you're actively traveling while absorbing a healthy amount of twang. Some excursions are built around big-draw artists, while others craft bluegrass lineups around lesser-known names, along with the promise of nightly jam sessions for those who also pick.
Fans of the multi-Grammy-nominated group Dailey & Vincent can join the band this February, along with Ricky Skaggs, Sharon White, and Jimmy Fortune, on a six-night cruise through the Caribbean. If your tastes veer slightly more country, book the 10th iteration of Sixthman's Cayamo: A Journey Through Song cruise, with a stacked lineup that includes Emmylou Harris, Brandi Carlile, Patty Griffin, Richard Thompson, Rodney Crowell, Steve Earle, and Kacey Musgraves. If you'd rather forgo the sea, Roots on the Rails has been running curated train trips with musicians since 2003, traversing thousands of miles and historic landmarks, with an equally compelling cultural soundtrack.
Every December, Cloud 9 Adventures throws Strings & Sol, a five-night bluegrass resort vacation in Puerto Morelos, Mexico, that this year will feature the Infamous Stringdusters, Yonder Mountain String Band, Greensky Bluegrass, Railroad Earth, and Leftover Salmon — bands bred on Bill Monroe but with a proclivity for incorporating elements of jam, rock, blues, and even reggae.
Hot Buttered Rum is of that same tradition, with a fusion sound that's part rolling hills of Appalachia, part feel-good afternoons spent on Haight-Ashbury. For the most part, the band was formed in the early aughts on a backpacking trip, instruments and all, through the High Sierra. When the man that runs Idaho River Adventures, Dustin Aherin, asked the group to play one of his trips in 2015, it was a natural fit, a sort of coming full circle for an outfit that drew much of its early inspiration from performing in nature.
Aherin envisioned the Pickin' on the Middle Fork trips, which launched in 2013, as a way to combine his interests: the river, obviously, but also his passion for the arts. He holds a degree in theater, but he didn't feel the art form and the artists who practiced it were necessarily a good fit for the river. He was also passionate about bluegrass, however, and had recently been introduced to Infamous Stringdusters banjoist Chris Pandolfi at Wyoming's Grand Targhee Bluegrass Festival.
"Chris Pandolfi is probably just a smidgen less nuts about fly-fishing than he is about banjo playing, so that's how this all got started and it just snowballed from there," says Aherin.
Pandolfi easily got his band on board and together they embarked on the inaugural Pickin' on the Middle Fork trip, instruments and adventurous fans in tow. The event was, by all accounts, a success, and the next year the 'Dusters returned for another go. As word spread, more outdoor-minded artists were recruited into the fold.
This year, Idaho River Adventures ran four Pickin' on the Middle Fork trips, including the Larry Keel Experience, with its namesake flatpicker, and the American roots outfit Frank Solivan and Dirty Kitchen.
In the years since the Pickin' on the Middle Fork trips began, more and more river outfitters have begun offering similar experiences. In 2016 alone, there were plenty of options: You could join Della Mae and Winding Waters River Expeditions for a four-day trip down the Main Fork of the Salmon; ARTA River Trips took folk act the T Sisters on a two-day run down California's Tuolumne River; and Laurie Lewis and Tom Rozum were the main artists on Northwest Rafting Company's annual Bluegrass on Whitewater along Oregon's Rogue River. At Arizona Raft Adventures, which runs 14-day, 9-day, and 6-day trips down the Grand Canyon, many of the guides double as trip musicians.
The are a handful of other factors — from the gourmet food to the decompression aspect of being unplugged — but it's the melding of bluegrass music and wilderness that have sustained such a healthy market for these excursions in general. River trips inherently build a sense of camaraderie, and when you're on one with your favorite musicians, it's an experience that reworks the notion of what a vacation can be.
Perhaps that's why fans are willing to pay big money for these trips. The Idaho River Adventures run $1,700-$2,250 a head (though the prices are the same with or without a musical guest along), and cruises like Cayamo or the Dailey & Vincent trip cost anywhere from $1100 to ten times that much, depending on what size cabin you'd like.
Getting There
Getting to the Frank Church-River of No Return Wilderness, the largest roadless tract of wilderness in the lower 48, involves a fair amount of logistical planning. Most people on the Hot Buttered Rum trip flew into Boise, Idaho, and boarded Idaho River Adventures' free shuttle for the two-and-a-half-hour drive to the small mountain town of Stanley. That evening, we all met Aherin for our pre-trip orientation, which included brief introductions, going over our day-to-day itinerary, and the collection of our two dry bags: one large "checked bag," with a sleeping bag, pillow, and ample room for all of our necessities (this bag would be waiting for us when we arrived at camp each day), and one "carry-on," which included anything you might need during the day, from clothing layers to your camera. The instruments would get dry bags of their own.
This is the first time most of us had met the band and each other — everyone seemed nice enough, but afterwards most went their separate ways to eat dinner, pack, or hit the local hot springs. The next morning, we met again, dry bags filled and the air heavy with anticipation. Hot Buttered Rum had gone on the river the year prior, but most of us, including the band's newest members — drummer Shane Schlick and fiddler Zebulon Bowles — had little idea of what to expect.
Getting to the put-in involved a 20-minute flight in a Cessna Caravan, which would drop us in at Indian Creek, 25 miles from the headwaters of the Middle Fork. The flight itself offered a birds-eye perspective of what we were getting into — a stunning and isolated tract of mountains, meadows, and gorges, much of it marked by recent wildfire. When we landed, our seven guides stood waiting with the vessels, including four oar boats (which the guides row), one paddle boat (which we rowed, with one guide steering), and four inflatable kayaks, meant for the most intrepid amongst us. Our checked gear was loaded on to a giant barge of a raft dubbed the Sweeper, which would beat us to camp every day.
We sat through a safety talk — here's what to do if you fall out, or if the boat flips — and then we were off, consumed by scenery and small talk as the group got acquainted with each other and our new home. By the time we landed at our first camp, the tents, kitchen, and latrine were already set up, as they would be every day. At this point, we'd all had interactions with the band but had yet to hear any music. After cocktails, hors d'oeuvres, and a feast of grilled salmon, Hot Buttered Rum's multi-instrumentalist Erik Yates got the ball rolling.
"We've all been drinking it, so we might as well start there. This is Ralph Stanley's 'Red Wicked Wine,'" he said. Slowly, the rest of the band trickled in and the group gathered around.
This past May, Hot Buttered Rum released The Kite & the Key, a 19-song collection divided into three EPs, the second of which is devoted entirely to Ralph Stanley covers. Recorded before the legend's death this past June, the songs are timeless and sound all the better in this place that time hasn't touched.
"When the band started," says Hot Buttered Rum guitarist and vocalist Nat Keefe, "I wanted to have the old-time soul and down-home, yee-haw factor of Ralph Stanley." As the band's evolved, it has kept those roots, but also incorporated the progressiveness of bands like Strength in Numbers and New Grass Revival, the looseness of a jam band like Phish, and the rock-and-roll edge of an acoustic band that opts to add a drummer.
When it came to songwriting, though, Keefe's inspiration was literary: "I'm very much a student of Gary Snyder, Edward Abbey, John McPhee, and Wallace Stegner," he says. "There's a certain school of American outdoor thought and I feel of that school. That's where I get a lot of my inspiration for writing."
Hot Buttered Rum solidified as a band in the early aughts, and from the beginning its sound has been at home in America's wild places, which shines though in other songs off The Kite & the Key, such as "Desert Rat" or "Middle Country Stars," as well as older Butter tunes like "Idaho Pines" and "California Snow and Rain," both of which were dusted off over the course of the trip.
The ability to watch a band you love play through its repertoire, working on new tunes and covers and digging deep into its catalog, is one of the reasons fans choose a trip like this. Yates in particular played nonstop, and there was a day when he took his small guitar along on an oar boat. When we stopped at a riverside hot spring midmorning, he serenaded us as we soaked. Those who were lucky enough to sit on his boat that day were treated to a full solo session, folk songs gently echoing off of cliffs, accompanied by the hum of whitewater.
"It's nice to have time where it feels very appropriate to keep playing, keep playing, and then when you're done, keep playing," says Yates, who also brought a banjo, Dobro, clarinet, and flute along on the trip. "It's important, really important, for anyone who's in a creative line of work, to take a break from goals sometimes. Even though we're just as driven as someone trying to get in a corner office, it's nice to step back from that and return to the reason you started playing music — that simple sense of awe and appreciation for a good-time song or a good-time instrument."
For the most part though, the tunes came at night; during the day, the rafting trip was business as usual. In the morning, one of our guides would walk through camp, softly enticing us out of our sleeping bags with the promise of hot breakfast and fresh-pressed coffee. We'd take our time eating and packing up camp, and then choose our vessel for the next couple of hours. We'd float or row, maybe stopping to take in Native American petroglyphs or another hot spring. A couple hours later we'd dock at a separate location for lunch, sipping on La Croix or Sierra Nevada Pale Ale, gathering intel on the rapids ahead and switching our rides accordingly. Of course, there were those who wanted to fish from the oar boats all day, and others who never left the inflatable kayaks, better known as Duckys.
By midafternoon we'd roll into camp …
As I write phrases like "a couple hours" or "midafternoon," I'm acutely aware of how time wasn't really a thing on the river. Without our phones or internet access, it mattered less where we were and when. Instead, we followed the rhythm of routine: setting up our beds when we arrived and then enjoying a couple hours of leisure time — to hike, swim, journal, whatever — before a gourmet dinner. Food was always a highlight, largely because it ensured that all of our senses got stimulated. Our guides were incredible cooks, roasting prime rib or baking cakes in Dutch ovens, and judging us only a little when we went back for thirds. After the evening meal, the music would begin, each performance an extension of our day.
At that point, the liquor would begin to flow and lyrics were often ad libbed to speak to our collective experience. There was the ode to our latrine, the Groover, sung to the tune of Johnny Cash's "Folsom Prison Blues," and the story of bassist Bryan Horne's epic Ducky flip tucked into a cover of Al Green's "Take Me to the River." Sometimes there were dedications — the Butter original "Cherry Lake" for photographer Robb Hirsch, the traditional "Old Home Place" for the couple from Virginia — and occasionally folks threw out requests, the best being guide Greg Cairn's ask for Béla Fleck's "Big Country." Mostly though, the band played what they wanted, whether it was a sandwich of George Michael's "Faith" and Prince's "Kiss," or love songs Keefe had written for his wife, Erin, who celebrated her birthday while on the river.
There was one formal concert, on day four in a tucked-away stage known as Rattlesnake Cave. It was fantastic in that we got to have a true live Butter experience, yet it was somehow less satisfying than the campsite jams. With the latter, there was no time limit and no expectations other than the band play, which encouraged experimentation. One night Bowles played nothing but mandolin, on others we were privy to stories behind some of the tunes, like "Butch and Peggy," a personal favorite which took on new meaning once I learned it was written about a couple the band had stayed with years ago. Butch, the husband, later committed suicide, and the song was a way to work through some of the emotions that news elicited.
Guests also shared their own experiences with the music, some lighthearted, others genuinely moving. Patrick Gaffney and Cindy Scott are a couple from Davis, California, who have been following Butter for years — they had lost count, but guessed that they'd seen well over 100 shows. This spring, Gaffney's mother's health took a turn for the worse. As the couple held vigil over her bed, they were playing Hot Buttered Rum's self-titled album. In the end, the last song she heard was Yates' "The Love You Gave Away." Gaffney shared this story with the group one night after Yates had played the tune, which he had written for his father, who'd suffered a stroke.
"The music was there to share the deep grief of watching my mother slip away," says Gaffney. "The music was also there to share all the happiness I've had over the years, surrounded by wonderful friends, listening to Hot Buttered Rum do the magic they do."
It was a reminder that everyone has their own reasons for coming on a trip like this, their own experience with a band and its music. I think our entire group, whether or not they had any specific issue or life event to work through, would agree that the trip was incredibly healing.
"I think when people get into acoustic music at this day and age, they want something a little bit simpler," Yates said, after I asked him what he thought the point of these trips was. "I think acoustic music is a kind of slowing down; Bill Monroe would reference the ancient tones, and that's a big part of being outside, too. It's why we're drawn to nature and the outdoors. I think both those things help you dial back for a second and share space with some older way. And that's a good thing for people to do."
Adventure Activism
There aren't many salmon left in the Salmon River. There are a few hundred, but overall, the Chinook salmon no longer make it back to the Middle Fork, arguably the best habitat for the species in the Columbia River basin, which itself was once the best in the world. We learned all about the shift over lunch on our third day, on a sandy bank adjacent to the old Tappen Ranch, a historic homestead turned landmark and hunting cabin. Our guide Helen Low, a fiery 48-year-old English woman with almost three decades of experience leading river trips — 19 years of that on the Middle Fork — had us gather 'round to talk salmon. As we listened, she laid out what has become one of Aherin's main environmental causes and a driving educational component of his trips.
When Meriwether Lewis first came through this region of the Pacific Northwest, in 1805, he wrote that the multitudes of salmon were "almost inconceivable," a wash of red and pink in crystal clear waters. It was said that you could cross the river on the backs of the salmon swimming upstream. Sacred to the Native Americans who lived off the land, and necessary for the health of the entire habitat, the Chinook salmon of the Middle Fork are particularly extraordinary. They spawn above 6,000 feet, the highest of the species, and swim some 800 miles to reach the Pacific Ocean. Because of a series of dams along the Snake River, into which the Salmon River feeds, the species hasn't be able to return to its spawning ground. The fish literally bump their heads against a wall of concrete and salmon ladders that have proven inadequate.
The Middle Fork is also one of the few stretches of habitat free of a hatchery, making its Chinook completely wild, and thus irreplaceable. It's not just that they can't return home to spawn new fish; it's that they're also no longer dying in the waters of the Middle Fork once they do. The nutrients these salmon bring back from the ocean are essential to their freshwater ecosystem, providing nourishment to other animal and plant life. Salmon DNA has even been found in the forest's ponderosa pines. Without these fish, we learned, the slice of the Salmon River we'd come to love was at risk of becoming lifeless.
What, you might wonder, does all this have to do with a band from California?
The four dams along the Snake aren't owned or financed by Idahoans. Rather, they're paid for with federal tax dollars, to the tune of about $1 billion a year. On top of that, there's a negative return on investment when it comes to power generation. Cargo ships use the waterway, but there's also a perfectly good railroad that runs the length of the river. Aherin hopes that these trips, and the publicity bringing musicians along gives them, inspires even a few more people to get involved in removing the dams, as well as with the preservation of land and the species that rely on it.
As Low explained all of this to us, I was reminded of a Butter song on The Kite & the Key called "I Wanna Know," the lyrics of which echo the title: "I wanna know what my soul is worth." When all is said and done, one hopes humans don't belittle themselves by letting iconic species like the wild Chinook go extinct.
The Infamous Stringdusters have supported causes associated with river conservation throughout the band's existence, too. This is because they're fishermen, but also because of the connection they see between string-based music and places like the Frank Church-River of No Return Wilderness. Hot Buttered Rum sees it too, and its the reason they'll lug instruments on backpacking trips or agree to spend a week playing along a river in the backcountry.
"There is a type of inspiration that is unique to both music and to places like the Middle Fork," says the Stringdusters' Pandolfi. "You know how in music there's certain songs that connect with unprecedented legions of people, that just capture people's imagination so uniformly? There's no great answer to why that happens — I think it's the best proof that music is the closest thing we have to magic. It's the closest thing we have to pure imagination, something that we can't quantify, we can't bottle up. It's just out there and we're looking for it, and sometimes we find it. It's just a fleeting thing that's almost made so incredible by the fact that it's so elusive, but it's out there. And to me, these wilderness areas like the Frank Church share that quality."
Unplug and Reconnect
When's the last time you really took a vacation from your everyday? Stepped away from Facebook status updates and Instagram posts, from Gmail and Netflix, political pundits and viral memes? When's the last time you camped outside of a festival? Or saw a band you love play without a schedule?
I can't remember the first time I realized I loved nature or string music, but for the better part of my adult life I've been pursuing both. I spend most of my disposable income chasing shows, and I spend my vacations in national parks or on backpacking trips. Both offer a respite from work and responsibility, but more than that, they make me feel small, a reminder that the things that consume my day-to-day aren't always worthy of the time I devote to them or the stress they induce.
Sitting on the banks of the Middle Fork that final night of my bluegrass adventure, leaning against a giant ponderosa — its trunk five times my size — I was acutely aware that prior to coming, I couldn't have envisioned a more perfect marriage of the two things that really stir my soul. I knew Pandolfi was right. It's the closest thing we have to magic: The ancient tones of instruments reverberating against canyon walls, harmonies floating in the wind, the songs, and the river.
---