50 STATES OF FOLK: The Genre-Hopping Old-Time Fiddle Tradition of Weiser, Idaho
---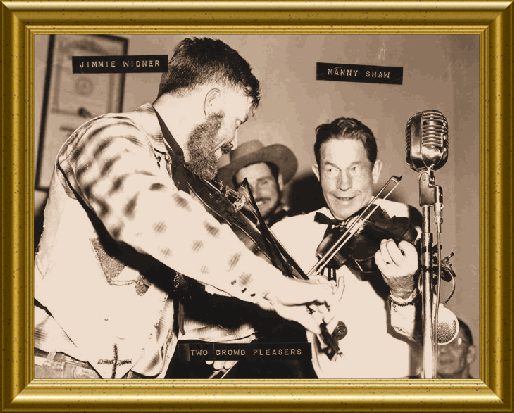 A photo from the National Oldtime Fiddlers' Contest and Festival Archives (used with permission of the contest)
Back in the early days of the Western frontier, community was a matter of life-and-death: It was the work of people in tandem that led to a successful winter, not merely one man's luck in finding gold or trapping furs.
In the wild ranges of 19th-century Idaho, part of that community-mindedness came in the form of  music and dance. Starting with the French and Scottish Canadian fur trappers in the early 1800s, traditional dance fiddling (or "old-time" fiddling) was an important part of the culture of the Northwest. It could be found in any number of social scenarios: keeping the spirits of working men high in logging and mining camps, enriching the education of children in schoolhouses, and facilitating the romantic meddlings of tiny towns at house and grange dances. And much like the people who made up the frontier communities, the music played at these dances was influenced by a broad array of both immigrant and native musical traditions at the time, including from Canadian, Celtic, Scandinavian, and Northern Plains Midwestern sources. No matter where they occurred or who was attending, the dances all had one thing in common: They were always accompanied by a fiddle.
An evening's dance often included dances of multiple styles: waltzes, hoedowns, schottisches, two-steps, hambos, polkas, and quadrilles. This meant that the fiddlers accompanying these dances had to be adept at playing and switching between all of these styles. Over time, this led these disparate musical traditions to meld and fuse, creating a fiddle style wholly unique to the region. United across cultures by the waltz, Northwestern old-time fiddlers play with a distinctly lyrical, danceable style.
Like a Rap Battle, But for Old-Time
But fiddling doesn't have to just be a positive, community-building activity. As anyone who's ever been in a bluegrass jam circle can attest, it can get competitive too. In fact, fiddle contests are much older than the Idaho territory. Historian Richard Blaustein notes in his book, The Thistle and the Brier: Historical Links and Cultural Parallels Between Scotland and Appalachia, the first recorded fiddle contest in the New World took place in 1736, as part of a St. Andrews Day celebration in Hanover County, Virginia. This competitive tradition continued to grow and thrive in America, leading to several regional offshoots of varying levels of prestige.
Henry Ford (famed racist square dance enthusiast) was hugely interested in old-time fiddling and began sponsoring hundreds of contests all across the country — leading to growing radio popularity and popular interest in the genre. This led to formalization in the operations of fiddle contests. What started as groups of a couple dozen fiddlers gathered together to vie for glory (and maybe a prize, if it was a fancier contest) turned into all-out blowouts, lasting for up to a week at a time. Organizers had to start establishing rules, such as strict time limits and mandatory song styles, in order to standardize how fiddlers were being assessed. Judging panels, composed of master fiddlers, had to be assembled for each contest, evaluating each contestant for their old-time fiddling style, danceability, rhythm and timing, and tone quality. Most importantly, each competing fiddler had to prepare three songs in order to compete: a waltz, a hoedown, and another dance tune of the fiddler's choice, such as a reel, clog, jig, two-step, schottische, polka, or rag. In other words, styles iconic and fundamental to the local fiddle and dance tradition of Idaho and the Great Northwest.
The Fiddle Capital of the World
In 1863, Weiser, Idaho, was established along the Snake River. It was a way station for pioneers traveling the Oregon Trail, at first not much more than a place to pitch a tent for a night and refill the water reserves in the wagons. One hundred years later, it would become the "fiddling capital of the world".
The first fiddle contest in Weiser was held in 1914, though the tradition didn't initially stick through the turmoil of World War I. Its return can be credited to one man: Blaine Stubblefield. Raised on fiddling music in Oregon, he had a deep passion for old-time music. Most famous for his Library of Congress recording of the folk song "Way Out in Idaho," Stubblefield would go on to sit on the Weiser Chamber of Commerce. It was from this role that he would propose the idea of a city-sponsored fiddle contest, to take place during the intermissions of the existing Weiser Square Dance Festival. All he needed was $175 in funding to make it happen.
The Chamber agreed, leading to the first-ever Northwest Mountain Fiddlers' Contest in 1953. Ten years later, the contest would grow far beyond its regional roots, officially becoming the National Oldtime Fiddlers' Contest in 1963 to help honor Idaho's territorial centennial celebrations. The contest now exists as a stand-alone organization, setting the standards and certifying the integrity of fiddle contests all across the country. Every summer, Weiser nearly doubles in population for a week as hundreds of fiddlers participate in a five-day, multidivision championship. From the tinest tots on their quarter-sized violins all the way to the Grand Master Champions, all are held to the standard of the original frontiering, genre-hopping fiddle players of the Northwestern territories.
NOTE: Just before the publication of this piece, the National Oldtime Fiddlers' Contest and Festival board announced that this year's contest would be canceled, in light of the ongoing public health and financial crisis that the world finds itself in. This is not the first, nor is it likely to be the last, roots music event cancellation to take place this season. If you have the means, there is no better time to make your support for the artists and festivals that you love material. Get inspiration and ideas for how you can help here.
Listen to some of the Weiser competition's winners from over the years in this month's playlist! You may just see some names you recognize on the list.
For a deeper dive into the Northwestern fiddle tradition specifically, check out this amazing list of Northwestern fiddle field recordings: https://www.voyagerrecords.com/nwffrmp3.htm
---