Bruce Molsky Closes the Gap between Musical Generations
---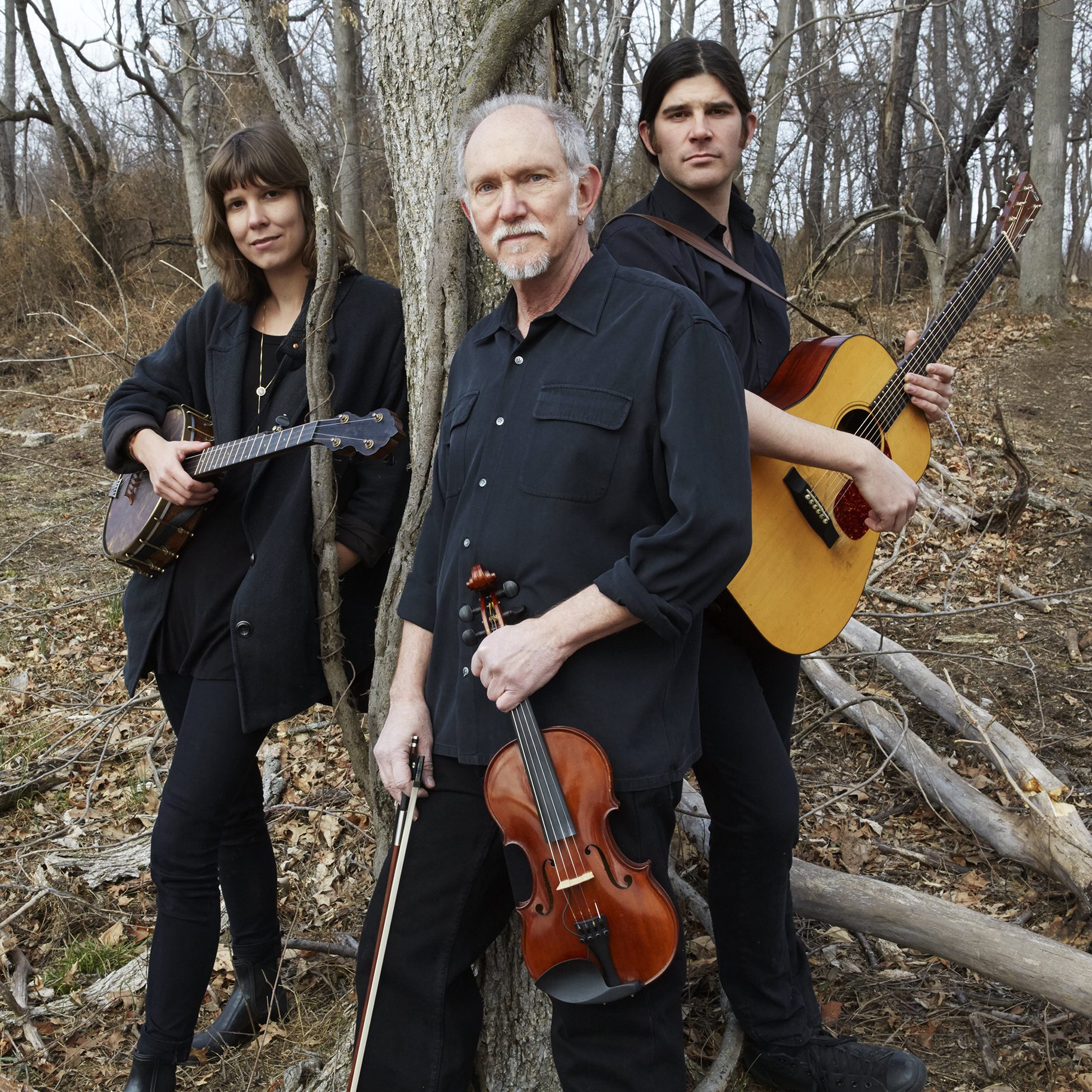 From left, Allison de Groot, Bruce Molsky, and Stash Wyslouch — Molsky's Mountain Drifters. (Photo by Kate Orne)
Bruce Molsky is a name that resonates throughout the roots music world. The old-time fiddler, who also plays banjo and guitar and sings, has been recording and performing for over 40 years, both solo and with Andy Irvine, Darol Anger, Mark Knopfler, Aly Bain, Annbjørg Lien, and many others. Mention his name in music circles and the response frequently invokes Molsky's reverence for his roots. Anger described him as "the Rembrandt of Appalachian Music." Knopfler observed that Molsky "has all the links to the past but is happy not to be chained to it." That's high praise indeed for someone who trained as an engineer, worked in a carpet mill, and didn't become a full-time musician until he had turned 40. Perhaps Molsky was only staying true to his maxim, "real musicians have day jobs."
Molsky's day job these days is as visiting scholar in Berklee College of Music's American Roots Music Program. Tapping into the talent there, he's put together Molsky's Mountain Drifters, with banjoist Allison de Groot and guitarist Stash Wyslouch, which released their second album, Closing the Gap, last month.
Gap-closing has been a theme for Molsky across his career. He's met old-time players, he's interpreted songs that are centuries old, and he plays with a new generation of musicians. Closing the Gap is a well-chosen title that perfectly describes how Molsky sees himself in this continuum.
"The reason that this band means so much to me," he says of the Mountain Drifters, "is because of all my own heroes when I first fell in love with this music. Being a folk musician is like being a link in a chain that motivates me to teach and perform."
De Groot, once a student of Molsky's at Berklee, was the first link in the chain as the Mountain Drifters formed. "When we met, the school hooked her up with me because I was the only clawhammer banjo teacher there," he recalls. "We ended up mostly just playing together. It was great, so we decided we would try to make something out of it, and she suggested Stash, who had been playing with Greg Liszt's Deadly Gentlemen, to play guitar and share the singing."
He continues: "Allison and I love playing the old banjo-fiddle stuff and really wanted to find our collective voice with Stash. It's been three years now and of course it's changed a lot. We each feel more free to jump off in different directions. I feel that the CD really reflects that."
He refers to the album as a whole because that's how he feels an artist's work should be presented, even in an age when streaming and playlists give listeners the ability to zero in on individual songs.
"Even though few people listen this way anymore, I think a CD needs to be a unified body of work. It has to show contrasts and have variety, and we want to show what these three instruments and voices are capable of, with a variety of tempos, moods, and colors," he says. The order is important, he adds. "We sequence 'Bright Side' at the top because we want to send a message we think is pertinent at this point of time in the world."
"Greenback Dollar" also found a home on this album for its message as well as its music. "I learned that from a recording of a Mississippi group called The Weems String Band," Molsky says. "Always loved that recording because it's solid and almost mantric. The fiddle does some interesting things and you can really hear that the musicians are listening to each other. I think that's one of our strong suits as the Mountain Drifters. More than anything, our music is conversation."
Emerging from the conversation on this album is a voice for this band, Molsky says. You can hear it on their take on Kate Rusby's "Sweet Bride."
"I love Kate's music and her energy," Molsky says. "It's on one of her early recordings, and not a real folky arrangement at all, but it seemed like it ought to be a folk song, so we changed the melody a little bit and made it our own. We're discovering more and more as the band's voice evolves, and it's exciting to us."
Old-time music was made for performing, so preserving that live feel was essential for Closing the Gap, Molsky said, as it was recorded at Boston's Dimension Sound Studios. "The best of this kind of music happens when everybody is together in the same space, where energy comes from the instruments breathing into each other and with no physical separation," he says. "We gave engineer Dan Cardinal as much scope as possible. There are almost no overdubs, the music is as live as it can be in a recording studio situation."
That live connection in the music taps into what set Molsky on a musical path in the first place. "I got into this music growing up in New York, listening to The New Lost City Ramblers and Doc Watson on the radio and seeing shows. I learned guitar playing everything from 'Black Mountain Rag' to 'Purple Haze.' But the deepest impression came from meeting some of the musicians later. There's that feeling again of feeling like a link to another generation."
Along Molsky's own musical path, veteran Appalachian fiddler and banjo player Tommy Jarrell, whose clawhammer technique continues to influence today's young players, stands out as a particular influence: "What was supposed to be a short visit with him turned into a day of talking and playing. That was the most compelling fiddle lesson I ever had," Molsky says. More recently, collaborations with Irish and Scandinavian musicians had an impact on his playing and broadened his palette.
The links from past to present in this musical chain are strong, but of equal importance to Molsky is the future. "I'm optimistic. Just look at Allison and Stash. I could name so many others, but Tatiana Hargreaves, Adam Hurt, and Rhiannon Giddens come to mind. They and a lot of others are carrying it forward."
The intergenerational connections and emphasis on live music on Closing the Gap bring a freshness to the album, even though many of the tracks will be familiar to roots music fans. But the Mountain Drifters' care, sensitivity, and love of the music come through. More than just preserving the old music, by applying their own touch, they're passing it confidently on to the next generation.
---