THROUGH THE LENS: Two Small Colorado Festivals Fuel Bluegrass Fans and Tradition
---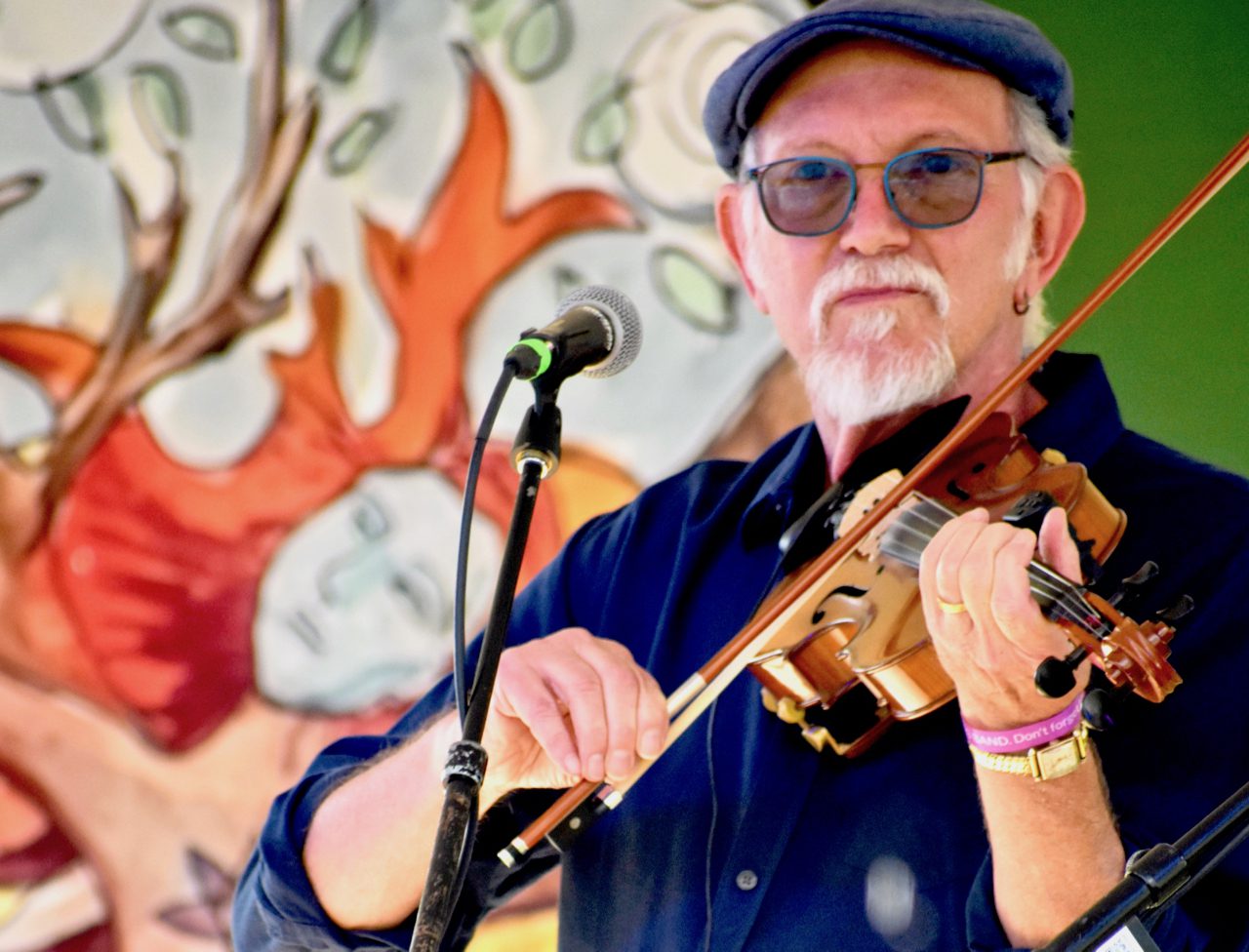 Bruce Molsky - SnowyGrass Festival 2023 - Photo by Kevin Slick
This week the the column travels to Colorado and features two lesser known, small town bluegrass festivals: High Mountain Hay Fever Bluegrass Festival in Westcliffe (July 6-9) and SnowyGrass Music Festival in Estes Park (July 14-16), the gateway to the Rocky Mountain National Park.
With 30 annual festivals, Colorado is a hotbed of bluegrass and roots music gatherings. While the state's Telluride and RockyGrass fests are larger and better known, this week serves as a tribute to these smaller festivals that kept the faith alive during the genre's lean years and are now proliferating across the country.
Festivals like High Mountain Hay Fever and SnowyGrass feature local talents and serve as fertile ground for artistic development. Without such events we would not have Del McCoury, Alison Krauss, Billy Strings, or Molly Tuttle, along with so many others who have become household names.
Providing this week's report is longtime bluegrass fan and first-time contributor to the column, Kevin Slick. Kevin describes himself as "a parent, musician, composer, visual artist, photographer, writer, and teacher, sometimes all at the same time." He's also a former president of The Colorado Bluegrass Music Society, and in 2021 was nominated for International Bluegrass Music Association's Graphic Designer of the Year Award. You can find out more about Kevin here.
High Mountain Hay Fever Bluegrass Festival
Stunning views of the Sangre de Cristo Mountains provide a magnificent backdrop for High Mountain Hay Fever, a nonprofit festival that celebrated its 20th year last month. Since its inception the festival has raised more than $800,000 for children's health needs and has expanded its support to provide dental and mental health services as well for the southern Colorado area. 
The small-town setting of the festival gives it a laid-back, easygoing feel. As Westcliffe (population 546, elevation 7,867 feet) is a "dark sky community," when the last band's set is over, fans are often treated to a spectacular view of the Milky Way that few ever get to see. 
With host band Dry Branch Fire Squad and board member Heidi Clare's amazing fiddling and the dancing skills of her partner Ron Thomason (festival president), there is a solid traditional feel to this festival. 
This year bands included Ralph Stanley II, The Baker Family, Uncle Shuffelo and His Haint Hollow Hootenanny, The Southwest Bluegrass All Stars, Long Road Home, Higher Ground Bluegrass, The Blue Canyon Boys, Hillbilly Fever, and The Red Mountain Boys. 
SnowyGrass Music Festival
SnowyGrass began in 2016 as a single-day event in a small park in the town of Estes Park (population 5,799, elevation 7,523 feet) but has grown to a three-day gathering and relocated outside of town. As with Westcliffe, part of the allure of Estes Park is the amazing views of mountains and the wildlife that often wanders into or flies over the festival site.
The fest has a hometown feel where everyone seems to know everyone else. The vibrant Colorado music scene gives smaller festivals such as this one a ready-made audience who come to play with old friends as much as to see the national bands who have traveled to play in the clear, high air of the Rocky Mountains. 
This year Colorado groups such as Orchard Creek Band, The Blue Canyon Boys, Ragged Union, Lost Penny, FY5, Brandywine and the Mighty Fines, and Chain Station shared the stage with nationally known names including Becky Buller, Frank Solivan, Special Consensus, and Bruce Molsky's Mountain Drifters.
Click on any photo below to view the gallery as a full-size slideshow.
---