Boy from the North Country
---
I'm North Dakota-Minnesota Midwestern. I'm that color. I speak that way. I'm from someplace called the Iron Range. My brains and feelings have come from there.
— Bob Dylan, Playboy, 1966
Born in St. Mary's Hospital in Duluth, Minnesota, on May 24, 1941, Robert Allen Zimmerman lived in that small port city, tucked into the westernmost finger of Lake Superior, until he was six, when his family moved to Hibbing. The towns scattered along the lakeshore near Duluth, clinging to the waters of the lake and to Highway 61, have names from settlement times, Native American languages, and the French and Indian War: Knife River, Beaver Bay, Grand Marais, Castle Danger. The great lake itself was called gitchi-gami, or great sea, by the Ojibwe or Chippewa people who were living there before European explorers, fur trappers, and settlers arrived.
In downtown Duluth, a stocky gray statue of Leif Erikson gazes out over the waters of the lake that poet Henry Wadsworth Longfellow called Gitche Gumee in his poem "Hiawatha." Erikson's likeness was erected to commemorate the possibility that Vikings sailed to Duluth from Norway via the great lake, sometime around 1000 A.D. Indeed, in 1926, a replica Viking longship made that voyage successfully.
Whether or not the Vikings were there centuries earlier, Minnesota — named by the indigenous Dakota people — was settled in the 1800s by immigrants from cold, northern European countries: Norwegians, as Erikson was, and Swedes. In 1966, Bob Dylan humorously claimed this heritage, announcing to an interviewer in Stockholm, "I happen to be a Swede myself."
Later, in his autobiography Chronicles Vol. 1 (2004), Dylan recalled hearing Harry Truman speak in the shadow of the Erickson statue; he wrote, too, about hearing Buddy Holly at the Duluth National Guard Armory when he was a teenager, just days before Holly's untimely death. History, legend, rhetoric, music: Dylan's deepest-running roots began here. And, as he wrote in Chronicles, he was not isolated or cut off from anything in Minnesota. Instead, he felt he could get anywhere from there. "Highway 61, the main thoroughfare of the country blues," he wrote, "begins about where I came from … Duluth to be exact. I always felt like I'd started on it, always had been on it, and could go anywhere from it[.]"
Most accounts of Dylan as a musician, including his own first chapter in Chronicles Vol. 1, begin when he came east to New York City in the bitter cold January of 1961. Cold? Yes. "[B]ut I'd started out from the frostbitten North Country," he wrote, "a little corner of the earth where the dark frozen woods and icy roads didn't faze me."
Shortly after he arrived in New York, Dylan went to the Café Wha? on MacDougal Street and owner Manny Roth let the 19-year-old play some Woody Guthrie songs. By that October, Dylan had made such a name for himself that John Hammond of Columbia Records signed him to a contract. In his autobiography, Dylan recounts the interview he gave at that time to Billy James, Columbia's head of publicity, which is believed to be the first surviving official interview with him.
Apart from not seeing himself at the time "like anybody," Dylan wrote that the rest of the interview "was pure hokum," that wonderful American carnival word that goes along with bunkum, hogwash, or hooey for what ain't necessarily so. Yet when it comes to what that word tells about Bobby Zimmerman, Bob Dylan, and the Midwest, the interview isn't hokum at all.
Golden Chords
It was James Gatz who had been loafing along the beach that afternoon in a torn green jersey and a pair of canvas pants, but it was already Jay Gatsby who borrowed a rowboat, pulled out to the Tuolomee, and informed Cody that a wind might catch him and break him up in half an hour.
— F. Scott Fitzgerald, The Great Gatsby (1925)
Hibbing is not far from Duluth, but it is no seaport town — a major difference — and has no highway stretching from the cold northern start of the country, down the length of Mark Twain's Mississippi, to the gulfmouth of the Delta Blues. But Dylan's mother's family lived in the area, and Bob attended grade school and high school here.
During that interview with Columbia publicist Billy James in 1961, though, Dylan veered through honesty and, indeed, into palpable hokum about Hibbing. "For the most part," he told James, "my base has been in upper — way upper — Minnesota. Almost to the border. … Hibbing, Minnesota — that's a mining town — lumber town."
In the same interview, Dylan claimed he first ran away from home at age seven and joined a traveling carnival at 13. Where did he go? "All around the Midwest, uh, Gallup, New Mexico, then to Texas, and then … ." The citation of New Mexico as the Midwest is almost as funny as Jay Gatsby telling Nick Carraway that his "Middle West" hometown is San Francisco. Yet Dylan confesses to having graduated from high school in Hibbing, and having spent most of his time there from age "seven to seventeen." This is entirely true. He got his first guitar in Hibbing, and put together his first bands there. At Crippa Music on East Howard Street, he bought his sheet music and records. At the Lybba Theater on First Avenue, owned by his uncles and named for his great-grandmother, he saw the movies of the 1950s. He was on a bowling team called the Gutter Boys and had a beautiful blond girlfriend named Echo Helstrom. Her mother, Martha, told biographer Anthony Scaduto in 1972 that Bob had wanted to be like Elvis Presley.
With guitarist Monte Edwardson and drummer LeRoy Hoikkala, Dylan had a high school band called the Golden Chords. In a 1999 piece for the unauthorized Bob Dylan magazine On the Tracks, Hoikkala told interviewer Lars Lindh the name arrived naturally. "Bob … could really chord with the piano and the guitar, really chord beautifully," Hoikkala recalled. "He was really a natural at chording. And my drums were gold, sparkling gold. So, we said Golden … Chords, that's how we got the name."
Hoikkala went on, explaining how the boys "used to sit together with a reel-to-reel tape recorder at night and tape the AM stations that came in really good at night … and then Bob would play them, because that was more the type of songs that he liked; the bluesy songs."
But as for writing songs, Hoikkala's answer is the best statement on Dylan's early career as a folksinger, and as a rock and roller, you'll ever read:
He changed a lot of songs. He listened to a song and he changed them. He didn't like the way they read. Just like a lot of the songs that he's recorded. I [used] to say that he wasn't copying someone, but he took the basic song and if he didn't like the lyrics he just changed it to what he wanted. He was a natural. He is a great songwriter. Some songs he didn't change, others he changed to his own liking.
Thus, before Dylan had ever left Hibbing, before he went to Duluth and began playing and learning about jazz, before he arrived in Minneapolis for college and started calling himself Bob Dillon (or Dylan), before he heard a Woody Guthrie record, the integral elements of his creative personality — collector, singer, musician, and songwriter — were already in place.
Soaking up Sounds
On a Friday night in November 2002, veteran folk and roots music revivalists Koerner, Ray & Glover played what would be their last concert at Princeton University. Dave "Snaker" Ray had been diagnosed that year with lung cancer, and he died a week later, on Thanksgiving Day. In a small performance space in the music department, with superb acoustics and less than 200 people in attendance for the free show, the three men made a gorgeous evening of the blues, rags, and hollers they had played together, off and on, for the past 40 years and more.
Ray was quietly gracious, smiling often, handling his guitar with competence and care. You wouldn't have known how ill he was that night. He was joined, as ever, by Tony "Little Sun" Glover, a rock critic and harmonica genius who taught Mick Jagger how to play blues harp, and "Spider" John Koerner, whom he'd met way back when at the University of Minnesota. The trio had held a mighty influence on Dylan when he arrived in Minneapolis. He had meant to study at the university, but instead found his schooling in the coffeehouses and clubs of the Dinkytown district and the folk record collections of friends.
"[Dylan] was like a sponge, interested in everything," recalled Ray, who introduced numerous people — including a young Bob Dylan — to the music of Lead Belly, Big Bill Broonzy, and Lightnin' Hopkins.
As Koerner remembered, Dylan stood out even then for "certain qualities that made him one-up on the rest of us. He had a certain kind of confidence and [he would] write things you could see had something to them."
Dylan, Koerner, and Ray shared songs, books, records, and instruments so frequently that, at a 2007 exhibition of Dylan artifacts from his Minnesota life — or lives — Koerner laughed over a guitar in a case. "This guitar here," he told Minnesota Public Radio, "it looks like my old guitar."
But years earlier, as early as 1956, Dylan had recorded some cover songs with friends. The earliest known surviving tape, of him recording and talking with his friend John Bucklen, was made in the Zimmermans' home in early 1958; the fragments have been released in various documentaries, as have parts of a tape he made with another pal, Ric Kangas. Dylan's first long recorded session, however, was in May 1960 in St. Paul, Minnesota, after two sisters, Karen and Terri Wallace, heard him sing at a place called the Purple Onion.
According to Terri, Dylan wanted to listen to himself. On the bootlegged tape, she explains, "He had never heard how he sounded before. And he knew he was gonna go to New York" — to find Woody Guthrie, and to make a name for himself as a singer-songwriter.
The tape opens with Paul Clayton's "Gotta Travel On," includes many songs by Guthrie, and concludes with "Payday at Coal Creek." Various excerpts have long been available — including on the appropriately named "Armpit Tape," allegedly recorded on a tape recorder concealed in an armpit when Karen Wallace Moynihan played the original tape to a prospective buyer years later. Bonnie Beecher, Dylan's girlfriend who would later come to New York too (and marry Dylan's friend Hugh Romney, entertainment director at the Gaslight Café and known since 1969 as Wavy Gravy), recorded more of Dylan's covers of traditional songs later in 1960 at her Minneapolis home. The "Minnesota Hotel Tape" remains the standout in the early Minnesota Dylan recordings that gave rise to the first bootleg in the music world, Great White Wonder (1969).
Soon Dylan would meet Woody Guthrie and write him a song; he would become close friends with Paul Clayton and learn hundreds of traditional songs and arrangements from the man he remembers as "an intellectual, a scholar, and a romantic with an encyclopedic knowledge of balladry." But Dylan's passion for music, the stories his songs told, the sound of the voices and the guitars from the flat-picked to the symphonic 12-stringed, began in Minnesota. Literally — he took it from there.
Native Sons
Thought I'd shaken the wonder and the phantoms of my youth
Rainy days on the Great Lakes, walkin' the hills of old Duluth

— Bob Dylan, "Something There Is About You," 1973
Dylan has never shaken off the Midwest, and particularly Minnesota, and seems happy not to have done so. As his music tours have rolled through the decades, he's always been certain to schedule dates throughout the heartland of America: Chicago, Cincinnati, Dayton, Iowa City, East Lansing, St. Louis, Carbondale, and Minneapolis and Duluth.
He and his brother quietly purchased the Orpheum Theater in Minneapolis when it was in danger of being torn down and returned it to being a thriving venue. He owned for decades, and perhaps still owns, ranchland in rural Minnesota. He wrote many of the songs for Blood on the Tracks (1975) there, and recorded some of the tracks in Minneapolis in the winter of 1974 with a group of local musicians and a 1930s Martin from the Podium Guitar Shop, which had opened near the university in 1959, the year Dylan first arrived.
To conclude the first volume of his autobiography, Dylan brings it all back home. A baseball fan who has played some of his most intimate and excellent shows since 2004 in ballparks — and who enjoyed a visit to the Baseball Hall of Fame after a 2006 show at Doubleday Field — Dylan wrote of Roger Maris breaking Babe Ruth's home run record, which took place in October 1961, just as Dylan was signing with Hammond and Columbia.
"Maris was from Hibbing, Minnesota, of all places," he wrote, then listed other Minnesotans "that I felt akin to." There was Charles Lindbergh of Little Falls; F. Scott Fitzgerald, author of The Great Gatsby and a descendant of the man who wrote "The Star-Spangled Banner," of St. Paul; Eddie Cochrane of Albert Lea, "one of the early rock-and-roll geniuses"; and Sinclair Lewis, who "won the Nobel Prize for Literature, the first American to do so." Lewis, Dylan wrote, "had written Elmer Gantry and was the master of absolute realism, had invented it. He was from Sauk Centre."
Then Dylan, who is now the latest American to win the Nobel Prize for Literature, celebrated his fellows and sang a song of himself:
Native sons — adventurers, prophets, writers, and musicians. They were all from the North Country. Each one followed their own vision, didn't care what the pictures showed. Each one of them would have understood what my inarticulate dreams were about. I felt like I was one of them or all of them put together.
Those "inarticulate dreams" are straight out of Gatsby — as is the "all of them put together." When Nick Carraway speaks to Gatsby for the last time, he pays him the only compliment he ever uttered to Gatsby's face: "You're worth the whole damn bunch put together."
As he began his career in New York City, Dylan styled himself as a composite of Minnesota's most celebrated native sons. He stood with them, inheriting not just their musical mantle but specifically their literary laurels. The trajectory was, as present-day events have borne out, truer than he might have known in 1961, or 2004. However, with Dylan you have to wonder whether he might just have been confident of everything to come all along, back in those earliest Midwest days, in his younger and more vulnerable years. His Minnesota roots and self-characterization as a man of the heartland puts a powerful focus on where he comes from as integral to Dylan's career, rather than on the much-discussed many thousand miles he's traveled, and those to come as he goes traveling on.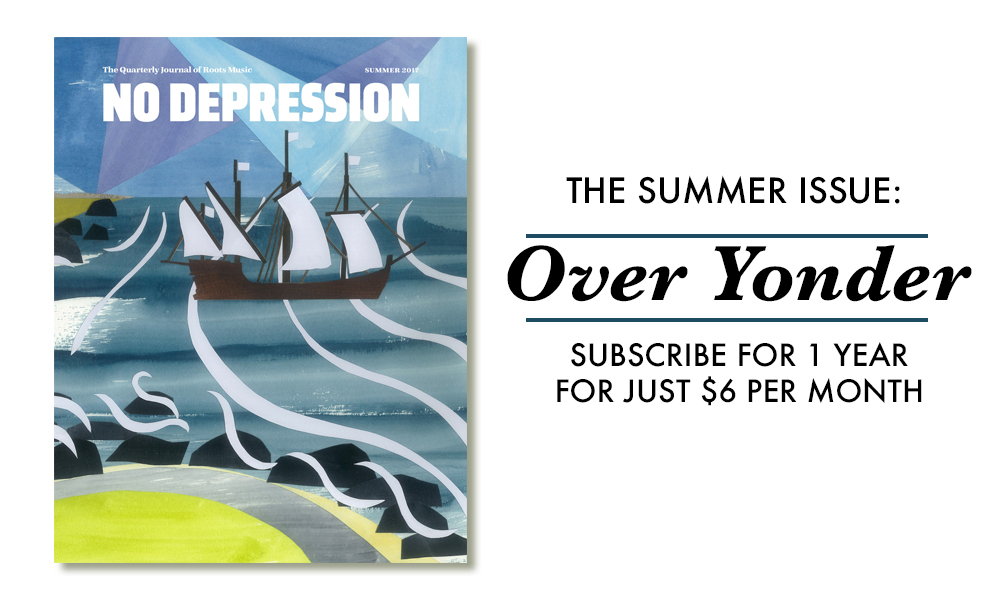 This article originally appeared in the Spring 2017/Heartland issue of No Depression in print. It's been published online as a special feature during our month-long subscription drive. Purchase a copy of that issue or subscribe today and receive a year of ND in print for more articles like this that you won't find anywhere else.
---