BONUS TRACKS: The Song Elvis Costello Won't Play and More of the Week's Roots Music News
Posted On January 14, 2022
---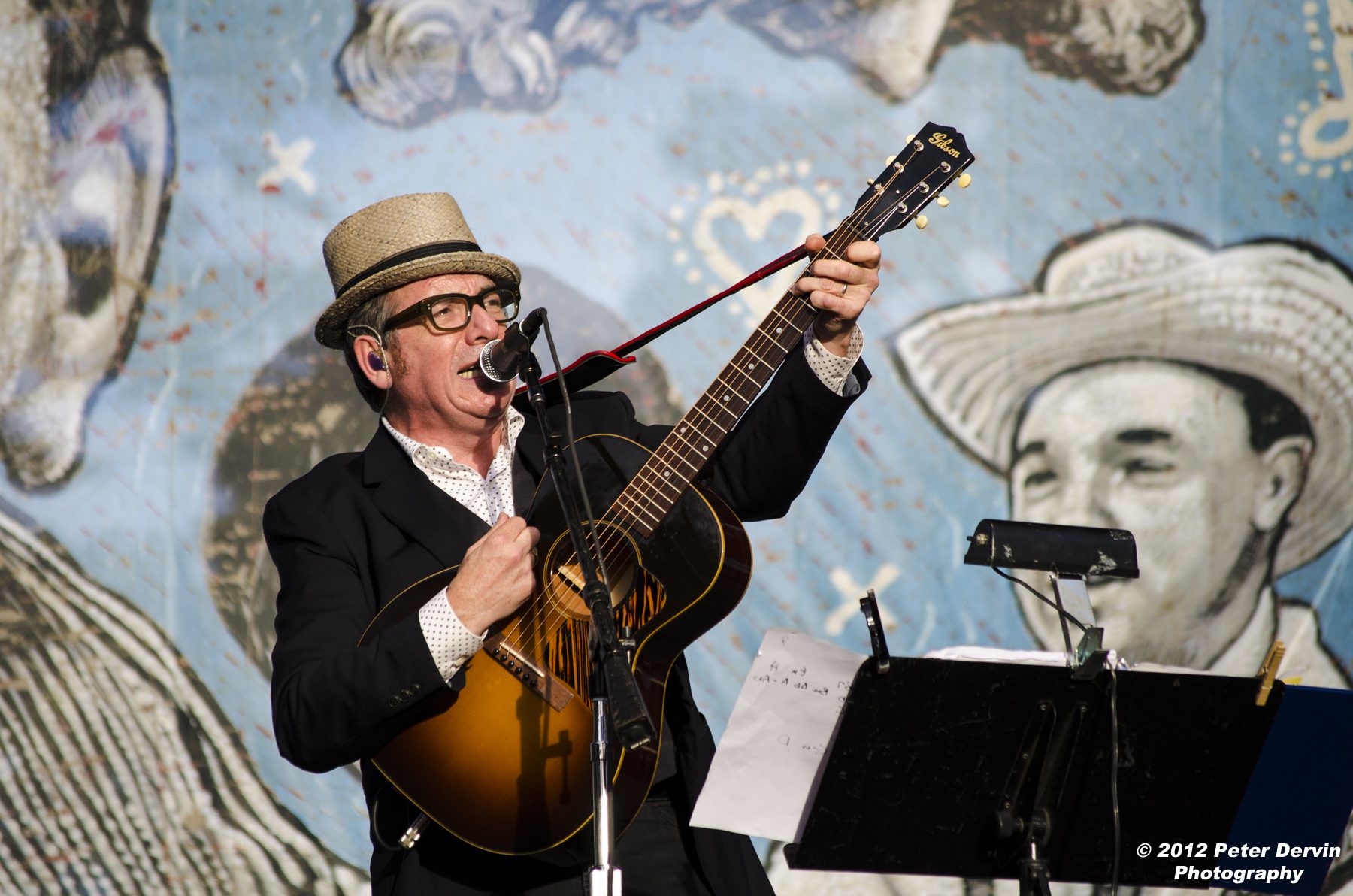 Elvis Costello - Hardly Strictly Bluegrass - Photo by Peter Dervin
Morgan Wallen was a surprise guest of country singer Ernest last weekend at the Grand Ole Opry, and while there was applause in the building, there was a much more negative reaction elsewhere — namely among Black country musicians and their supporters. Wallen, of course, only a year ago was shown on video using a racial slur, and while he promised amends, the amends haven't materialized. You can read a summary of the reactions at The Boot, including from Joy Oladokun, Rissi Palmer, Brandi Carlile, and Jason Isbell. Holly G, creator of the Black Opry website and movement, responded with a letter to the Grand Ole Opry that says Wallen's appearance is "a slap in the face" and not in keeping with the Opry's pledge to create "a safer environment for Black fans and artists and being more inclusive." As of this writing, the Opry has not issued a public response to the outcry, which is perhaps the loudest response of all.
Elvis Costello had a hit in 1979 with "Oliver's Army," but he now says he'd prefer to leave that song — and its problematic lyrics — in the past. The song, about the conflict in Northern Ireland, contains a slur against Irish Catholics he said his grandfather was called in the British army, but people often don't know or understand the historical context, he says. So he's stopped playing it on tour, and in an interview with The Telegraph in the UK, he asked that radio stations stop playing it, too. Read more about the song and Costello's comments via the BBC.
Allison Russell, whose 2021 album, Outside Child, landed at the top of No Depression's Critics Poll (and many other best-of lists), is expanding her powerful storytelling to the book world. She announced this week she's signed a deal with Flatiron Books for a "coming-of-age memoir" that, like the album, address her abusive childhood, her escape from it, and the strength she found in ties to her Black ancestors.
The tough goodbyes just keep on coming this year. The one-of-a-kind Ronnie Spector, lead singer of rock hall of famers The Ronettes, died Wednesday after "a brief battle with cancer," according to her family. She was 78. Read about her remarkable career in this obituary from The New York Times, and put on a Ronettes song or two this weekend. And Michael Lang, co-creator and organizer of the 1969 Woodstock festival (as well as some less-successful follow-ups), died last Saturday at the age of 77 from non-Hodgkin's lymphoma. Here's a remembrance from Variety.
The Austin City Limits Hall of Fame inducted Wilco, Lucinda Williams, and Alejandro Escovedo last October in a ceremony that included performances from those honorees and other talented guests. The celebration was aired on PBS stations last week, and you can stream the entire 90-minute show until Feb. 6 via PBS.org, which includes additional footage. Here's a video from the event of Wilco performing "California Stars" with a few friends, including Escovedo, Jason Isbell, Rosanne Cash, and Margo Price.
Finally, three cheers — or should that be 10? — for our friends at Bluegrass Situation, who are celebrating the site's 10th anniversary this year. Each week for the rest of 2022 they'll be re-sharing some of their favorite "BGS Moments," and they plan to host some special live and virtual events to mark the occasion. Meanwhile, record label Yep Roc is celebrating its 25th year, with new releases, new merch, and other big plans in the works. We're partying right along with y'all, and so happy to have your voices and your views in this great big roots music world.
WHAT WE'RE LISTENING TO
Here's a sampling of the songs, albums, bands, and sounds No Depression staffers have been into this week:
Amythyst Kiah – "Love Will Tear Us Apart" (Joy Division cover)
Allison Moorer – "Wish for You," from her new EP of the same name coming in February
Lucius – "Next to Normal," from their new album, Second Nature, coming in April
River Whyless – "Fast Like a Match"
Lavender Country – 'I Can't Shake the Stranger Out of You," from their new album, Blackberry Rose, coming in February
Frank Turner – "A Wave Across a Bay," a tribute to his friend Scott Hutchison of Frightened Rabbit
Anne Elise Hastings and Her Revolving Cast of Characters – "Twice Married, Twice Divorced"
Jeremy Ivey – "Orphan Child," from his new album, Invisible Pictures, coming in March
Michaela Anne – "Child of Mine" (Carole King cover)
---