No Depression Reviewers and Writers' Favorite Roots Music Albums of 2021
Posted On December 27, 2021
---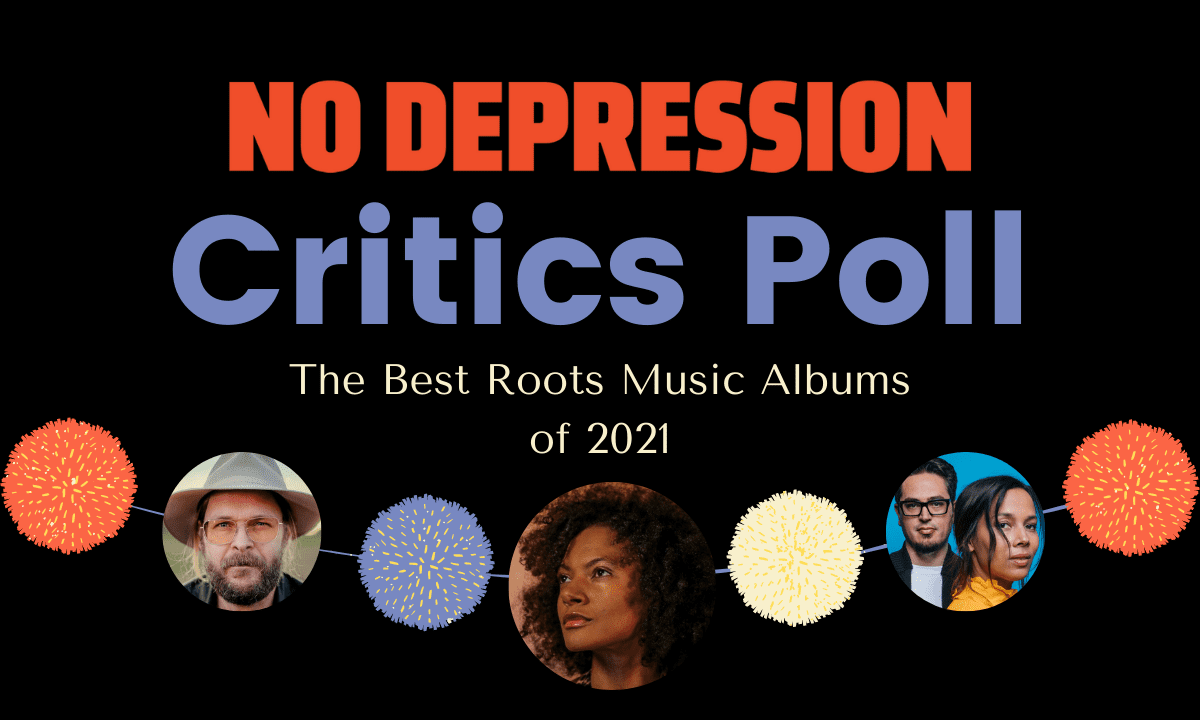 It's no easy task, but every year when it comes time for No Depression's staff and contributors to pick their favorite roots music releases, they knock it out of the park.
As always, there's some overlap with our Year-End Readers Poll results, but not much this year. The top 10 picks on each of our 2021 lists have only one album in common — Allison Russell's Outside Child, which tops the critics list and was tied for 8th/9th place in the readers poll results.
Who's right? We all are. While it's fun to see which albums resonated with the most roots music listeners, the fact is that none of this is fact-based. Both the readers poll and the critics poll are driven by passion, just as they should be — it's music, after all! We hope you'll find something on this list, and the readers poll list, to be passionate about, either for the first time or all over again.
We want to thank the staff and contributors who participated in this poll — their hard work all year long puts these and other great albums on our radar and allows us to think deeply about the music we love. Picking their favorites for this list were No Depression Managing Editor Hilary Saunders, Assistant Editor Stacy Chandler, Ad Manager Sonja Nelson, and FreshGrass Foundation Director Adam Kirr; columnists Henry Carrigan, Chris Griffy, and Amos Perrine; and reviewers and writers John Amen, Lyndon Bolton, Grant Britt, Greg Cahill, Matt Conner, Mike Elliott, Maeri Ferguson, Spencer Grady, Will Hodge, Erin Osmon, Steven Ovadia, Matt Ruppert, Laura Scholz, Jim Shahen, Laura Stanley, Matt Wickstrom, Matt Williams, and Jon Young.
Click the name of the album to read the full ND review or story about the project. And don't miss our playlist of songs from both the readers poll and the critics poll at the bottom of this post!
Allison Russell's first solo album, Outside Child, soars on wings of resilience and redemption, but not before walking through the valley of the shadows of pain and abuse and desolate loneliness. Although Russell bares the pain of the violent abuse she suffered as a child at the hands of her stepfather, she refuses to wallow in the pain or to be buried by it, and these songs are her exultant shout that such circumstances can be transcended. — Henry Carrigan
Recorded during the lockdown at a rural studio near Dublin, Ireland, where Rhiannon Giddens and her partner, Francesco Turrisi, have been riding out the pandemic, They're Calling Me Homeis, without reservation, her finest work to date. Intimately recorded and emotionally accessible, it is a near perfect album in which the diversity of Giddens' musical interests coalesces to fulfill the promise hinted at in everything she has recorded up until this point. — Doug Heselgrave
Writing songs through 2020, M.C. Taylor eventually assembled his beloved band last summer to record Quietly Blowing It. The result is the kind of golden, homespun twang-soul we've come to find so comforting from Hiss Golden Messenger, warmed up with touches of saxophone, mandolin, Wurlitzer, and a bit of synth. That unmistakable Hiss groove you can't help but sway to, the one that makes you want to grab a loved one and dance barefoot in the dirt, is present all over these songs. — Maeri Ferguson
Victoria tells about the South from the perspective of Black women in a collection of mesmerizing songs that traverse the rawness of Hill Country blues, the country soul of Memphis, the urban rap of Atlanta, the spiraling layers of folk blues, and the sultry languor of smoky jazz. The songs unfold with a brutal intimacy and a steely energy that tells about Victoria's own South and the deliberate acts of injustice that characterize the too-often accepted story of the South foisted upon history by white men. — Henry Carrigan
The songs on Wary + Strange speak loud, proud, and direct, with Kiah expressing herself as a Black American queer woman to her listeners and to her peers. At times the record sounds more blues; at others, more rock. But from start to finish it sounds like Amythyst Kiah, which is the best accomplishment of all. ­— Andy Crump
Blue Heron Suite has flown along a different path than Jarosz usually takes to an album. It's the result of a commission from the FreshGrass Foundation (the nonprofit organization that publishes No Depression) in 2017 that simply challenged her to create. Her mother was undergoing treatment for breast cancer, and in dealing with the difficult emotions surrounding that, Jarosz found herself thinking a lot about family, childhood memories, and moments that she carries in her heart. — Stacy Chandler
There is no denying Yola's shine, including on the album's cover, where she's raising a fist to the sky (art directed "by yours truly," she says), her stare piercing and empowered. "I am so hella proud of this record, every contribution was exemplary," she adds. "I want people to have this artwork in their hands, I want people to have the vinyl in their hands. I want people to be able to go away with it and live with it." — Maeri Ferguson
Tasjan! Tasjan! Tasjan! is a vibrant, colorful exploration of the self. It introduces us to a new version of an artist whose very aim in his art has always been reinvention. He's been the bedazzled rhinestone cowboy; the derby hat-wearing, suited-up rocker; and now he's onto his most profound identity yet: himself. — Maeri Ferguson
Valerie June says she's always been a dreamer. On her new album, The Moon and the Stars: Prescriptions for Dreamers, she fully embraces her own dream of making music and dispenses songs that help listeners light their own paths and discover their own dreams, whatever they might be. — Henry Carrigan
With Pohorylle, Cilker appears in front of us wholly herself, seeming to say like it or lump it. And thanks to a honeyed, lived-in voice filled with all its cracks and creaks, a bit of twang, and the occasional wink and smile, we really, really like it. — Maeri Ferguson
Hailing from Woodbridge, Virginia, Williams was first inspired to pick up the guitar because of her love of the video game Guitar Hero. Today, her playing style — which blends fingerstyle techniques and lap-tapping — is uniquely captivating, and on Urban Driftwood, alongside the sounds of a kora, kalimba, and hand drums, it helps make the record feel fun, inquisitive, and comforting. — Laura Stanley
As the title of her new album indicates, this moment has been a Long Time Coming for Sierra Ferrell. Growing up, she loved listening to music and singing, but she never really considered it as a career path. But over the past few years she's been steadily building a large fan base, and with her first major label release, she's put together a group of songs she's excited for people to hear. — Henry Carrigan
Though McMurtry spends little time worrying about his identity, it's clear that he will forever be celebrated as an inimitable songwriter. Whether he's a "road dog" or, in the pandemic era, a YouTube livestreamer, it's his writing that sets him apart from nearly everyone around him, and that gift reaches new heights on The Horses and the Hounds. — Chuck Armstrong
I've spent a lot of time listening to Le Ren (Lauren Spear)'s Leftovers while knitting a blanket for my childhood friend's baby. The more I listened to the Montreal-based singer-songwriter's debut LP, the more my knitting-filled listening sessions felt like kismet. Because on Leftovers, Spear touches on friendship, love, and motherhood — the very qualities helping to fuel my blanket making. — Laura Stanley
Little Oblivions, Baker's third full-length solo record and first since 2017, finds the singer-songwriter exploring a more textured instrumental terrain, with big, decadent arrangements behind that signature rip-your-heart-out voice. Baker's sound has always been big thanks to that voice, but with Little Oblivions, the experience of hearing her is fully immersive, with keys, drums, and guitars giving her songs a louder, more cinematic scope. — Maeri Ferguson
Don't be fooled by the folksiness early on in John R. Miller's Depreciated. The album casually saunters towards a full existential breakdown that'll leave you gasping for air. A native of the Shenandoah Valley, Miller channels nearly every strain of country, rock, and roots you can think of into an interrogation of transience, belonging, and home. — Rachel Cholst
Hours before David Olney passed away onstage in January 2020, he listened for the first time to the final mix of Whispers and Sighs, his forthcoming album with emerging artist Anana Kaye. His response? "Fuck, yeah! This is good!" Olney's enthusiasm for the record was well placed; Whispers and Sighs is a lush and ambitious artistic expression of darkness and isolation, but hints of optimism glimmer atop orchestral instruments throughout. — Skip Anderson
Integrating tapping techniques that he learned by watching videos of Eddie Van Halen on YouTube as well the tones and traditions of Niger guitarist and composer Abdallah Ag Oumbadagou helped solidify Moctar's complex sound. And combined with an interest in the taping culture of jambands like The Grateful Dead, Moctar has become one of the most exciting musicians in the region to explore his native roots music and challenge his place in a global setting. — Hilary Saunders
Billy Strings and his band continue to show the direction bluegrass can go, offering multiple paths full of promise, beauty, and explosive joy. Renewal will assert to new listeners what his fans already know: Billy Strings is a singular talent pushing his genre into new territory. — Matt Ruppert
20. The War on Drugs – I Don't Live Here Anymore
(We didn't review this one. But here's a review from NME.)
---