BONUS TRACKS: MerleFest Moments, The Rock Hall of Fame, and Remembering Naomi Judd
---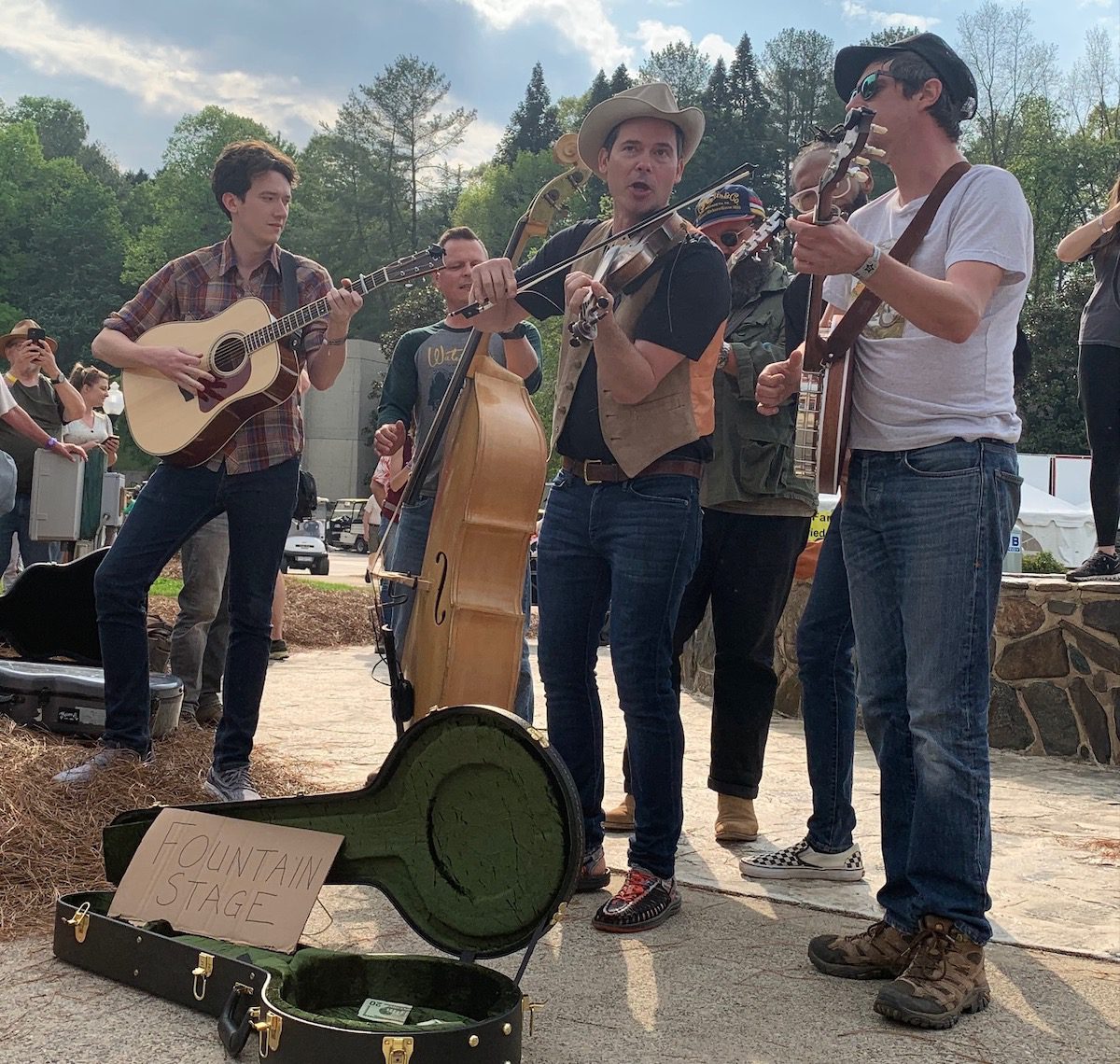 Old Crow Medicine Show surprises MerleFest by busking in a spot they dubbed the "Fountain Stage" Saturday afternoon. (Photo by Stacy Chandler)
It's been a loooooong week as I try to get back in the swing of real life after four days at MerleFest in western North Carolina. This was my 21st year at the fest, and as always, it brought a great mix of old favorites and new discoveries. In the latter category, for me, were Damn Tall Buildings and The Arcadian Wild, and while Rissi Palmer, Durand Jones and the Indications, Colin Hay, Shay Martin Lovette, and Caleb Caudle were already in my ears, it was delightful to get to see them live for the first time. Making this MerleFest extra special was an impromptu Saturday afternoon busking set from Old Crow Medicine Show, a tribute to the moment two decades ago when Doc Watson saw them busking there and started them on the trajectory that finds them headlining the fest now. For more great moments from MerleFest, check out Amos Perrine's Through the Lens column and photo gallery from earlier this week.
Just as I was leaving Old Crow's busking set Saturday afternoon, my phone alerted me to the sad news of Naomi Judd's passing. I didn't listen to much country music as a kid in the '80s (that would change in the '90s), but The Judds were everywhere, and I loved them then and still love them now. This tribute to Naomi from NPR places her in a long line of mothers in country music, this one a real-life figure who navigated hard times but always put love first. The Judds were inducted into the Country Music Hall of Fame last Sunday, one day after Naomi's death.
The Rock & Roll Hall of Fame announced its class of 2022 inductees this week, and despite her stated wishes, Dolly Parton is among them. Ballots had already been mailed out by the time she requested to bow out of consideration, and voters apparently couldn't resist handing her the honor. Dolly being Dolly, she's rolling with it gracefully. "I'm very honored and humbled by [the induction]," she told Billboard, "and so I'll try to live up to it." She also told the magazine that her next album might involve a tribute to some of her favorite rock and rollers, including The Rolling Stones. Joining Parton in the performer category of the new class of Rock & Roll Hall of Fame inductees are Pat Benetar, Duran Duran, Eminem, The Eurythmics, Lionel Richie, and Carly Simon. Elizabeth Cotten will be honored with an Early Influence Award. Read the full list of inductees in this article from Variety.
PBS North Carolina launched a new limited series this week that follows rising roots music duo Chatham Rabbits as they navigate the personal and professional challenges of making their way in the music world. On the Road With Chatham Rabbits takes us backstage, in the van, and on the family farm with married duo Austin and Sarah McCombie. The show will air on Thursdays on PBS stations in North Carolina and is available elsewhere online and via the PBS Video app.
Today is Bandcamp Friday, and to sweeten the deal even more, Merge Records is likewise directing 100% of sales to its artists — and matching the total sales for a donation to the Carolina Abortion Fund, which provides support to people in North and South Carolina who need to access safe abortion care. You can find a list of Merge artists on Bandcamp here.
WHAT WE'RE LISTENING TO
Here's a sampling of the songs, albums, bands, and sounds No Depression staffers have been into this week:
The Muslims – "Fuck These Fucking Fascists"
Golden Shoals – "Going Down, Down, Down"
Clint Roberts – "Jeremiah," from his new EP, Holler Choir, coming next week
Marlon Williams – "My Boy"
Dr. John featuring Lukas Nelson and Promise of the Real – "I Walk on Guilded Splinters," from Things Happen That Way, the album he was working on before he died in 2019, coming in September
Stillhouse Junkies – "Colorado Bound," from their new album, Small Towns, coming in September
AC Sapphire – "Stick and Poke Tattoo"
Daniel Sherrill – "Fortune"
Wesley Dean – Gaslighter
Iron & Wine – Ghost on Ghost
Silvana Estrada – Marchita
Helado Negro – Far In
Kelsey Waldon – "Sweet Little Girl," from her new album, No Regular Dog, coming in August
---