BONUS TRACKS: Joni Mitchell's 'Blue' at 50, Plus a Meeting of Roots Music and Metallica
---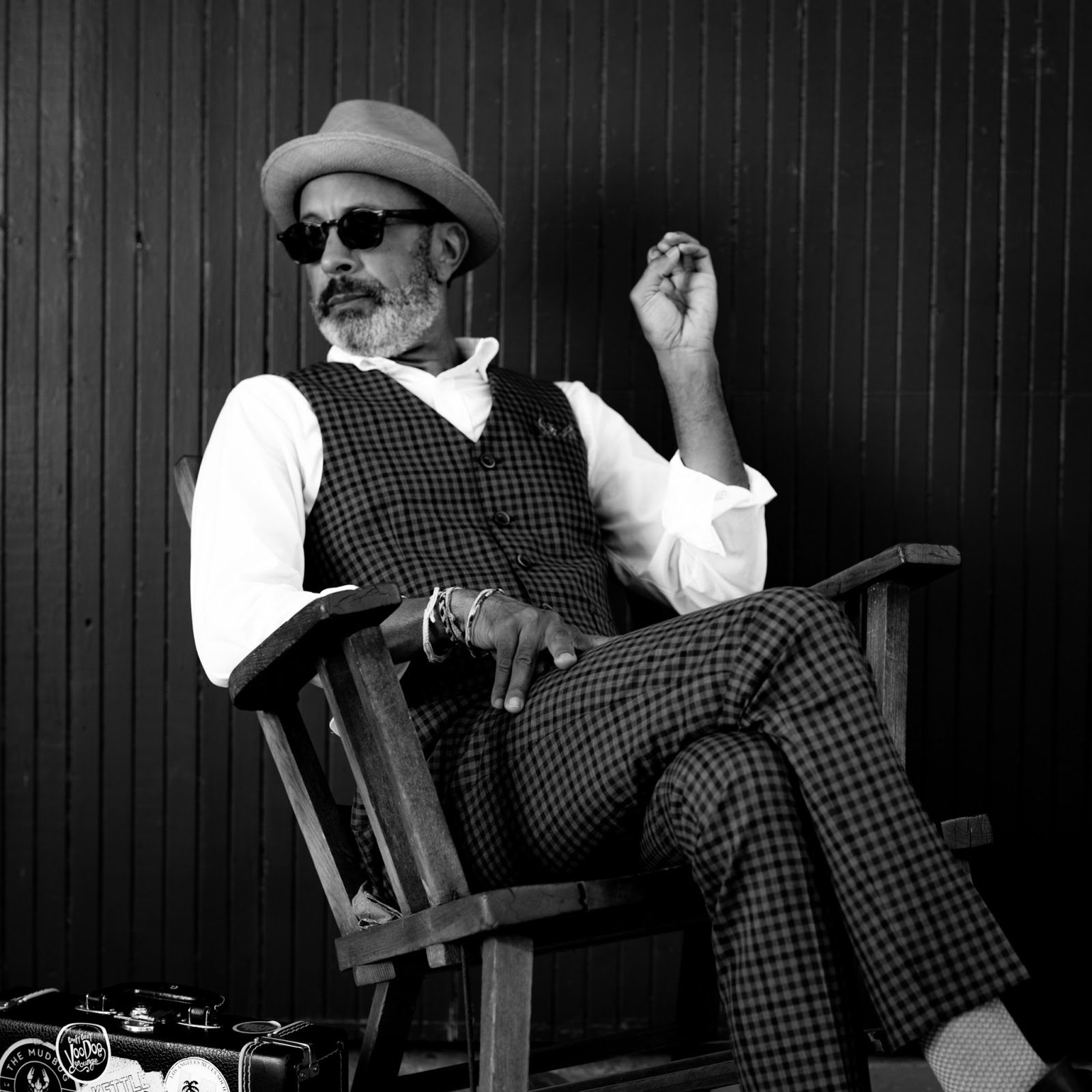 The Reverend Shawn Amos (photo by Fred Siegel)
The Reverend Shawn Amos has launched a new podcast titled The Cause of It All, which features conversations with other musicians about "race, legacy, and the blues." The title is shared with that of his latest album (ND review), and both projects highlight Amos' blues touchstones and celebrate blues as a culture as much as a musical form. Season 1 of the podcast finds Amos talking with Alex Dixon, grandson of blues legend Willie Dixon, and Zakiya Hooker, daughter of John Lee Hooker, who talks about how her father shielded her from racism as a child. Other episodes feature Vaneese Thomas, daughter of Rufus Thomas, who speaks on the role of Black women in the music business, and John Hammond, son of record executive John Hammond Sr.
Joni Mitchell's landmark album Blue celebrated its 50th anniversary this week, and The New York Times put together an interactive package of words, images, and sounds to mark the occasion. Twenty-five musicians wrote about what Blue means to them, including James Taylor, Brandi Carlile, Arlo Parks, Rosanne Cash, Bonnie Raitt, Chaka Khan, and Graham Nash, with their responses woven into a conversation that follows the flow of the album's songs. Whether it's your first time hearing Blue or your thousandth, you're bound to learn something new. Mitchell herself chimed in on the celebration with a short video on social media expressing appreciation for the "positive attention that Blue is receiving these days."
It's not often we get to write about Metallica here at No Depression, but a perfect opportunity has arrived with the announcement of The Metallica Blacklist, a new project that hands the mic to 53 artists in about as many genres to interpret their favorite song from the band's self-titled blockbuster — known to fans as The Black Album — as it hits its 30th anniversary (I know). You can peruse the list of contributors and songs here, but highlights from the roots world include Jason Isbell and The 400 Unit on "Sad But True"; Chris Stapleton, Phoebe Bridgers, Mickey Guyton, and My Morning Jacket each with their own takes on "Nothing Else Matters"; and Rodrigo y Gabriela on "The Struggle Within." Profits from the Blacklist, which comes out digitally Sept. 10 and on vinyl and CD Oct. 1, will be split between Metallica's All Within My Hands foundation and the charity of each contributing artist's choice.
The first half of 2021's two-part Record Store Day, on June 12, was a smashing success, breaking the sales record (not literally!) for any Record Store Day week and marking the third-largest week for vinyl sales since one major data source started tracking in 1991. The first vinyl pressing Prince's The Truth album was the top seller, followed by Rage Against the Machine's The Battle of Mexico City live album and Angel Dream: Songs and Music from the Motion Picture "She's the One" from Tom Petty and The Heartbreakers. Dig into many more stats and the full list of top sellers from the June Record Store Day 2021 drop in this article from Billboard, and check out No Depression's list of roots music RSD offerings to get ready for Round 2, on July 17.
WHAT WE'RE LISTENING TO
Here's a sampling of the songs, albums, bands, and sounds No Depression staffers have been into this week:
Lucy Dacus – "VBS"
Amythyst Kiah – Wary + Strange
Hiss Golden Messenger – Quietly Blowing It
K.C. Jones – Queen of the In Between
Our Native Daughters – Songs of Our Native Daughters
Joshua Henry – "Hold Me"
Tim Easton – "You Don't Really Know Me," from his new album of the same name, coming in August
Tré Burt – "Sweet Misery," from his new album, You, Yeah You, coming in August
---