BONUS TRACKS: Bluegrass Mourns Trailblazers Bobby Osborne and Jesse McReynolds
---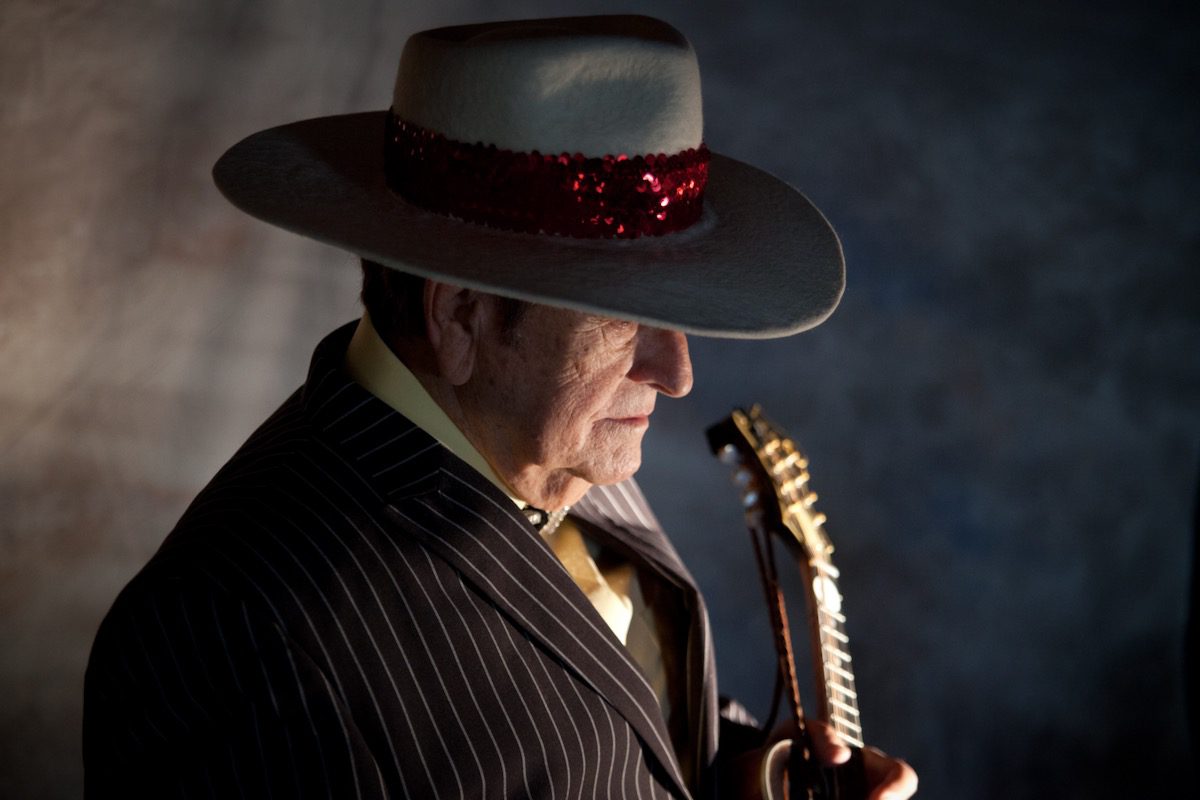 Bobby Osborne (photo by Stacie Huckeba)
It's been a hard week for bluegrass artists and fans, as two of the genre's early icons have passed away — both mandolinists, innovative vocalists, and known in part for their work as brother acts.
Jesse McReynolds, who died last Friday at the age of 93, played mandolin and sang with his brother in a duo called Jim & Jesse. That group introduced a smoother style of harmony and instrumentation than early bluegrass had popularized. Sometimes they'd add electric and steel guitar to their performances, and in 1965 they released an album of 'grassed-up Chuck Berry covers. Jesse was known both for his cross-picking technique, which echoed Scruggs-style banjo rolls, and for a string technique that involved holding down one string in the mandolin's paired sets to coax out more notes. Read more about Jesse and his influence on players and singers down through the generations in this obituary in The New York Times.
On Tuesday we lost Bobby Osborne at the age of 91. He was best known for his work with seminal bluegrass band The Osborne Brothers with his brother, Sonny. That duo was the first on the national scene to add drums, electric bass, and electric pickups on their instruments, bridging their genre with others, like country and rock. They also introduced three-part vocal harmonies. "Rocky Top" is by far their best-known song, as well as "Ruby, Are You Mad?" Bobby kept performing after Sonny retired from performing in 2005 (Sonny died in 2021), performing and recording solo and with his son, Bobby Jr. His last solo album was 2017's Original, which you can read more about in this excerpt from No Depression's Spring 2018 journal. Osborne had been scheduled to perform at the International Bluegrass Music Association's Bluegrass Live! festival this September with Po' Ramblin' Boys. Read more about Osborne's life and music in this obituary from The New York Times.
Whether or not you do it for a living, or even if you're any good at it, it just feels good to sing with other people. Maybe it's the national anthem at a sporting event, a hymn in church, or a fan-favorite song at a concert. Doctors and scientists are backing that feeling up with data, finding that singing with others really does have mental and even physical benefits. Read more in this story from The Washington Post.
Singer-songwriter Nanci Griffith's death two years ago was met with grief across the music community, from artists and fans alike. In this, the year she would have turned 70, two projects aim to bring her songs and voice back to the spotlight. A four-disc box set titled Working in Corners reissues four of Griffith's earliest albums, which have been out of print: 1978's There's  a Light Beyond These Woods, 1982's Poet in My Window, 1984's Once in a Very Blue Moon, and 1986's The Last of the True Believers, which was nominated for a Grammy. The set, to be released Sept. 8 via Rounder Records and Craft Recordings, will also feature rare photos and liner notes by music writer Holly Gleason and producer Jim Rooney. That will be followed up Sept. 22 by More Than a Whisper: Celebrating the Music of Nanci Griffith, a collection of Griffith's songs performed by artists who admired her, including Emmylou Harris, Lyle Lovett, Steve Earle, Billy Strings, and Iris DeMent, and a performance of "Love at the Five & Dime" from the late John Prine and Kelsey Waldon. Proceeds from More Than a Whisper will go to Cumberland Heights, a Nashville nonprofit assisting those with drug and alcohol addiction. You can learn more about both of these releases via Craft Recordings.
Sheryl Crow performed on stage at Bonnaroo earlier this month, but that's not the only place she made music. She also rollerbladed through the grounds, serenading the crowd with an accordion and singing a few of her hits. Read more about the moment — and for sure don't miss the video — in this story from Consequence. And may we all carry that energy into the Fourth of July weekend.
WHAT WE'RE LISTENING TO
Here's a sampling of the songs, albums, bands, and sounds No Depression staffers have been into this week:
Mightmare – "Can't Get What I Want"
Viv & Riley – "Kygers Hill," from their new album, Imaginary People, coming in September
Flatland Cavalry – "Last American Summer"
Authentic Unlimited feat.Jerry Douglas– "Fall in Tennessee"
Teddy Thompson – "A Picture of Me Without You" a cover of the George Strait hit from Thompson's new album, My Love of Country, coming in August
Rodrigo y Gabriela – In Between Thoughts … A New World
Arlo Parks – My Soft Machine
Silva & Steini – "If It Was"
Remember Sports – Sunchokes
Etran de L'Aïr – Agadez
Cut Worms – "I'll Never Make it"
The Widow Cameron – "The Mirror"
Nina Nastasia with Marissa Paternoster – "This Is Love"
The Swell Season (Marketa Irglova and Glen Hansard) – "The Answer Is Yes"
---