50 STATES OF FOLK: How Bluegrass Got Its Three-Part Harmony By Way of Ohio
---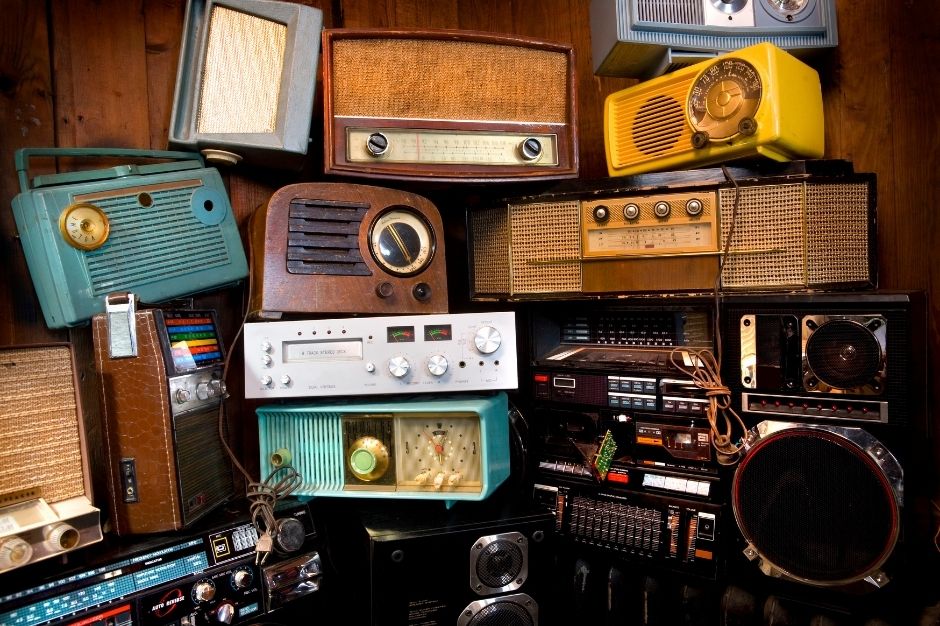 Photo by jimeone / Getty Images
When you think "bluegrass," your first thought probably isn't "Cleveland." Or, to get a little bit more metaphorical, your first thought probably isn't "industrialization" and "urban centers." But maybe it should be.
Despite how old bluegrass feels, it is fundamentally a young genre, and one that could only have succeeded due to the technological and social developments that existed at the time of its inception in the 1940s. And nowhere embraced and embodied those developments more than the near-Appalachian rust-belt state of Ohio.
Pre-Broadcast Era
Prior to the invention of radio, rural Southerners didn't have the technology to just listen to music on demand, nor did they have the resources to support full-time concert halls like those in city centers and on college campuses. Because of this, the commercial music industry prior to the 1920s focused primarily on what urban consumers wanted — sheet music and phonographs — and spurned the music of rural and Southern people as low-brow.
This meant that the traditional music of Appalachia was largely a community activity rather than a commercial one, with music being shared at events like dances and weddings rather than being viewed as a career venture. This community-mindedness helped to enforce some of the identifying characteristics of the genre: Namely, that it couldn't be played faster than people could dance.
Radio and the Birth of Listening Music
All that changed with the invention and popularization of a brand new technology: radio. Before the invention of radio, there was no point in trying to press phonographs of stringband music or publish sheet music of old British ballads. It was too expensive to transport it into the diffuse rural communities of the South, so it wasn't worth the time of the commercial music industry.
But with the invention of broadcast technology, the music of rural Southerners suddenly became marketable. The ability to broadcast gave regional forms of music a brand-new power in the world of commercial music. Local stations carried the music that their communities wanted to hear. All of a sudden rural Southern people, including those who had migrated north in search of well-paying factory jobs, could listen to their music whenever and wherever they wanted.
This also meant that some of the existing limitations on the genres and traditions of rural Southern music disappeared. With the invention and popularization of radio as a form of technology, music no longer was beholden to the speed of feet at a dance.
Listening to music is fundamentally different than dancing to it. It's an entirely different medium, and there are different skills necessary to shine. No one understood this better than Bill Monroe.
Having grown up deep in the heart of the Southern musical tradition, Monroe himself traveled north as a young man and took a job at an oil refinery with his brothers Birch and Charlie. It was there he was introduced to industrialism and the idea of listening music.
With his brother Charlie, Bill Monroe would first play local dances and house parties, eventually moving on to performing live on radio stations in Indiana, Iowa, Nebraska, and the Carolinas. He had a knack for the medium — with his deep familiarity with the sounds of the South, his virtuosic ability on the mandolin, and his personal flair and desire to impress, Monroe drove up the tempo in even his earliest recordings with Charlie as The Monroe Brothers in 1936.
It was something wholly new, something that couldn't exist outside of the new technology that it landed on. It was captivating and exciting to listen to — it made him a hit.
The Osborne Brothers and Ohio Bluegrass
Almost as soon as Bill Monroe started broadcasting on the radio, there were musicians following in his footsteps. Some of the earliest adopters of what would come to be known as bluegrass were The Osborne Brothers of Ohio.
Ohio was a popular place for Appalachian migrants to land. It was physically closer to home than other urban centers, like Chicago or Detroit, which made it easier for young laborers to go home during the off season. Plus, there was work to be done there.
So when the first radio stations were being built across the country, Ohio was a natural place to be broadcasting the sounds of home for these workers.
Bobby and Sonny Osborne, whose family originally hailed from Kentucky, were raised in the same musical traditions Monroe was. When the first strains of bluegrass started being broadcast on the radio, it was a natural fit for Bobby and Sonny to go out and start playing it too.
Bobby, the senior of the brothers by six years, got his start in 1949 with his band The Lonesome Pine Fiddlers. Sonny joined the band one year later at the age of 13. A year after that, Bobby was drafted into the Marines to serve in the Korean War, and Sonny went to work for Monroe at the Grand Ole Opry.
After Bobby's return, The Osborne Brothers reunited, shifting between a couple of cities and band configurations before landing back in Dayton, Ohio, eventually culminating in the debut of their first hit single "Ruby Are You Mad," first introduced to the public in a live performance on WPFB in Middletown, Ohio. That performance would lead to their first recording deal with MGM Records, which would open up the rest of their careers.
The Osborne Brothers and Red Allen would all go on to have successful careers, with more than their fair share of hit songs between them (yes, including that one). But the thing that would set them apart from their predecessors in Monroe's band, and what would go on to shape the whole industry, is their keen focus on tight vocal harmonies — particularly, the three-part harmony that is now considered iconic to bluegrass music.
Prior to The Osborne Brothers, three-part harmonies had been considered largely incidental to bluegrass. With the earliest origins of the music being dance music and the brother harmonies of Bill and Charlie Monroe, it's not necessarily surprising that those first few bands didn't mess with three-part harmonies that much. They had the hard-driving rhythms and high tenor singing — what more could you ask for?
But remember: This is listening music. And three-part harmonies are delightful to listen to.
So it was the musicians out of Ohio, particularly The Osborne Brothers and Red Allen, who popularized the much more aesthetically interesting singing style of three-part harmonies, with no one voice overpowering any of the others (unlike, say, Bill Monroe, whose high tenor was so overpowering it literally defines the genre). One of the earliest examples of this can be heard in the 1958 recording of "It Hurts to Know," by The Osborne Brothers and Red Allen.
This style of balanced harmonies has been hugely influential to what we now think of as bluegrass, with everything from amateur jam circles to '90s mash bands to genre-hopping progressive bluegrass and everything in between being defined by the quest for the tightest, most balanced harmonies musicians can muster. And it can largely be credited to the medium of radio, the accessibility and innovation to vernacular music that it provided, and the pioneering musicians of Ohio that popularized it.
NOTE: The author of this piece benefited tremendously from reading Industrial Strength Bluegrass: Southwestern Ohio's Musical Legacy, edited by Fred Bartenstein and Curtis W. Ellison, to learn about the history of the region, the technological developments that defined the region's music, and the individuals who created it. This column is just an introduction to a truly rich subject; much more information can be found in the book (ND review). You can also listen to more bluegrass from Southwestern Ohio in this compilation album.
Enjoy this playlist of bluegrass songs that have roots in Ohio's harmony heritage.
---