Americana Boogie music releases for the week of Oct. 23rd… Kasey Chambers & Shane Nicholson, Lily Hiatt, Gary Clark Jr., The Lee Boys…
Posted On October 23, 2012
---
Here's the best Americana and roots-type music releases for the week of October 23rd, 2012 from Americana Boogie. Click the artist or album links to find out more. The artist's names link to their websites and the CD title links go either " target="_blank">Amazon or CD Baby for easy ordering. Also check out the Freight Train Boogie podcasts featuring mostly songs from new Americana releases. Playlists with players and iTunes links are posted at FTBpodcasts.com.
KASEY CHAMBERS & SHANE NICHOLSON
Wreck & Ruin(Sugar Hill)
Together, the Australian husband and wife duo released 2008's critically acclaimed, Rattlin Bones. The new album, Wreck and Ruin, picks up where the last one left off with another collection of hard-hitting acoustic-driven songs. Purchase the Deluxe Edition and get 5 additional tracks.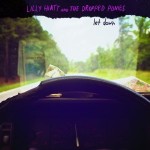 LILLY HIATT & THE DROPPED PONIES
Let Down(Normaltown)
Produced by Doug Lancio (Patty Griffin, Gretchen Peters), the album sounds quite mature for a debut. Her songwriting is also above par, it probably doesn't hurt that her father's one of the best around. "My dad definitely serves as one of my biggest inspiration. I draw from his music." The album features some twangy Americana and hard rockin' tunes as well.
Also new this week… 
GARY CLARK JR. – Blak and Blu (Warner Bros.)
SAM DOORES + RILEY DOWNING & THE TUMBLEWEEDS – Holy Cross Blues (Dollartone)
THE LEE BOYS – Testify (Evil Teen)
DONNA ULISSE – All The Way To Bethlehem  (Hadley Music)
Coming out soon… NEIL YOUNG & CRAZY HORSE, ANDREW BIRD, NU-BLU, PAUL KELLY, NELS ANDREWS … more new releases
Here's a link to this week's Americana Music Association Americana Airplay Chart
Bill Frater
Freight Train Boogie
---