Americana Boogie Music Releases for the week of August 28th include Caroline Herring, The Flatlanders, Wood Brothers, Robert Cray and more…
Posted On August 29, 2012
---
Here's the best Americana and roots-type music releases for the week of August 28th, 2012 from Americana Boogie. Click the artist or album links to find out more. The artist's names link to their websites and the CD title links go either " target="_blank">Amazon or CD Baby for easy ordering. The Freight Train Boogie podcasts feature mostly songs from new Americana releases. Playlists with players and iTunes links are posted at FTBpodcasts.com.
THE FLATLANDERS
The Odessa Tapes  (New West)  (CD+DVD)
Thought lost for nearly 4 decades, The Odessa Tapespristine recordings capture without any polish the special blend of country, folk, roots and cosmic energy of The Flatlanders, (comprised of Joe Ely, Jimmie Dale Gilmore and Butch Hancock). The 14 songs recorded on reel-to-reel tape arguably marked the birth of alternative country music. A DVD featuring a candid new interview with The Flatlanders discussing the myths of the early days of their career and booklet with unreleased archival photos will round out this deluxe package.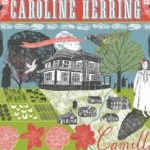 CAROLINE HERRING
Camilla  (Signature Sounds)
Herring has created her most profound album yet, a collection of ten complex, modern, tradition-influenced compositions about love and hate and everything in between. Since her debut in 2001, Herring has gained a devoted following and has been embraced by tastemakers like NPR, Oxford American and A Prairie Home Companion. "I feel braver on this album, and I feel it represents me wholly," she says. The Herring sound is one that is both achingly ancient and decidedly modern.
Also new this week…
AMY COOK – Summer Skin  (Root House)
ROBERT CRAY – Nothin' But Love  (Mascot)
RICK HOLMSTROM – Cruel Sunrise  (M.C.)
MAGIC SLIM & THE TEARDROPS – Bad Boy  (Blind Pig)
THE ROYS – New Day Dawning  (Rural Rhythm)
MAIA SHARP – Change the Ending  (Blix Street)
JERRY JEFF WALKER – Live From Dixie's Bar & Bus Stop  (May6 Entertainment)
THE WOOD BROTHERS – Live Volume 2: Nail & Tooth (Southern Ground Artists)
Coming out soon… HOUSTON MARCHMAN, MALCOLM HOLCOMBE,THE AVETT BROTHERS, CHRIS KNIGHT, KATHY MATTEA, STEVE FORBERT, BOB DYLAN, JIMMY LaFAVE, RYAN BINGHAM, CALEXICO … more new releases
Here's a link to this week's Americana Music Association Americana Airplay Chart
Bill Frater
Freight Train Boogie
---