Alt-Country: Where Did It Come From and Where Is It Going?
---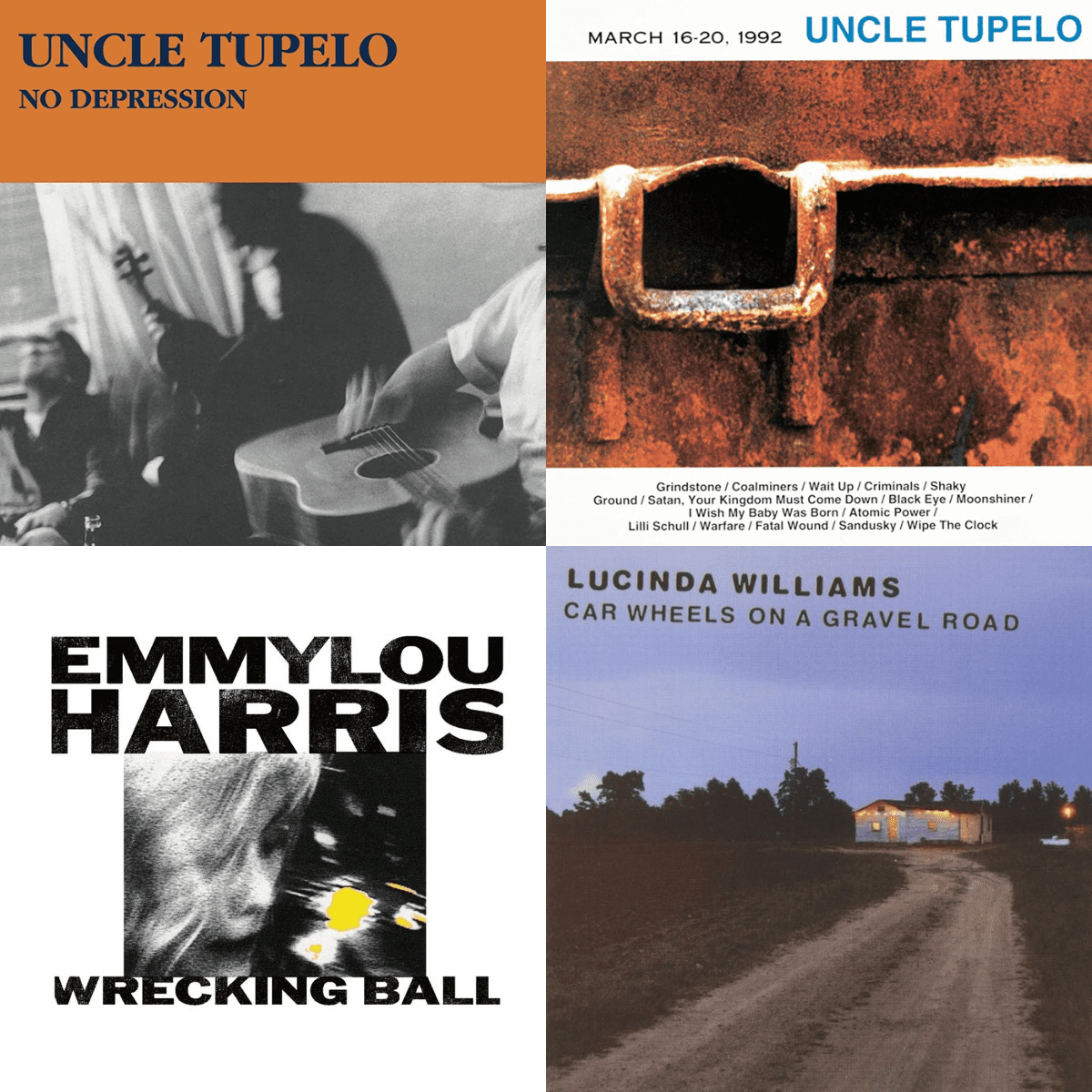 As is the case with country subgenres, alt-country emerged from a collision of styles. A story with many disputed beginnings, the most prominent influences on alt-country were outlaw country and punk rock. One of many subgenres that emerged as a reaction to the slick countrypolitan sound prevalent in Nashville and on the country charts in the 1970s and '80s, outlaw country was built on nonconformity. Punk was starting to take hold at around the same time and with a similar nonconformist philosophy, stripping away production to find the roots. The stark poeticism of singer-songwriters in the outlaw country tent — like Townes Van Zandt, Steve Earle, and Merle Haggard — and the abrasive lo-fi sound of punk came together to form alt-country.
 It is widely accepted that Uncle Tupelo's 1990 debut "No Depression" is the alt-country album. It's an album so important to the alt-country movement that it was part of the inspiration for the title of this very roots music journal, initially an online forum for fans of the subgenre and now a source for music album reviews, interviews, and more. The phrase "No Depression," taken from the Carter Family song "No Depression in Heaven," was used interchangeably to refer to the alt-country genre.
Any doubt about Uncle Tupelo (and alt-country)'s place in American roots music was ultimately cast aside with Uncle Tupelo's third release, March 16-20, 1992. Produced by R.E.M. guitarist Peter Buck, it was a roots music album of both covers and originals and sold more copies than the band's first two releases combined. After Uncle Tupelo's breakup in 1994, drummer Mike Heidorn and guitarist and singer Jay Farrar formed Son Volt, while guitarist/vocalist Jeff Tweedy and the remaining members of Uncle Tupelo formed Wilco. Both bands found success in alt-country, though Wilco has received more mainstream attention.
The alt-country movement didn't pop up all at once — it was a sound that had been brewing under the surface for a while. It can be argued that the rumblings of alt-country truly began in the 1970s with Gram Parsons (The Byrds, The Flying Burrito Brothers); music journals and magazines have quoted Jeff Tweedy citing Parsons as an influence on his early writing. The Mekons are also often highlighted by modern alt-country bands as an influence from the punk side of the spectrum, known for borrowing elements from country and folk. Mekons guitarist John Langford eventually started The Waco Brothers, a group that fully embraced the alt-country sound.
Emmylou Harris made her name in music as a gifted folk singer-songwriter, though her 1995 album Wrecking Ball is seen as one of alt-country's finest. It was considered a left turn from her previous work, but Wrecking Ball won the former Gram Parsons collaborator a Grammy for Best Contemporary Folk Album.
Though she had been releasing music that pulled from blues, folk, and country since the beginning of her career in the late 1970s, roots icon Lucinda Williams gravitated toward rock as her career continued. Her 1998 album Car Wheels on a Gravel Road, featuring Steve Earle and Emmylou Harris, is another top alt-country album.
Like with all American roots music, the sound of alt-country is constantly changing. Today, artists like Jason Isbell, Margo Price, Old 97s, The Avett Brothers, and countless others are moving the subgenre into the future, while many of the earliest artists in that sound are still releasing music. Here is a list of suggested albums — inspirations, staples, and newcomers — to explore as you journey into alt-country:
The Mekons – Fear and Whiskey
Uncle Tupelo – No Depression
Uncle Tupelo – Still Feel Gone
Uncle Tupelo – March 16-20, 1992
Uncle Tupelo – Anodyne
Son Volt – Trace
Wilco – Being There
Wilco – Yankee Hotel Foxtrot
The Jayhawks – Hollywood Town Hall
Lucinda Williams – Car Wheels on a Gravel Road
Emmylou Harris – Wrecking Ball
Camper Van Beethoven – Telephone Free Landslide Victory
Old 97's – Too Far to Care
Drive-By Truckers – Decoration Day
The Bottle Rockets – Brooklyn Side
Blue Mountain – Dog Days
Whiskeytown – Strangers Almanac
Gillian Welch – Revival
Alejandro Escovedo – A Man Under the Influence
Dave Alvin – King of California
Lambchop – Nixon
Neko Case – Fox Confessor Brings the Flood
The Sadies – Colder Streams
The Waco Brothers – To the Last Dead Cowboy
Jason Isbell – Southeastern
Pinegrove – Marigold
Margo Price – Strays
---