Waydown Wailers Bring it back
Posted On September 1, 2018
---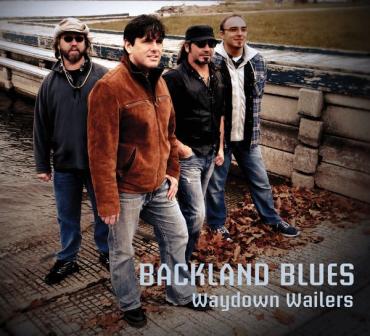 Waydown Wailers Bring It Back
Backland Blues
Waydown Wailers
Woodstock Records 2018
Northern New Yorkers the Waydown Wailers have brought forth another excellent CD of mostly original tunes. Backland Blues, as the title would indicate, leans heavily on the Blues side of classic rock and roll. The Wailers are brothers Dave and Christian Parker on guitars, with Dave also handling the lead vocals, Connor Pelkey on bass and backing vocals, and Michael "Scruffy" Scriminger on drums and percussion. Once again, Professor Louie chimes in on Hammond Organ, piano, and keys. Miss Marie and Alexander Scriminger help out with backing vocals, and Ron Keck shakes some tambourine on Dizzy Miss Lizzy.
Previous Waydown Wailers albums have been perhaps more eclectic in influences, including what might be called strains of Swamp Rock and Americana, but Backland Blues stays centered in a variety of Blues styles. As with their earlier work, the band's musicianship is tight and masterful. It sounds like they're having a good time playing and singing together.
Back Door Woman Blues kicks the recording off in biting style, and David Parker shows off the range in his voice, moving in and out of falsetto. Some dirty slide work introduces I Want Your Soul. The third song is a noble cover of Elmore James' Done Somebody Wrong.
Another Bump In The Road is an up-tempo shrug-off of troubles, followed by the desperate No Mercy. Down through the years, many bands have covered Larry Williams' Dizzy Miss Lizzy, and the Waydown Wailers commend themselves well with their version here.
Every Passing Mile has an urgent drive to it, fitting of a highway song. It's easy to get lost in the sterling guitar work. A very pretty, well-crafted Somewhere In The Middle commands attention. It's a political song, from a rare centrist viewpoint, and builds to instrumental crescendo. Good song!
The band marches along with I'm In The Hunt, followed by a hopping remake of State Of The Union, title track of a previous album. It sounds like something Stephen Stills might have written for Manassas.
The boys head back to the swamp for their final song, their take on Roger McGuinn & Jacques Levy's Lover Of The Bayou, and the instrumentals match the lyrics' Freudian undertones. All told, Backland Blues is worthy of repeated enjoyable plays, and that's what the listener looks for in any CD. Backland Blues is available online from Woodstock Records or from Amazon.
---