Steve Forbert's Double Shot: A Memoir and a New CD
Posted On September 13, 2018
---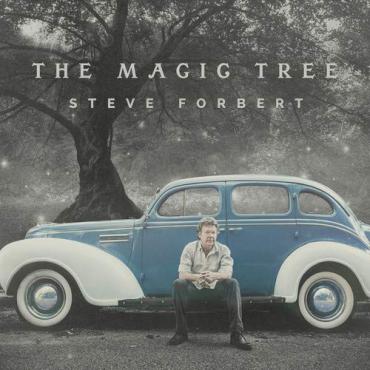 Particularly if you've been listening to Steve Forbert's music for many years, you're bound to have some fun with his new memoir, Big City Cat: My Life in Folk-Rock. The book—which lifts its title from that of a track on Alive on Arrival, his 1978 debut LP—offers lots of commentary on the inspiration for Forbert's songs and the making of his albums. You'll also discover mentions of many of the artists he admires—some predictable (assorted folkies), some rather surprising (Talking Heads, Blondie, the Ramones).
Musical references aside, however, this memoir disappoints. You'd have to be quite a fan—or perhaps even a member of Forbert's entourage—to care about all the minutiae here regarding the ups and downs of his relationships with record companies, producers, and managers. And don't go looking for the kind of introspection that imbued Springsteen's recent autobiography: there's virtually nothing in this book that sheds light on anything in Forbert's life aside from music. He makes clear that he had a drinking problem for many years, for example, but never suggests why. There's almost no mention in the memoir of his parents or childhood, and his adult milestones come and go with only the briefest of mentions.
Typical is the way he talks about his marriage. One minute he's telling us that he fell in love with and wed a woman named Jill and that they had twin boys. The next he's saying that stress between him and his wife—stress he has not previously even mentioned—"kept getting worse" and then that the marriage was in trouble. But then we learn that he and Jill had another baby. And the next thing we know after that is that he was getting divorced and had a new companion. There's nothing here about what made the marriage work initially and—aside from references to drinking and constant touring—no hint as to why it ultimately failed.
Forbert's simultaneously released new album, The Magic Tree—which he recorded with a group that included his longtime accompanist, guitarist Clay Barnes—is more consistently satisfying and also more emotionally revealing. The CD consists of 12 self-penned tracks, though the final minute of one of them—"Only You (And Nobody Else)"—incorporates a snippet from "Come On in My Kitchen," the blues classic by Robert Johnson. (Also, the sweet, lilting title track appears twice: version one sounds radio-ready while a stripped-down version two seems a bit more like a demo.)
Forbert's early albums garnered much of their charm from his youthful exuberance; he sounded excited about love, the freedoms that his age afforded him, and the life that lay ahead: "glad to be so young…glad to be so crazy in my day," he sang on "Goin' Down to Laurel," the opening track on Alive on Arrival. Forty years and nearly 20 studio albums later, he's still writing fine, tightly constructed songs that benefit from his instantly recognizable vocals and bouncy harmonica fills. But he is no fresh-faced kid these days and his perspective has changed. These are the songs of a 63-year-old man watching time pass too quickly, looking back, reflecting, and sometimes regretting.
Not every track hits a bull's-eye. "Movin' Through America," which features no instrumentation other than Forbert's guitar, is musically weak and doesn't have nearly as much to say about its subject as, say, Paul Simon's "America." But the melancholic "Tryna Let It Go," and "Lookin' at the River in the Rain," both of which limn the end of a romantic relationship, are touching and indelible. And catchy, upbeat songs like "Carolina Blue Sky Blues," "The Music of the Night," "Let's Get High," and "I Ain't Got Time" are as instantly likable as such early gems as "Romeo's Tune" and "Song for Katrina."
If you're a fan, you'll want this album for its many high points. Forbert may no longer possess all of the exuberance and optimism of youth, but he seems to have replaced any losses in those areas with an equal dose of the wisdom that comes with age.
BRIEFLY NOTED
Vanessa Peters, Foxhole Prayers. Dallas-based folk/rock singer and songwriter Vanessa Peters has been issuing albums since 2002 but this is the first one I've heard. Her rich, seductive vocals remind me of Lucy Kaplansky and Canada's under-appreciated Lynn Miles, and her instantly accessible songs—a mix of gorgeous ballads and well-hooked rockers—come loaded with pensive, clever lyrics. The instrumentation, which includes acoustic and electric guitars, mellotron, and drum machines, seems redolent of the great solo albums by Crowded House's Neil Finn. There's not a weak song in the bunch but standouts include "Lucky," a hard-driving rocker; the moody, beautifully sung "What You Can't Outrun"; and "Carnival Barker," which employs metaphor to address the Trump era: "You'll get a circus, history told us, if you vote for a clown, but the grifters pitched their tents and the good word got drowned out."
Anthony Geraci, Why Did You Have to Go. Veteran blues singer, songwriter, and keyboardist Anthony Geraci, an original member of Ronnie Earl and the Broadcasters, delivers a strong and varied 13-track program on this album, which finds him flavoring his music with lots of jazz and R&B. The all-originals set benefits from backup by a long and well-chosen list of accompanists, including Earl and a horn section. Highlights include the brassy title cut, where Sugar Ray Norcia's vocal and Monster Mike Welch's virtuoso guitar recall B.B. King; and "A Fly on the Wall," where Geraci's high-octane piano work carves out a space somewhere between Fats Waller and Jerry Lee Lewis.
Chris Darrow & Max Buda, Eye of the Storm. Chris Darrow and Chester Crill (aka Max Buda) were founding members of Kaleidoscope, the 1960s psychedelic folk group that also gave a start to Jackson Browne cohort David Lindley. After the band broke up, Darrow and Crill reunited a couple of times, first to release an album under the name Rank Strangers in 1977 and then, in 1981, to create the fine all-instrumental Eye of the Storm. This remastered edition of that LP, which sports cover art by the late psychedelic poster designer Rick Griffin, runs only 27 minutes but not one of them is wasted. The 10 tightly constructed tunes offer an inventive blend that draws on everything from rock, folk, and psychedelia to jazz and surf music. Darrow and Crill still perform together in the L.A. area; let's hope this album enjoys enough success to lure them back into the studio.
___________
Jeff Burger's website, byjeffburger.com, contains more than four decades' worth of music reviews and commentary. His books include the recently published Dylan on Dylan: Interviews and Encounters as well as Lennon on Lennon: Conversations with John Lennon, Leonard Cohen on Leonard Cohen: Interviews and Encounters, and Springsteen on Springsteen: Interviews, Speeches, and Encounters.
---